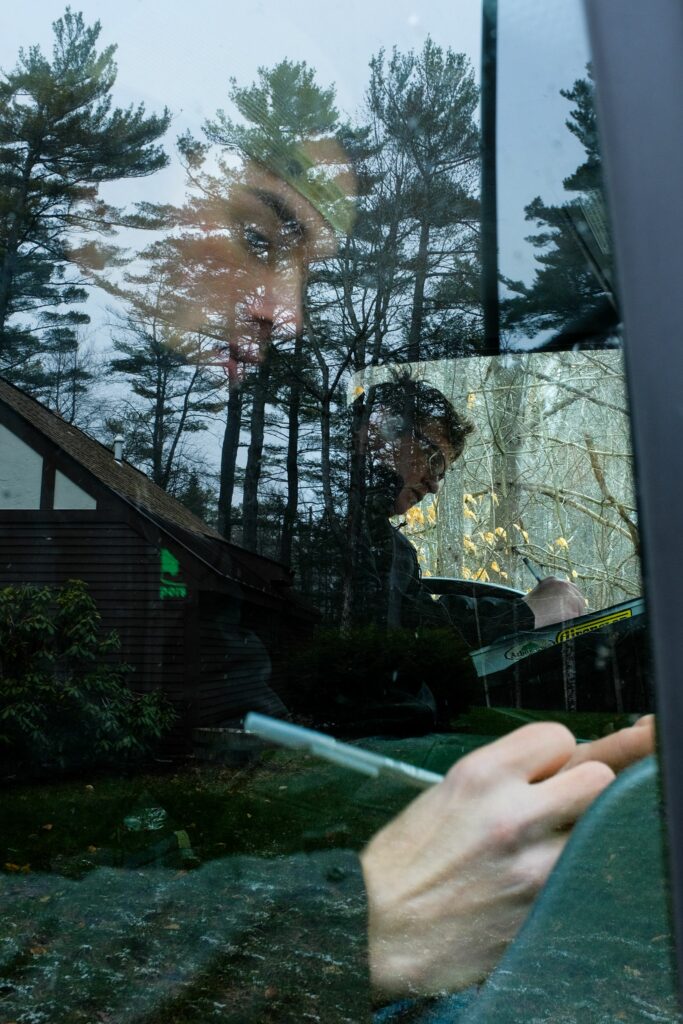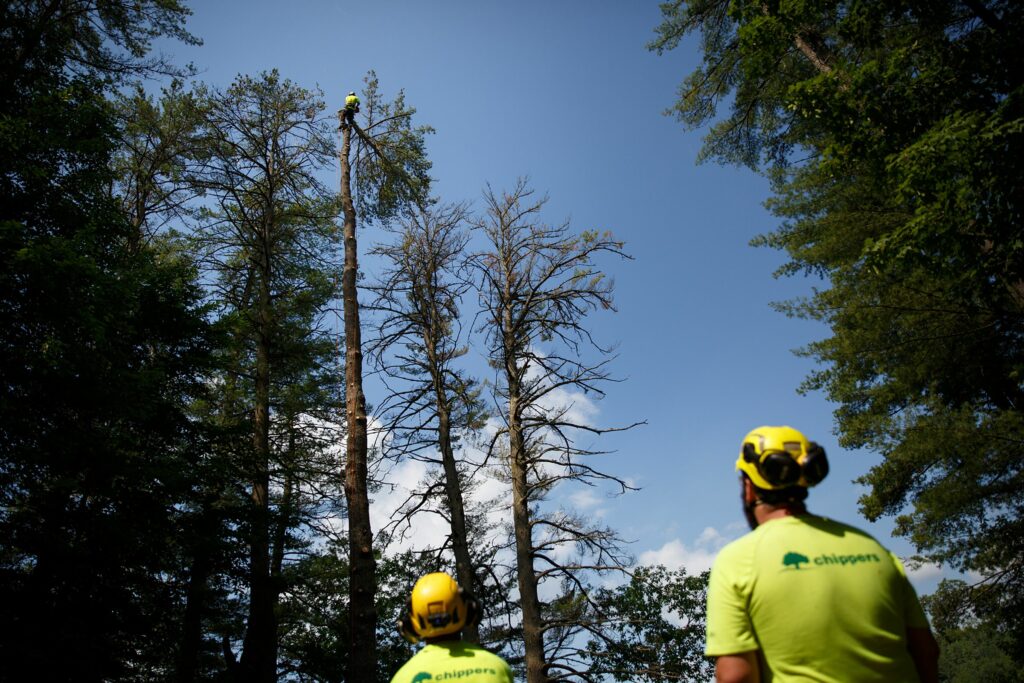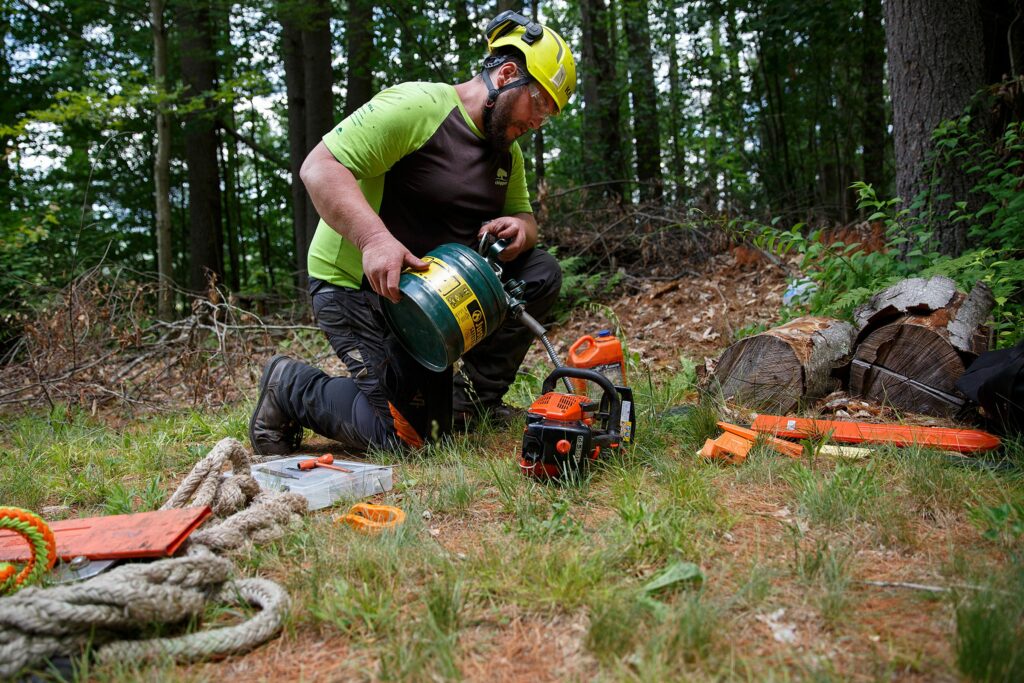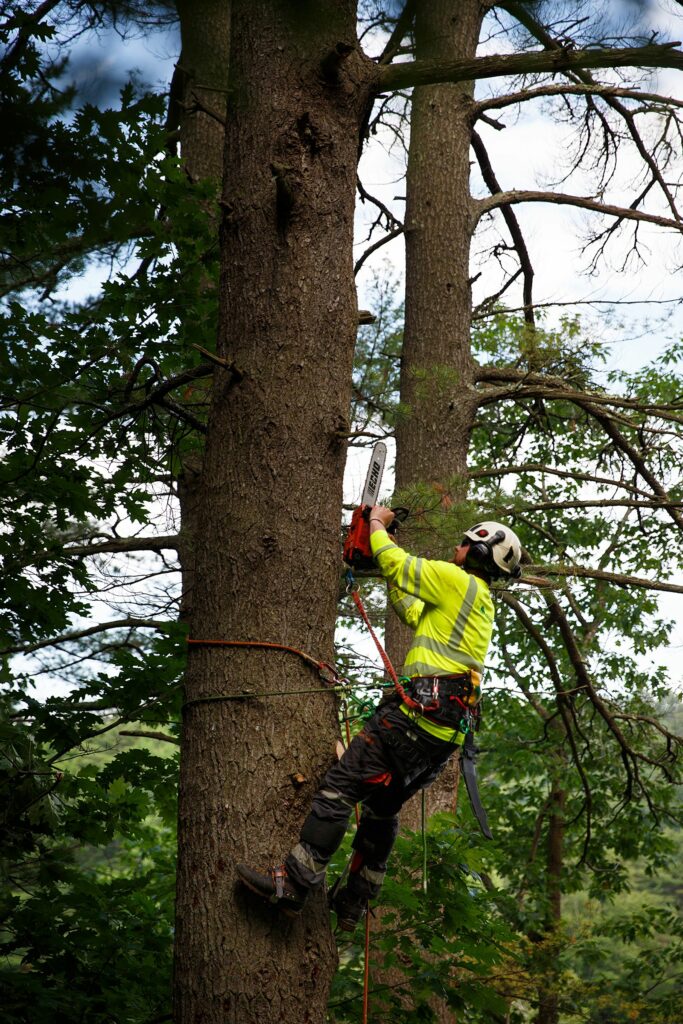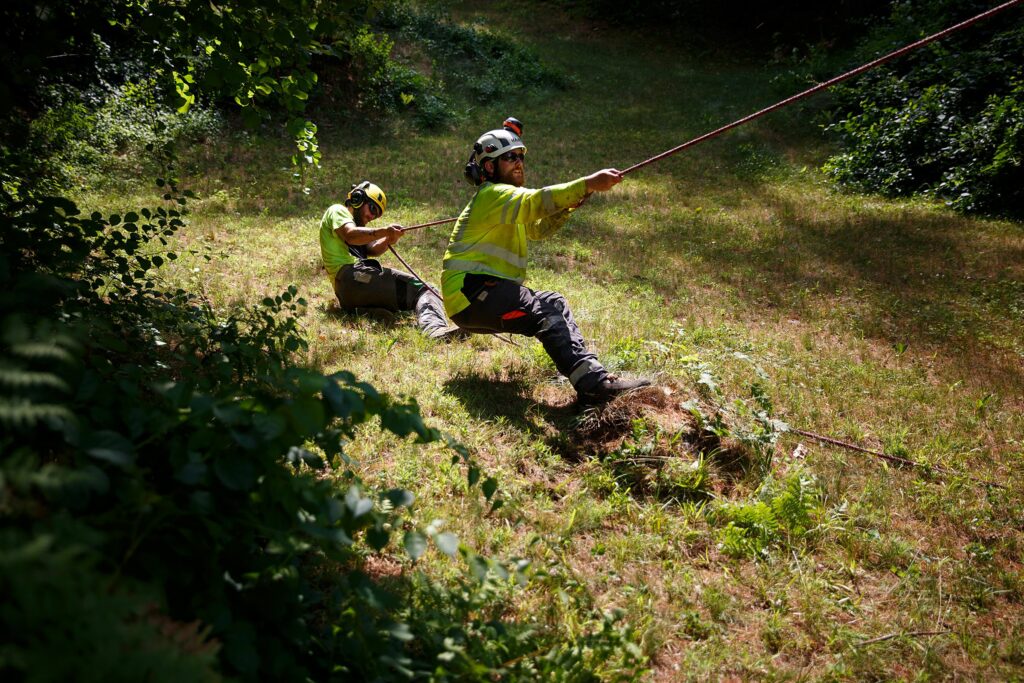 Valley News Correspondent
HANOVER — About 70 feet up an 80-foot white pine on a private parcel overlooking the Connecticut River, Nate Moore skillfully handles a small chainsaw and carefully cuts a notch near the top of the tree.
Moore had already removed all the limbs as he worked his way from the bottom up and was now tackling the main trunk of the tree, removing sections from the top down.
Watching from a distance, Travis Vickerson, assistant district manager with the tree service company doing the work, Chippers in Enfield, explained Moore's intent for the top of the tree, which he was about to send plummeting to the ground.
"He going to drop it, if everything goes correctly, right between the two pines," said Vickerson, just before the tree top fell in the exact spot predicted. "Now he will work his way down, taking 10 foot sections."
Vickerson noted Moore's careful and experienced approach to the job as well as his focus on safety.
"Right before the back cut, he checked twice to make sure the notch was going to line up so it goes the way he wants it to go," Vickerson said. "He checked his rigging. He checked his tie in points, his climbing gear. If something goes wrong, there is no running away."
The three-man crew was taking down three tall white pines and a couple of shorter hardwoods to open up the view of the river from the homeowner's deck. It was one of five crews from Chippers — one of several tree service companies operating in the Upper Valley— that were doing work that day. It is the busy season for tree service work and Chippers has jobs booked weeks in advance on private property, and also public property including Marsh-Billings Rockefeller Historical National Park and state-owned right-of-ways.
Tree service work is not the same as logging and in fact has its own term, "arboriculture," Vickerson said.
"The occupation been around more than 100 years, but was identified by the U.S. Department of Labor just six years ago," he continued. "We were grouped into landscaping and logging, and we are neither one of those. Logging is the production of material; arboriculture is the vertical landscape we manage."
Jobs are quoted based on a variety of factors including the number of trees, their height, location, equipment needed as well as fixed expense such as insurance and whether the owner wants the wood removed and the work area cleared of debris.
"Really it comes down to time," Vickerson said, adding that they usually work with three man crews because that is the most efficient number.
The Tree Care Industry Association, headquartered in Londonderry, N.H., represents more than 2,300 tree service businesses nationwide. Tree care covers everything from trimming, maintenance and pruning to tree removal, stump grinding and stump removal. Chippers also does a variety of landscaping jobs except for cutting lawns.
Chippers, with offices in Woodstock and three others in New Hampshire besides Enfield, was started in 1986. In March of this year, the business was sold to the Davey Tree Expert Company in Ohio. Davey is more than 100 years old with offices throughout the United States. The company had gross revenues of $226 million and grew 14 percent last year, Vickerson said, adding that Chippers saw growth during the pandemic with more people at home that had time to consider having trees removed or trimmed. The company hired 37 workers on March 1 and has another 20 job openings.
Vickerson said tree removal service is among the most dangerous occupations, along with commercial fishing, in the U.S., but unlike Europe, there are few regulatory requirements to starting a tree removal business. In Great Britain, Germany and other countries you need a license to operate a chainsaw as well as one to cut trees of a certain diameter, according to Vickerson.
"(In the U.S.) a lot get into it because it can be lucrative if you don't have the overhead," he said, such as the proper insurance and workers' compensation.
According to the web site, TRUiC.com, which focuses on guiding people through the process of starting their own business, startup costs for a tree service business can range from $10,000 to $50,000 when factoring in several types of insurance, workers' compensation and equipment. Wages average about $18 an hour and revenues will vary depending on volume of business. Also to be considered is recurring cost such as fuel and equipment maintenance.
Vickerson urges anyone considering hiring a tree removal company for work on their property to get copies of the insurances.
"Don't take their word for it," he said. "General liability is great but if a tree company does not have worker comp, then the homeowner's insurance has to pay medical bills (if there is an injury)," he said.