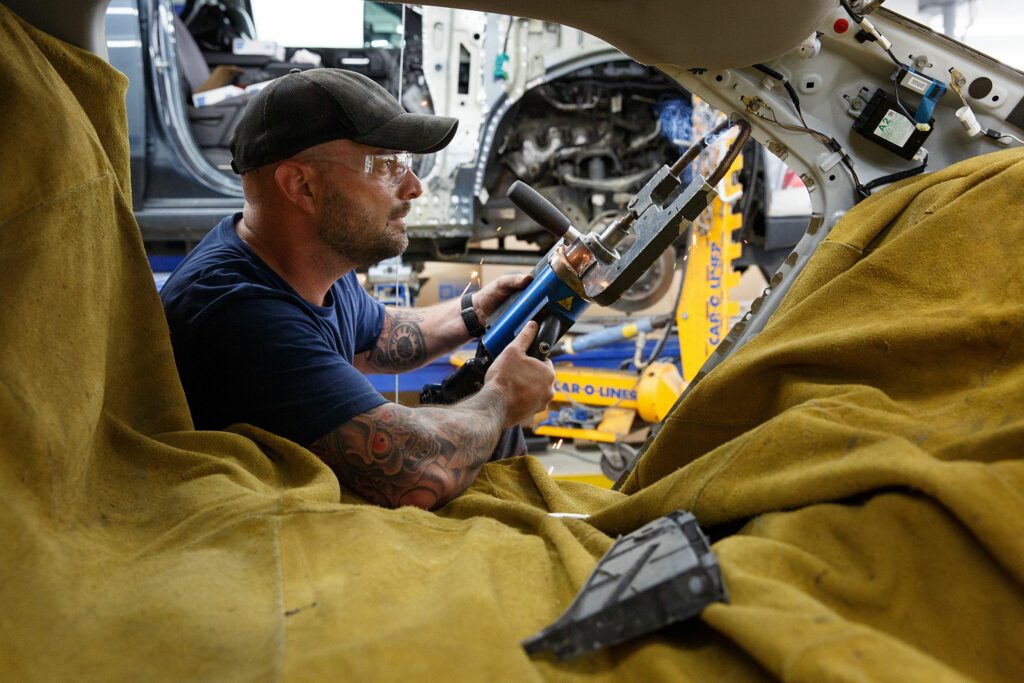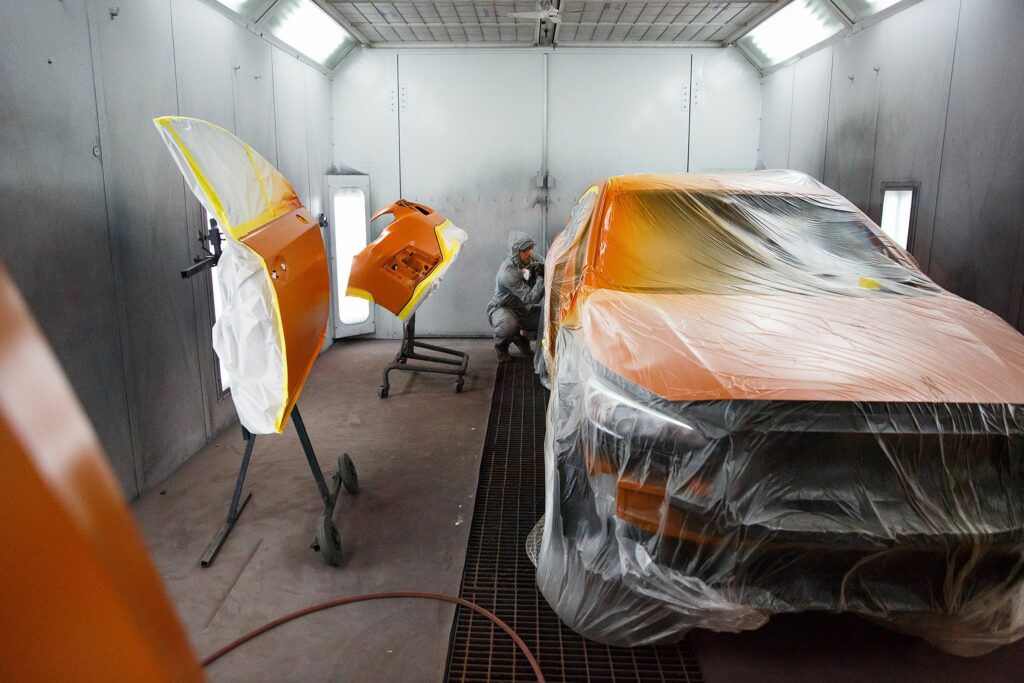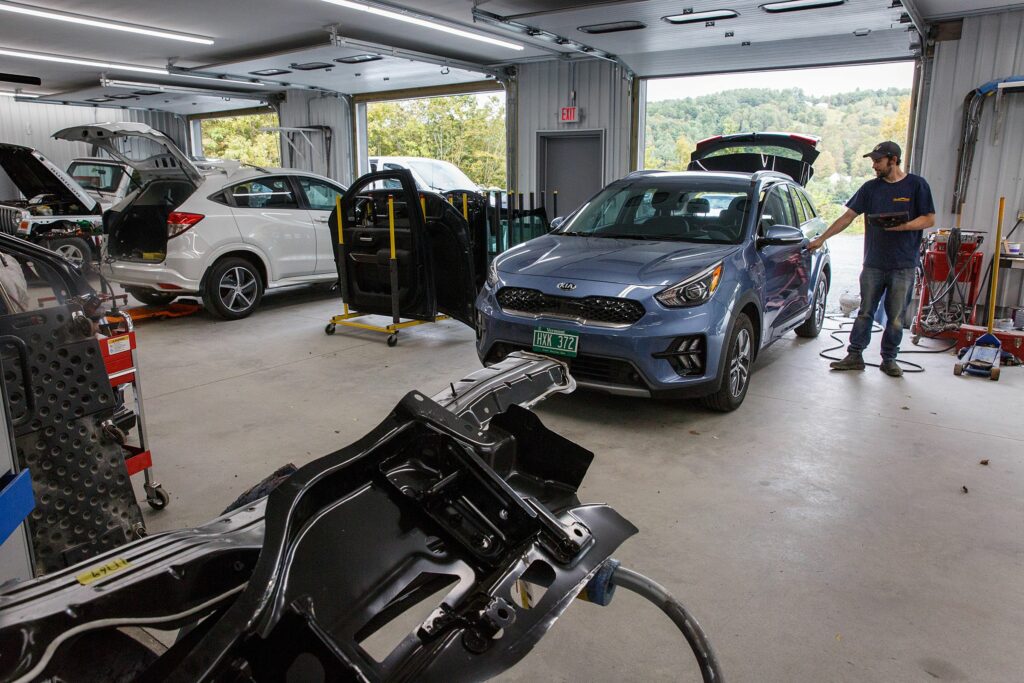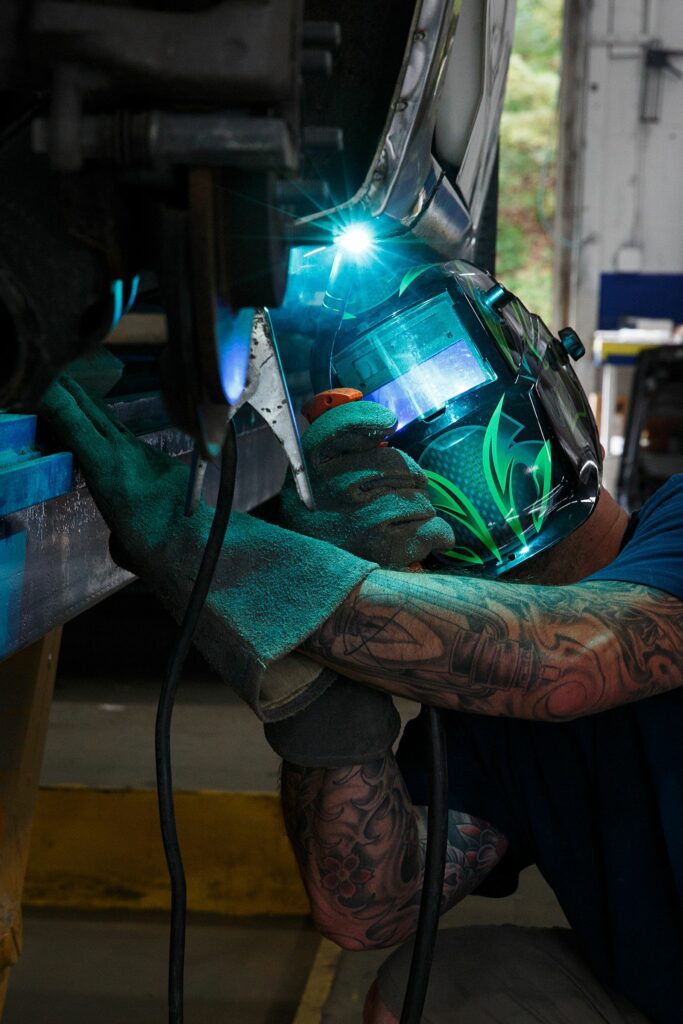 Valley News Correspondent
HARTFORD — As it has become with most industries, computers have become a major, if not necessary, investment for collision repair businesses today.
Long gone are the days of simply hammering out a dent, repainting a door or installing a new bumper or fender. Collision repair has had to keep up with advancements in automobile manufacturing, where cars are loaded with safety sensors and modules and give drivers information as they proceed down the road. So behind that damaged front end or dented door there could be a lot more damage not visible or detectable without the proper equipment.
"The big thing is they (newer cars) have part sensors, blindspot monitors, radar and also have shutters which open and shut to send cooling air into the radiator," said Dan Morrison, a manager and operator at Collision Works in White River Junction. "Those are some of the big things that cars today have."
When a damaged vehicle comes into the shop at Collision Works, the first step is a pre-wash followed by a scan.
"Before we touch a car, we do a diagnostic scan on it for preexisting issues. A scan will let us know if something is wrong with the car electronically," Morrison said.
Morrison, who has worked at the business his father started in 1974 for 21 years, displays a small module that plugs into the automobile and connects to a tablet. Readings can indicate a range of problems from an accident including the air bag, radar or other sensors.
In the Collision Works shop area, several vehicles are in varying stages of repair. The bones of red pickup sit ready for a repair bed and doors; a few SUVs have had their bumpers and side panels removed for either repair or replacement; and a shop technician is putting the final touches on a repainted door.
As an example of possible damage that is not visible, Morrison pointed to an exposed module on the rear side of an SUV. It provides critical information in the driver's "blind spot" by transmitting information to the passenger side door mirror to tell the driver if there is a car approaching from behind on the right. While the module appears intact, it could have been damaged in the crash and that is why technology for scanning and the proper training is necessary for repair shops today.
"We do about 20 cars a week and almost all are newer vehicles because that is what people have," Morrison said standing in the repair area. "It can be a lot of money to fix an older car."
At Collision Pro in Claremont, co-owners Tammy Davey and Michael Airheart say they have invested thousands of dollars in equipment and thousands more to attend numerous training classes for certification to meet repairs standards set by car manufacturers.
Echoing what Morrison said, Airheart added "without scans, you are not going to know the extent of the damage. That is why it is so important to have the right scanning tools."
Davey recalled an incident that she said highlights the importance of having the training and tools to assess and repair a damaged vehicle. A dealer had received some new exhaust parts that it thought were for Collision Pro but it turned out to have been ordered by another repair shop. Davey said she knew the owner of the vehicle through social media and later learned the woman's daughter broke down on the interstate when the car stopped.
"They didn't repair it properly by doing pre- and post-repair scan of the vehicle," Davey said. "The O2 sensor (which measures oxygen in the exhaust) was not checked. If they had the proper equipment they would have detected the problem."
A faulty oxyen sensor means the engine computer cannot correctly set the air-to-fuel ratio.
Davey said scanners reveal what she said are "damage trouble codes."
"They are stored in the (car's) computer, even though you don't see the problem on the dashboard. Without scans, you are not going to know the extent of the damage."
Collision Pro has a few different scanners depending on the vehicle as well as a "framing measuring system that measures the body structure," Airheart said. "We can line the car up with the machine to see exactly where each piece goes. You don't have to fit the parts."
I-CAR certification
Both Collision Pro and Collision Works have "gold class" certification for repair work from the Inter-Industry Conference on Auto Collision Repair, or I-CAR, which was established in 1979 and provides training and education to those that do auto collision work. In Davey's office, one shelf is lined with binders full of material on just a year's worth of certification classes, which are held around the Northeast.
"It (a gold certificate) is pretty intense and can take two years to obtain," Davey said. "It is the only recognized training you can get for collision repair."
Added Airheart, "Some manufacturers are not going to sell parts to anyone. You must be certified."
Morrison said I-CAR certification is often required by automakers and some insurance companies. He would like it to become more of a standard for repair businesses.
"I wish it would become more regulated as far as shops having to do it (gain ICAR status) because it is important and keeps their techs on their game with new cars and the various things they should know," Morrison said.
The cost of repairs has also skyrocketed in recent years because parts, which have become harder to come by since the COVID-19 pandemic, are so expensive.
"We had someone come in because something fell on the headlight and took the headlight out," Morrison said. "It was a $3,000 repair for a headlight and to fix a small dent in the fender."
Most of the repair jobs that come to both businesses are insurance claims and while Collision Works and Collision Pro are proud of their ICAR certification, it is not always important to the insurance company.
"At the end of the day, they want it fixed fast and cheap," Morrison said. "But we don't work like that."
Davey and Airheart have had similar experiences.
"(Some) insurance companies try to tell us how to fix cars but they have no clue how to do it," Davey said.
Airheart and others stressed the importance to owners of being certain their vehicle's damage is properly assessed and repaired.
"The cars today are really sophisticated. You have to know how to work on them," he said.