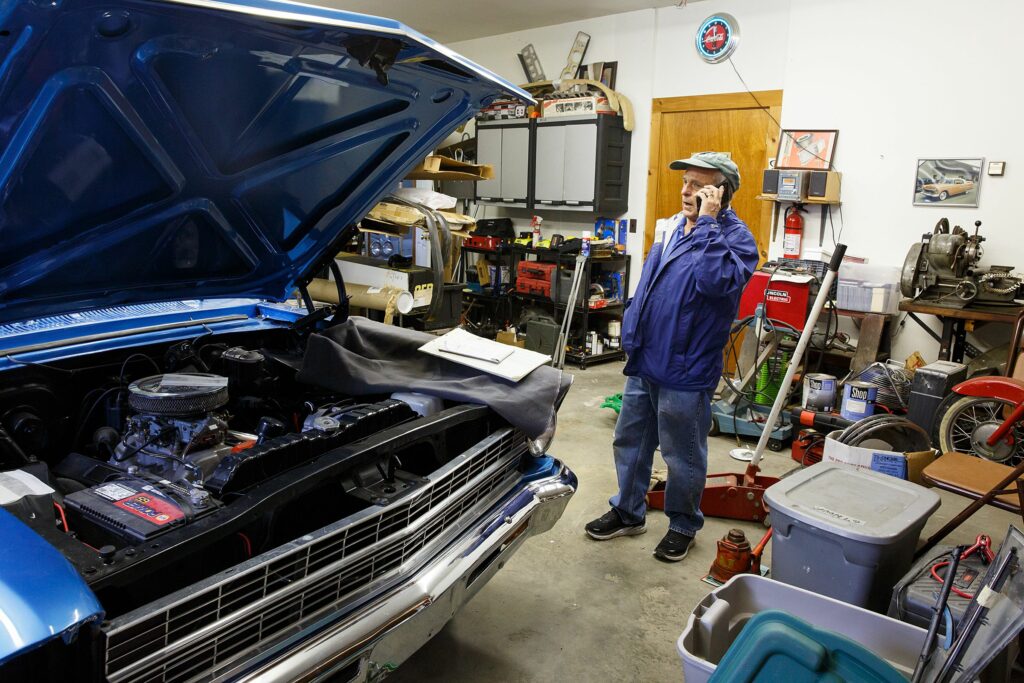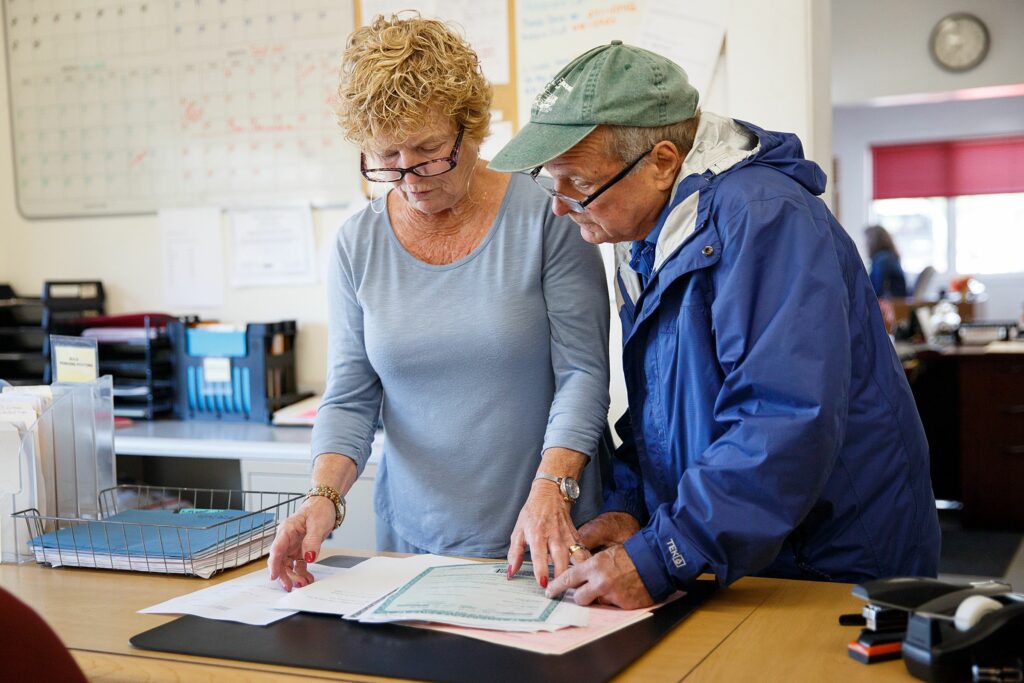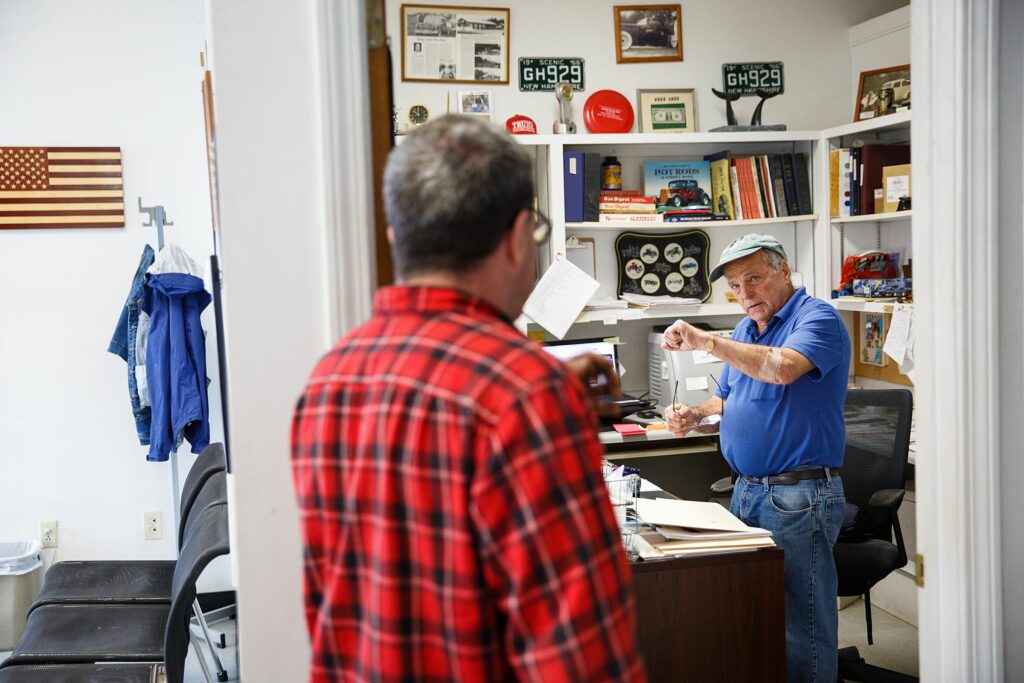 Valley News Correspondent
ENFIELD — Bob LaCroix grew up in West Canaan and after graduating high school in 1967 he enrolled in the National Institute of Dry Cleaning, anticipating he would build a career in the business. But while his head may have been in dry cleaning — where he worked for a few years — his heart and mechanical mind were under the hood of automobiles.
In the early 1970s LaCroix began working at a tire business and doing car repairs in White River Junction. For several years in that same decade he also worked nights with his father-in-law selling snowmobiles, tractors, motorcycles and related products before opening Shaker Valley Auto in Enfield in 1980. His long career in cars includes being involved in countless repairs and restoring antique vehicles. LaCroix recently spoke to the Valley News about his interest in cars, his favorite vehicles, how he got started and what he learned along the way.
QUESTION: When did you begin learning about how to fix cars?
ANSWER: I started working on vehicles at 14 years old with my father. My father was old-school mechanical. He knew the basics. I was fooling around with motorcycles and bought my first car before I had my license. I also had a neighbor who worked on his own cars and was kind of a mentor. He had a '41 Cadillac and a '49 Chevy; a one and a half ton truck he made into a pickup and I used to help him work on those cars. No question I had a love for it.
Q: Is there special training to do antique restoration or does one learn by doing
A: You can get special training. I got my training by doing and working with other people.
I like old cars and basically learned by working on them. Some of the old stuff is really common sense, like carburetors and ignition. If you got fuel, got spark and compression, you're running.
I worked full-time for Valley Tire (1972-1980) in White River Junction. I got them involved in repairs, like brakes and exhaust, tune-ups. We didn't do body work; nobody knew how to do that. I did that at home. I had a car and a half garage and would work at night and on weekends. I would get the cars ready. My wife would tape them, prep them during the day and I would come home and paint them at night. We did a 356 Porsche 1962 for the guy I worked for. He bought one and the floors were gone and I put new floors in that.
Q: What is the most challenging vehicle you have restored?
A: I personally have never fully restored or rebuilt a car from start to finish but have had help and support from knowledgeable employees, friends and family over the years with the process. Without their help, I could not have accomplished what I did. (My favorite was) a 1934 Ford Cabriolet Street Rod. It was made into a street rod in the late '50s, early '60s. It was rough. When I pulled it out of a field, the frame broke in half. It was rotted earlier than that because the frame had a piece of steel bolted to the side where it was rusted before. Two guys dug it out of a sandpit where it was abandoned years before by someone and they built the street rod out of it. It was pretty crude, but it looked good. That was a tough one. I still got it.
Q: What is the most expensive one, oldest one? Do you recall a favorite restoration?
A: It was $50,000 to rebuild a car and now you can't even get one done for that, depending on how bad it is. The people who have this done, it is what they want, what they want to keep. But to do a car now and send it out, you really got to want it. I mentioned $50,000 for a restoration. The new end is double, sometimes triple that. You can spend a lot of money doing a car now. The oldest car I have worked on was a 1923 Ford. I've owned a number of 327, 350 horse(power) cars but '67 Nova was a light car with a lot of power. These are very desirable. Between that and the Cabriolet it is a tossup. I have owned a number of '67 Novas. I only have one left now.
Q: Can you explain the basics of the restoration process? How many hours can it take?
A: Every car is different and can take thousands of hours. That is why I said it cost just as much to restore a four-door sedan that isn't worth as much when you get done as it does a convertible or coupe. You have to keep the customer involved through the whole process week to week.
Right now, the old cars are pretty good to get parts because everybody jumped in to reproduce them for the cars that are worth the money. The '30's Fords, the '40's Fords, those are very popular so there are tons of companies that make parts for them. Open a catalog, you can buy a new body for some cars; '55 Chevy, '56, '57, '33, '34 Fords. A '70 Duster, 340, 4-speed, a nice one done to an 8 quality on a scale of 1 to 10, that car is $30,000, $35,000, but you can't restore it for that today.
Q: What motivates people to have a vehicle restored?
A: They like what they have. It is what they had.
We have backed away from it (restoration). I had a big shop with a 60-by-200 building and a 40-by-60 shop in the back that we sold in 2020. So we do very, very little now.