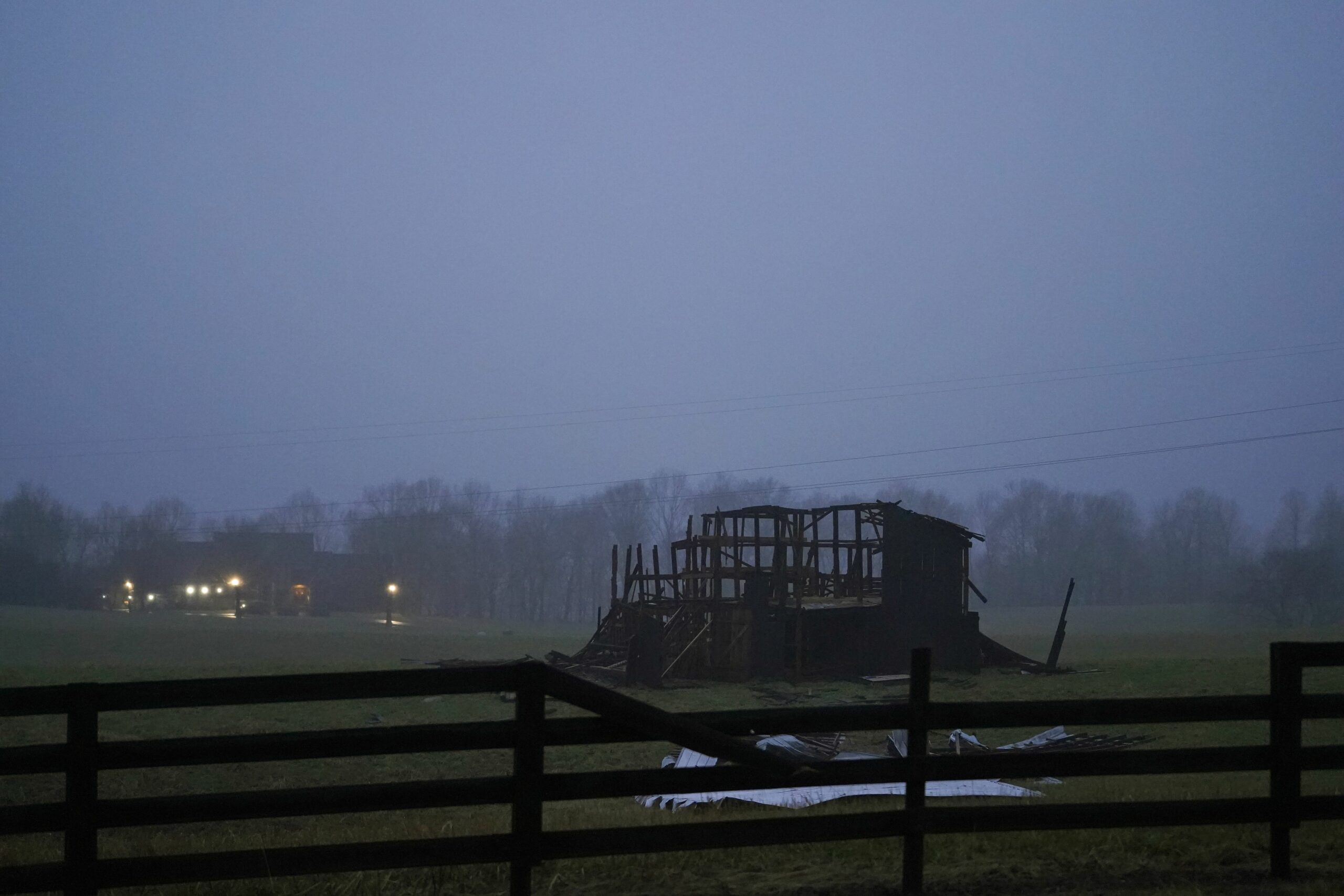 The Blade
DELTA, Ohio — Red, square time capsules adorn the flat plains of the Midwest, humbly standing through the harshest seasons year after year, renewing the symbol of the grit-filled American farmer rising and setting with the golden sun across amber waves of grain.
Weathered and calloused hands made these heart-warming and dependable buildings that have now stood, some of them, for more than a century. Continued usefulness saves some of these structures, but for many of them, time and pragmatism have left them in disrepair without a meaningful purpose.
"Every piece of wood, especially from a barn, is different you know?" said Matt Gleckler, owner of Antique Beams & Boards, a company that salvages and dismantles old buildings to repurpose their parts, with a focus on repurposing wood. Gleckler's main source of reclaimed wood is old barns, and, "Right now, northwest Ohio, southeast Michigan, northeast Indiana, really has some of the highest concentrations of barns anywhere in the country."
Wood from these barns is salvaged, processed, and treated in Gleckler's facility in Delta, Ohio, and then shipped off to the buyer's location. "It's all custom to this house or this restaurant … ," Gleckler said, also noting that, "… the wood and raw materials are never the same…"
Some boards need to be de-nailed, others need to have their paint stripped, and still others need to have rot cut off from them before they are a deliverable product.
"We're essentially a wood junkyard," Gleckler said, as he walked through the Antique Beams & Boards facility, pointing out salvaged stadium seating from the University of Notre Dame, massive beams from an old Rolls Royce motor factory, and a steeple from a Methodist church he's still trying to find a use for.
"We're very proud of the fact that we save, you know, everything possible," said Gleckler, and they do save, "Everything really except asphalt shingles…"
Most profitably, "… any good siding, flooring, paneling, beams that can be used … that's where we make the money and pay the bills," said Gleckler, proceeding to expound on less useful pieces of wood that his employees bring back to use in wood-burning stoves on the property.
Piles of otherwise unusable wood scraps are used in these stoves to completely heat the entire Antique Beams & Boards facility. Pieces of wood unsuitable for the wood-burning stoves are ground up into mulch, the saw dust from woodworking tools is given to local farmers for bedding, and metal nails and roofing pieces are scrapped.
"I mean, that's it," Gleckler said, while exhaustively shrugging and then continuing to explain that even the old nails from the wood in the wood-burners are scrapped.
Then shortly after trailing off Gleckler's vision for his company comes out as he speaks, "… a nail that was pounded into a piece of wood 150 years ago is going to go into a making your next car maybe."
"That's kind of our goal, to save as much from the landfill as possible … I'd make more money if I didn't save as much from the barn," Gleckler said, jokingly adding, "There's stacks and stacks and stacks of stuff that really doesn't have a whole lot of value … we're hoping we can figure out something to do with it at some point."
And "some point" may come at any time, even 3 in the morning, like it did when Bill Blumensaadt, a client of Antique Beams & Boards and one of the owners of Orchard Bar & Table of Port Clinton, texted Gleckler in the middle of the night asking about a barn door he saw at Gleckler's company.
The text message was to ensure the dimensions would work for the seating area in the restaurant, and Mr. Blumensaadt was surprised when Gleckler replied briefly afterward with the dimensions of the door. A few days later the door was delivered, and the dining area of Orchard Bar & Table was complete.
"It just brings an element of the past…that people react to and really like," Mr. Blumensaadt said, talking about the reclaimed wood from Antique Beams & Boards.
He has worked with Gleckler for Orchard's destination accommodations and dining venue in Port Clinton for a number of years.
Reclaimed wood furnishes meeting rooms, bar areas, restaurant seating, and cafe areas throughout the Orchard properties.
"The original concept of the restaurant was farm to table," Mr. Blumensaadt said, so reclaimed barn siding helps to bring customers into what he calls the "warm … farm feel" produced by the rustic nature of the wood. "We wanted to kind of recreate and let people relive what this area was really about back in the day," said Mr. Blumensaadt with Hannah Vlk, the brand manager for Orchard properties, chiming in, "It … helps us take our 10-acre farm and shrink it into a more intimate setting."
Time-worn character is self evident in the reclaimed wood, and allows those around it to slip into the past.
"People want this stuff in their homes," Mr. Blumensaadt commented while recounting the number of times he has been asked where he was able to procure the furnishings for his business.
Time and again he directs them back to Gleckler's team, where nine individuals strip weathered structures, treat the boards, kiln dry the moisture and bugs out of the wood, and then oftentimes rework them to fit a custom dimension.
"For years and years," Gleckler said, "these barns … if someone needed to get rid of it or it was in bad repair, the homeowner would burn it down … and even now … it's another company with a big excavator that's crunching it all up stuffing it into dumpsters and dumping it in the landfill … and there's a lot better uses for it than that."