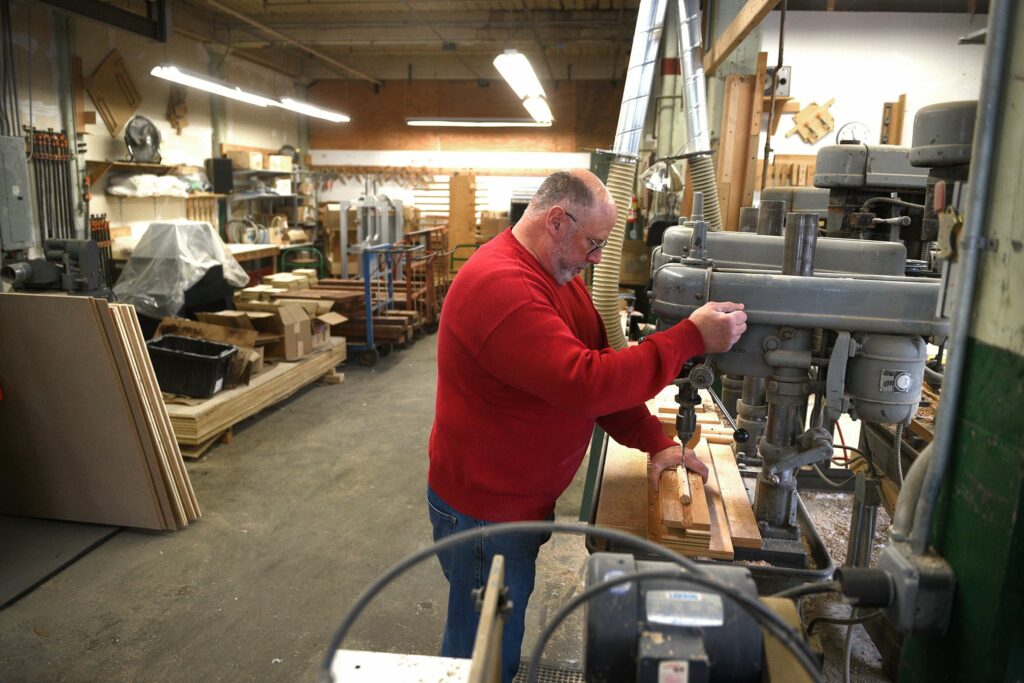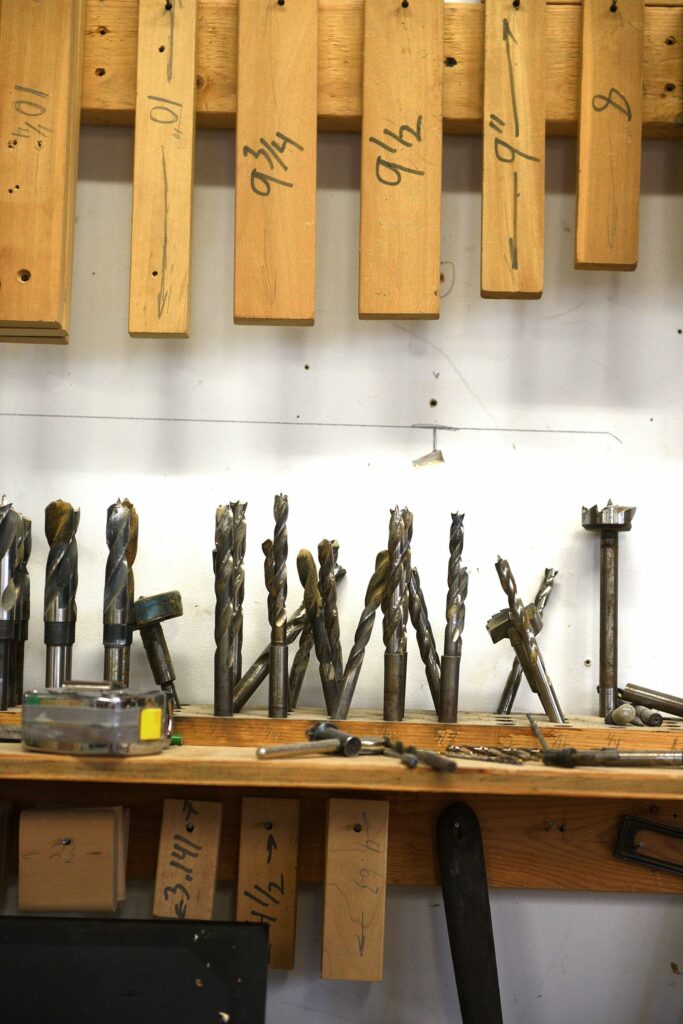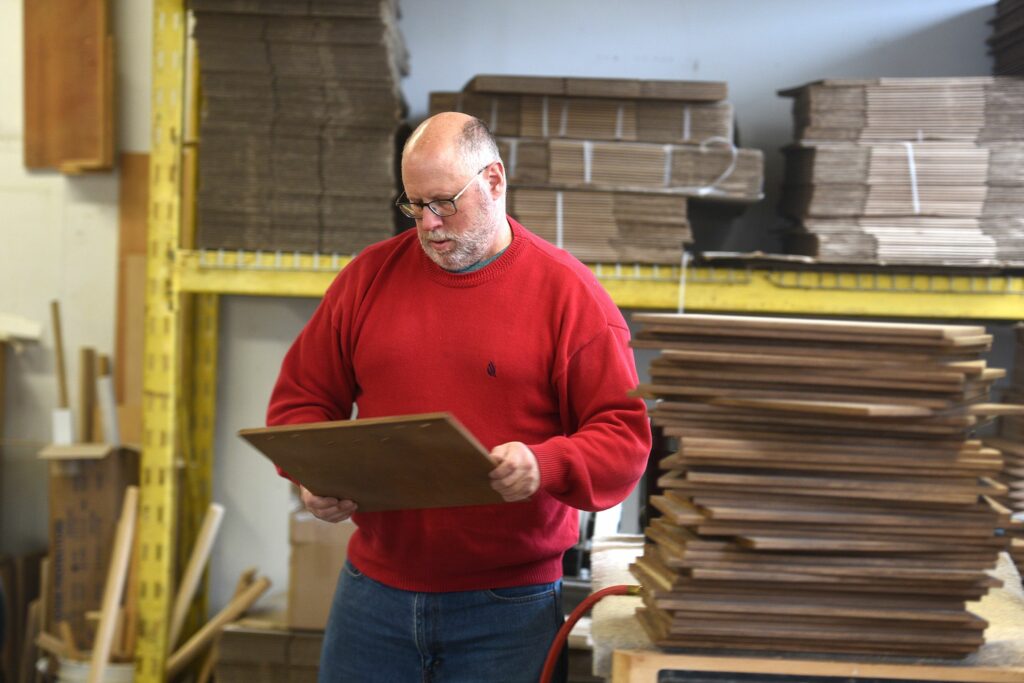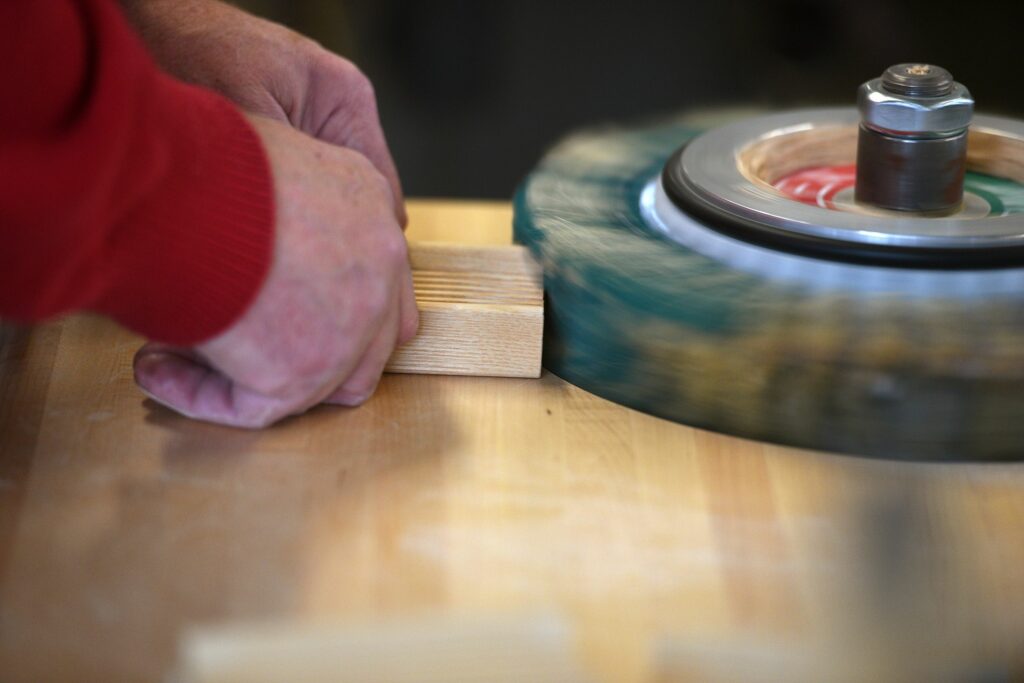 Valley News Correspondent
WINDSOR — Wood — how it is harvested, sawn, shaped, fastened and finished — has changed dramatically since colonial days.
But what has not changed is the appreciation for the look and durability of products made from wood.
The appearance of a finely crafted solid wood dining room table of cherry or oak, maple cabinetry or other pieces of furniture invites an irresistible urge to run our hand slowly over the finish, something not commonly done with other materials, notes Andy Charron, owner of Charron Wood Products in Windsor.
"You never see anyone rub their hand over a plastic countertop and say 'that feels nice,' but with wood they do," Charron said with a laugh inside his shop on River Street. "It is the aesthetics."
A home has a warmer look with wood and furniture or other things can be conversation pieces, a family heirloom passed down through generations or a valuable antique.
Charron, a sole proprietor, does "production work," which means he will make multiple pieces of the same item for a customer, instead of a single piece of furniture. After a stint as a stock trader on Wall Street in the 1980s, Charron joined a friend in residential construction. He moved on to cabinetmaking and furniture making. Realizing it took years to build a good client base and begin earning money making single pieces of furniture, he opted for production work as a better way to support his family. His first order was for footstools used in shoe stores. He moved the business from New Jersey to Windsor in the late 1990s.
His 3,000-square-foot shop has large machines for cutting, drilling and shaping wood. He uses a variety of hardwoods including poplar, soft and hard maple, ash and beech to make different products.
Holding a soap dish made from poplar, it is easy to see why items handmade from wood have more visual appeal.
"It is warmer and more decorative," said Charron. "It is for a company that imports bath soaps. To make it out of plastic, it would look cheap."
At his shop in Charlestown, master craftsman Phil Fortin said he has always had desire to build with his hands.
"It is just the simple satisfaction of working with my hands, building and creating something has always been in me," Fortin said. "And working with wood is a fairly inexpensive approach to fulfilling that."
His early jobs included a now-defunct fine furniture maker in the Upper Valley and where his skills improved over time using his general knowledge of wood and craftsmanship.
Before that he had done general carpentry, framing, interior finish carpentry and trim work.
"As I grew into different things it was always more refinement of what I could do to be able to attain a level of craftsmanship," Fortin said.
In New England, Fortin noted, natural wood has always matched well with the décor and style of many things in a home and that is why many people want the look of wood and are willing to pay for it. Some of the wood Fortin installed includes part of the décor in the bar area of area local restaurants. He builds hand-crafted furniture, custom cabinetry and interior woodwork.
Fortin has an eye for appreciating all kinds of wood and seeing a use for it, thus the name, The Whole Tree.
"It embodies my desire to use as much of the tree and wood product as possible," said Fortin, 52, who started the business in 2003 and has been in woodworking nearly all of his adult life.
"Old barns and buildings can provide a wealth of wonderful materials to work with," Fortin says in a statement on his website.
A few years after opening his business, he spotted a sign along River Road in Claremont that read "wood for sale" in front of an old barn that was no longer in use.
"Since I work with wood, I thought 'what's this all about?'," Fortin recalled of that day in 2006.
After some discussion with the owner, now deceased, Fortin bought the wood and ended up with something else.
"There was oak and also elm. Elm growing where you can just go out and harvest has not been available for 60 years or more," Fortin said.
The owner, an elderly man, also said the barn was falling down and he wanted to get rid of it as there was no one to pass it on two. The two struck a deal: Fortin could have the wood if he took down the barn. While a lot of the wood was trucked to New Mexico by some of Fortin's relatives, who constructed some small buildings in the mountains, he fashioned some the boards and installed them as part of the décor in the bar area of two local restaurants.
"I still have a lot of the wood waiting to be used," Fortin said.
While Charron and Fortin make completely different products with wood, both understand the desire to build with wood means their customer is looking for something that goes beyond functionality to be both visually appealing and improve the surroundings.
In his shop, Charron demonstrates how he cuts and shapes beech wood to make large wooden mallets that will be sold to the federal government. He makes hundreds of products including drumsticks, flag stands and rollers used in the manufacture of sandpaper. Currently, Charron, 61, was building small display stands from birch for a local retailer.
"These could have been made from plastic, but wood lasts longer," Charron said. "It is better quality and makes their product look better."
Fortin, who uses mostly native hardwoods including black walnut, cherry and oak, said he may work with a customer's specific design or they work together on developing the design. He sees his craft as a "privilege" to create something.
"More and more what I find is people want to appreciate something made by hand and they want something they can point to, can feel, to a level which they desire," he said.
Patrick O'Grady can be reached at pogclmt@gmail.com.