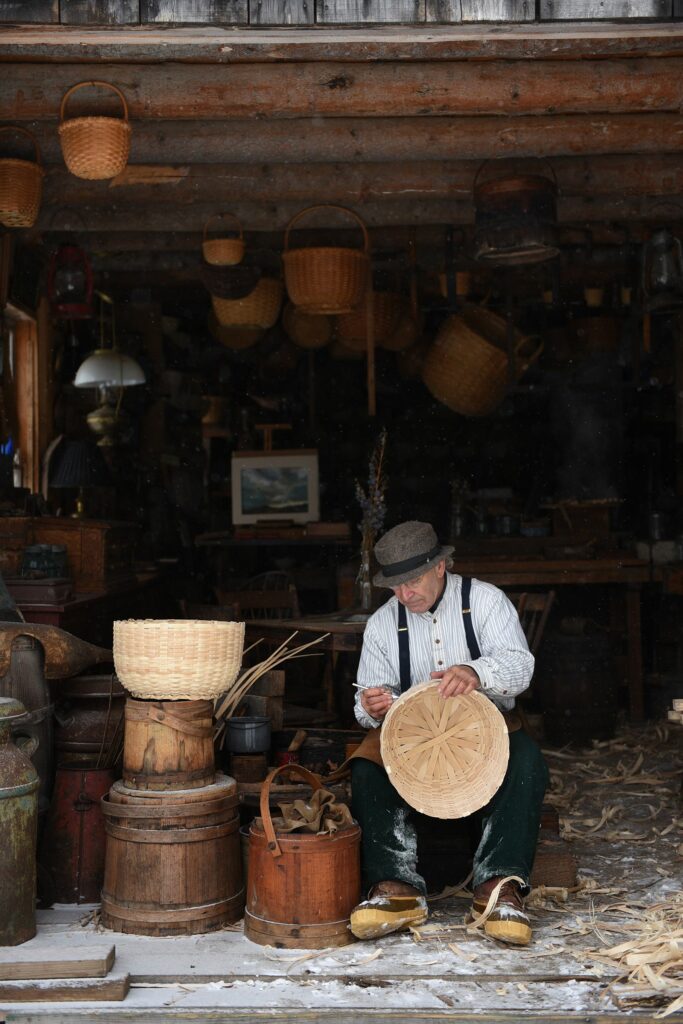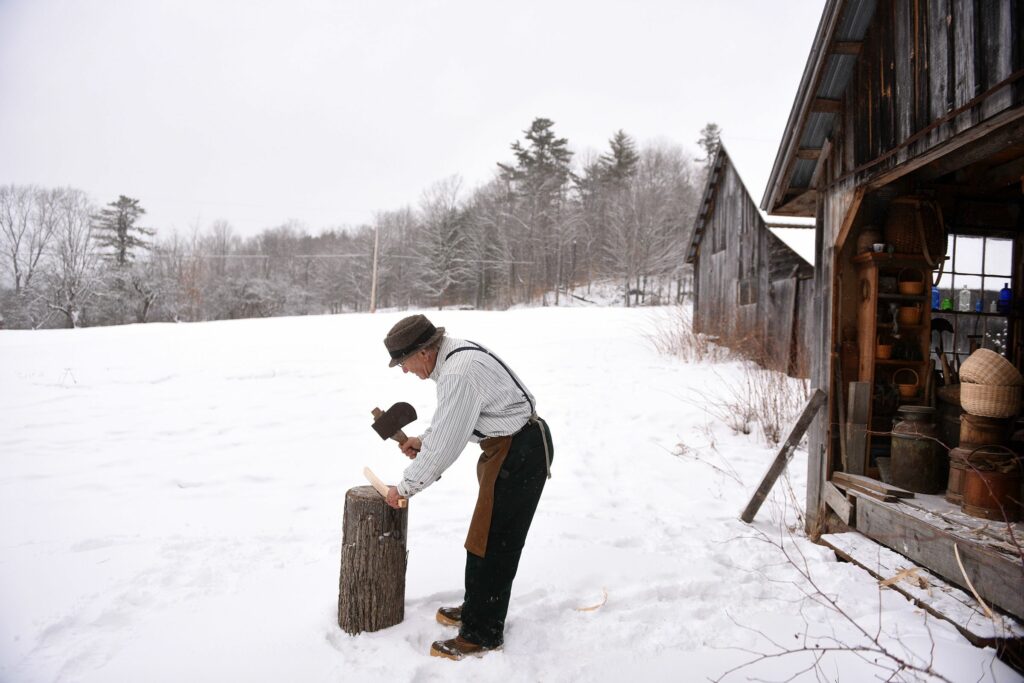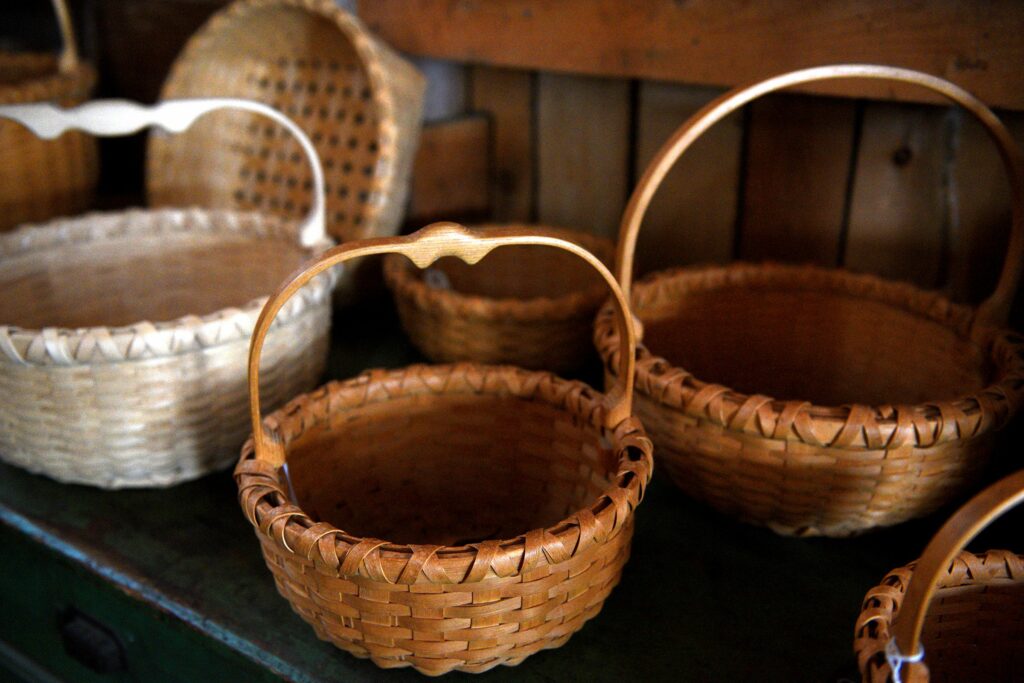 Valley News Correspondent
STAFFORD — Jeffrey Gale was working as a naturalist in New Hampshire when a couple of books by Eric Sloane — Seasons of America's Past and Reverence for Wood — inspired him in a way that led to a livelihood as a basket maker. From his first basket nearly 40 years ago, Gale, 69, has made baskets in a traditional way, harvesting most of the wood for his baskets on his property and using only hand tools. He spoke with the Valley News about his craft, how he got started, why he chose basket making and why he has continued with it for so long.
Question: How did you get started in the craft of basket making?
Answer: I started when I was 30 back in 1982. (With these books by Sloane) I got very intrigued by thinking about all the craftsmen and how long it took to make things without power tools. It really spurred my interest on how things were done by these older craftsmen. I began to wonder what it would feel like to inhabit that place; what it feels like to work that slowly, that carefully. Or like shaping a piece of wood with only a hand tool. I began thinking about all the crafts and how things were made.
Q: What drew you to the craft of basket making?
A: Basket making drew me because it was this mysterious thing. How the baskets were made; how did they make the splints (thin strips of wood of various widths that are woven at right angles to form the basket) by hand without machines. And it was this thing that was functional to use around the farm like to put potatoes in. It got me thinking, people taking something from a tree in the woods and making something they could use in their rural life. What then particularly hit me, I was on an old farm and in the barn was an old basket. I started using it in the garden and that is when the basket, as opposed to making a wooden bowl or chair or something, the basket really spoke to me. Wow this is useful in a garden and it is just made out of wood.
Q: Are you self-taught? Did you ever take classes or learn from someone else?
A: I am pretty much self-taught. My first basket — my neighbors through the woods were a couple that made baskets. I remember saying to them, 'I'd love to know how to make a basket.' So they put a draw knife in my hand, they had a shaving horse on the porch and said this is how you make a splint and if you make enough splints to weave a basket we'll show you how to weave it and make a rim and handle. I was inspired and so I put together my first basket. And I met an old basket maker in my area. He took me out in the woods and showed me what kind of tree to get. Even though he mechanized it, he took the mystery away. I made one or two baskets with him and then I was on my own.
Q: Could you further explain the term 'traditional basket making' as opposed to making baskets by machine
A: I feel like to me, traditional means part of our heritage of when people, like before 1930, before electricity out in the country. So traditional means to me two things: It is the kind of baskets that were used by people, tradition of using these kinds of baskets and also traditional tools; meaning tools that aren't modern. Tools that were used for generations to make things out of wood. And of course, when I think of traditional, I think of the old basket maker who would work by himself as opposed to in a factory. So the tradition of the rural craftsman.
Q: All of your baskets are made of white ash. Why do you prefer that species?
A: The only baskets I have made are from white ash. Ash is the only wood that when you cut it, while it is green, and you use a process to pound it — I pound it with a mallet — the wood will separate along the annual growth rings. So I split out pieces of wood and make them dimensional, say 1-inch wide and 5-feet long with my draw knife. But then when I pound it on the pounding stump, it separates so by the time I pound the whole piece, I might have eight to 10 splints in my hand and those are what I can use to weave the basket. So with ash, I have my splints for weaving a basket and have inner and outer rims. Because of its ability to bend when it is steamed or green,  I can make the rims for the basket and also the handle. So I can carve the handle and bend it, which I couldn't do with some other woods.
Q: How many different types of baskets do you make?
A: I have about 40 sizes. Some might be 4 inches; some might be like a double bushel basket that is 24 inches around and really heavy and large. I have three main kinds. One is a rectangle bottom to an oval top with a regular handle. Then I have some that are square on the bottom and they become rounded at the top. And I have others that are completely round like when you think of a bushel basket that is round at the bottom and round at the top. What makes them different are the different types of handles. Sometimes, one handle over the top and sometimes a handle on each side like a bushel basket. I make swing handles and decorative handles.
A: Have you designed all your baskets?
Q: Yes, I design all my baskets. What I think about every year when I make new the sizes, I think, what would that be like if it were shorter, taller; what would it be like if it were longer or twice as big but with the same proportions. Or instead of a regular handle on the top it had side handles so I could put books in it. I think of the uses and every time I think of changing the size, shallow, deep, and then I think what could that be used for. What kind of handle should I put on it and should it be decorative or should it be heavier? So over these decades of making baskets and using them myself, I think I could use them in a different way. My most popular basket I call the Vermonter. I make so many of them. It is a nice medium-sized basket.
Q: How long does it take to make a basket?
A: I work in batches. I might spend a week weaving baskets, but that is just a small part of the basket. While the weaves are drying I'm making handles for another batch of baskets or rims for another. And I might be pounding out splints for bushel baskets. I am doing many different parts during any given time.
It is a long process and depends on what basket I make. A bushel basket takes 10 times longer than a 6-inch basket because there is so much more material and the pieces are bigger and it takes me so much longer to weave it. The process is basically the same. I lay out the bottom, I weave up the sides. Then I let that dry. Then I pound it together to make the splints really tight and level it off on the top. Then I do the rims and handles and let them dry. When it is all dry, I do this lashing around the top rim so it can't come apart.
Q: What has motivated you to continue traditional basket making for four decades?
A: It isn't just to make baskets. When I thought about this craft and old basket makers, I thought the skill of this should be preserved and not just in museums. That somebody should know what it feels like to do this day after day. And that is still how I feel about it today. When I am in my old workshop in the country, surrounded by these old tools and the wood stove is heating the workshop and boiling my water, I feel like I am preserving something that is important that has been forgotten.
Patrick O'Grady can be reached at pogclmt@gmail.com.