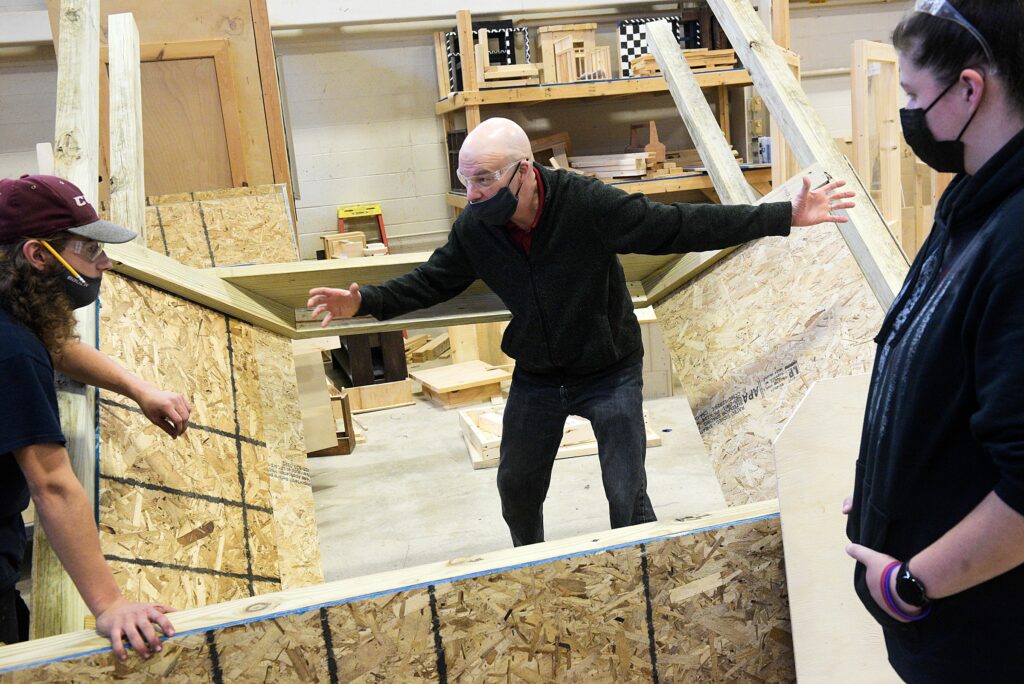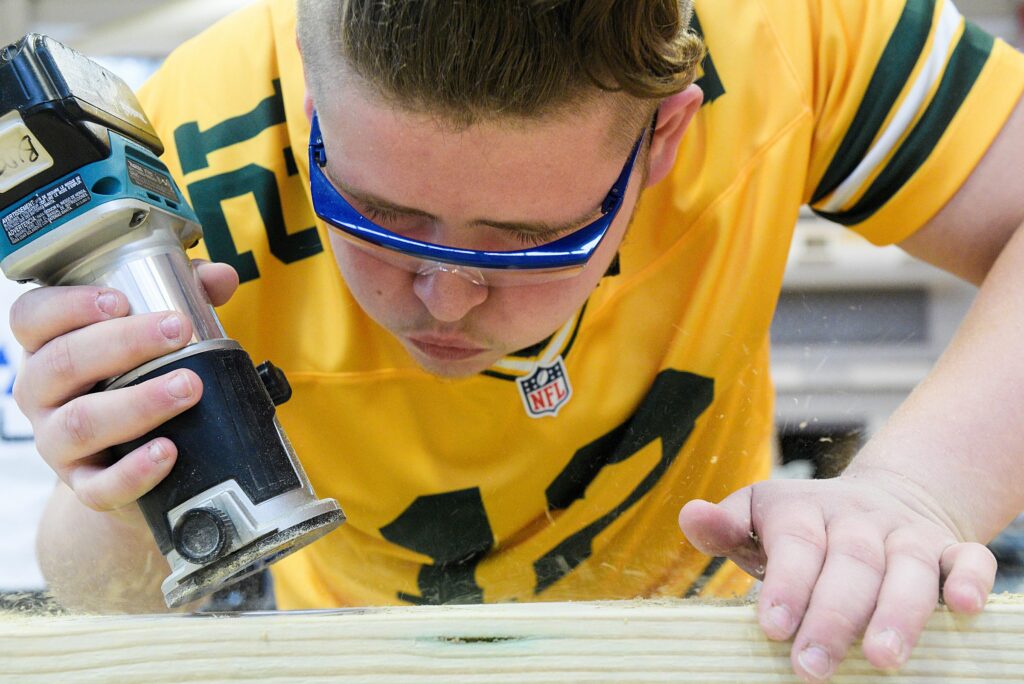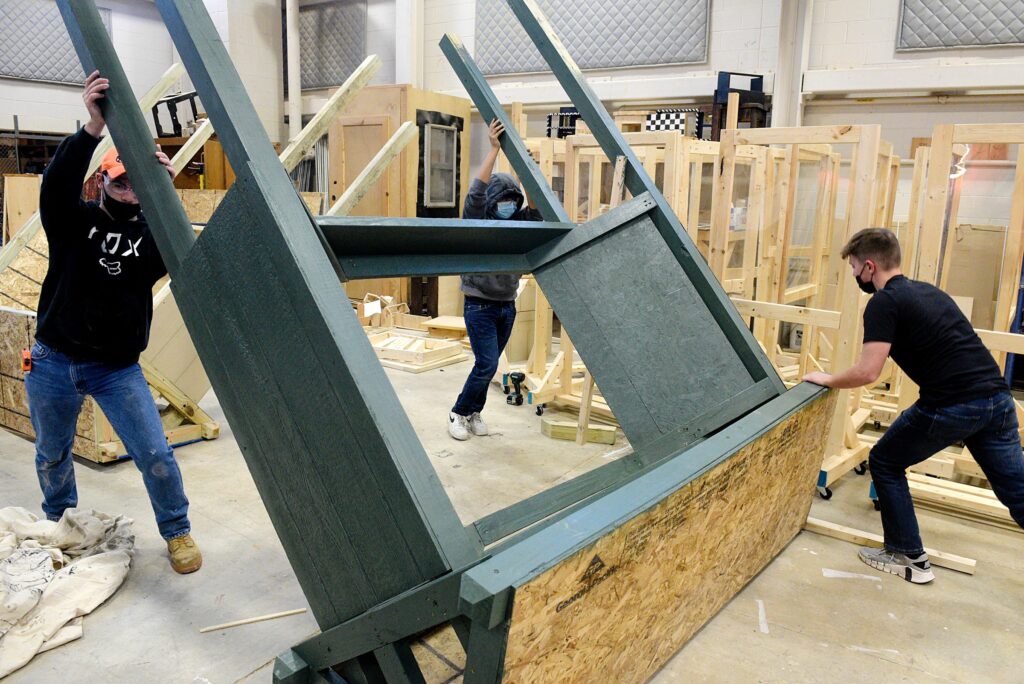 Valley News Correspondent
CLAREMONT — Wood, as an instrument for education, can do more than teach someone to build a structure or a piece of furniture: It can also build confidence and a valuable skill set.
At the carpentry I class at the Sugar River Valley Technical Center in Claremont last semester, students spent several weeks constructing three large kiosks for the city's public works department. The kiosks will be placed at three city-owned reservoirs.
Instructor Mike Burnett said it was been amazing to watch the transformation of the students' ability from the beginning of the semester to the final few weeks.
"I will have students who come in at the beginning of the year not having used a tool in their life and by the end, they are building structures like this," Burnett said while his students worked on various aspects of the kiosks in different areas of the classroom. "They also build cabinets and kitchen tables and walk out of here with the confidence of being able to do something for themselves from a piece of wood."
The kiosks measure 10-feet tall by 8-feet wide and 3-feet deep with posts that will sink 3-feet into the ground. They are made mostly from pressure-treated wood, but also include metal roofs for longevity and paneling on the sides. The design used was from an existing kiosk at the entrance to the Bobby Woodman Trail off Pleasant Street.
Carpentry, a yearlong course, involves building different items, mostly from wood. Burnett said his goal includes getting students comfortable with using tools and working with construction material.
"I want them to have a good concept of what it takes to build a structure," he said. "Our goal is to provide them with entry level skills and when they graduate, can walk on a job site with those skills."
Those who continue with the level II course next year will create more advanced projects.
"They will be able to choose many different career paths including construction, woodworking, cabinetmaking and carpentry," Burnett said, adding that he also stresses the importance of "soft skills" such as showing initiative, a good attitude and arriving to work on time each day.
Burnett also uses hardwoods in his classes and has students who build their own projects.
"I encourage them to build something for themselves like a table or chair they can show at home what they have accomplished in here," Burnett said.
Working with wood is challenging and not everything comes together as planned. At one of the kiosks, students were trying to figure out what went wrong and how they could correct a misalignment of the frame.
"The class also teaches them to solve problems," said Burnett, watching the students discuss which pieces had to be removed and cut again.
A few of the students said they like working with their hands and took the class because of an interest in wood, which could offer job opportunities after high school.
"My dad worked as a carpenter and I grew up with it," said Cameron Oxon, who was using an electric rotor to carve the names of the reservoirs on boards while another student painted the lettering.
"It is a useful trade. You can always find work."
Ryan West, who was with other students trying to decide on a course of action with the misaligned framing of one kiosk, said he enjoys working with wood and learned some basics of carpentry from his father.
Kraig Harlow, a paraeducator with the class, also watched the growth of the students from the first day.
"It has been fantastic watching them develop these hands-on skills," Harlow said. "It's been incredible to see their growth. They will leave here work ready."
With the kiosks complete, the students are now engaged in learning how to construct a shed. Burnett said the first step is create a small model measuring about 15 inches by 12 inches and learning the terminology associated with timber frame construction.
Working with wood opens up a range of career opportunities for those who decide to pursue that line of work. But even for those who don't the skills learned can still have value in the years ahead.
"I tell them that not all of them are going into carpentry, but they will be able fix something in their house when it breaks or build something," Burnett said.
Patrick O'Grady can be reached at pogclmt@gmail.com.