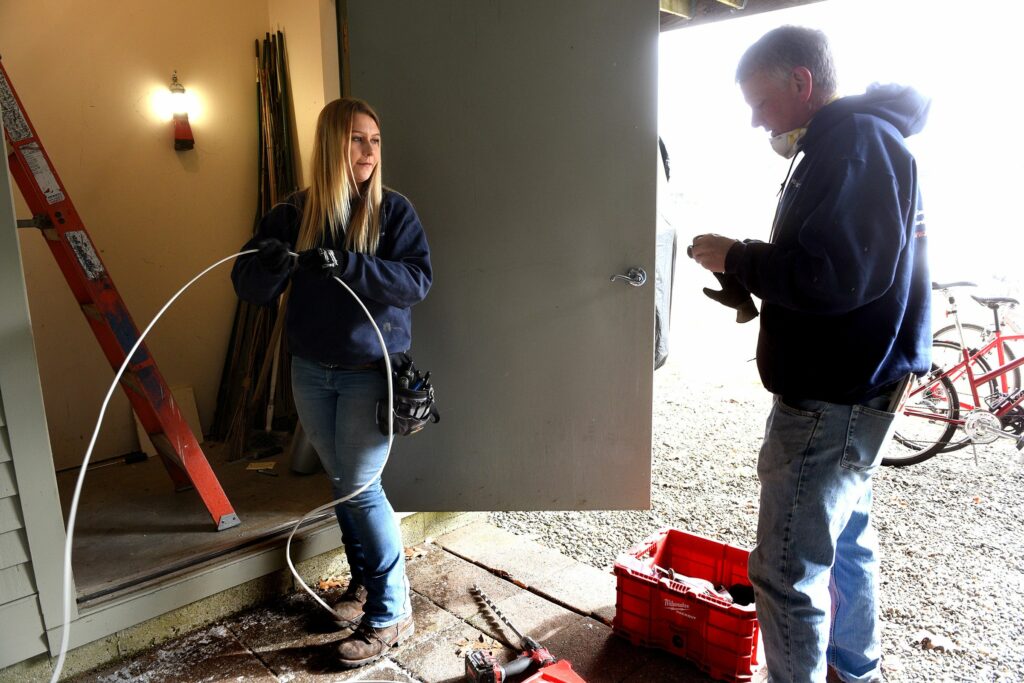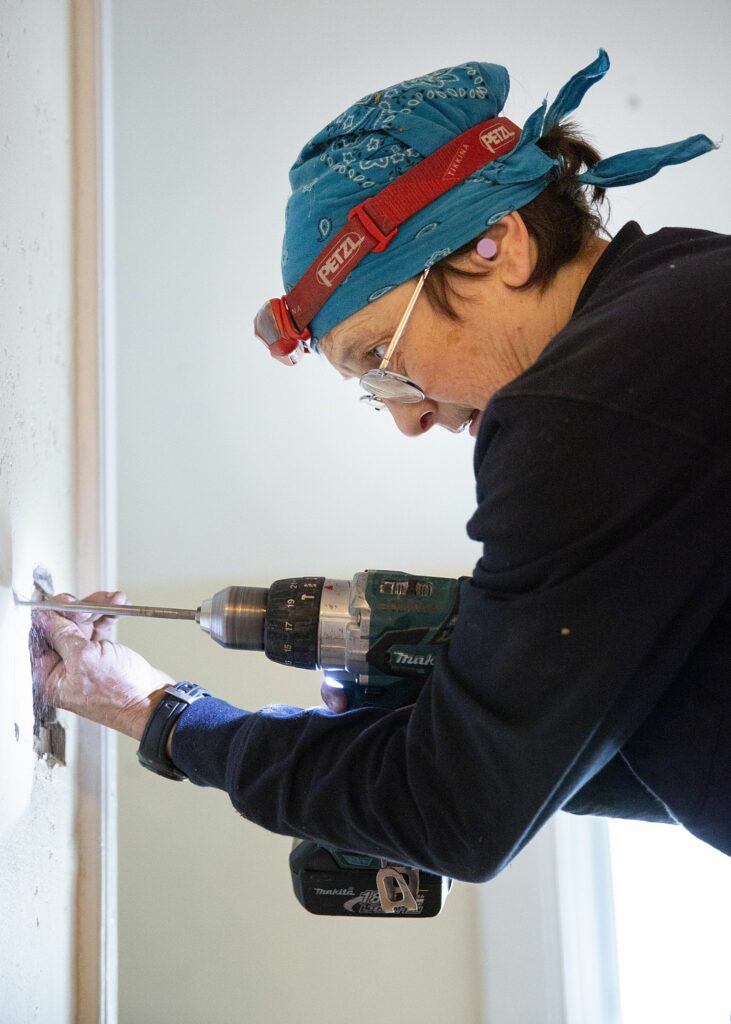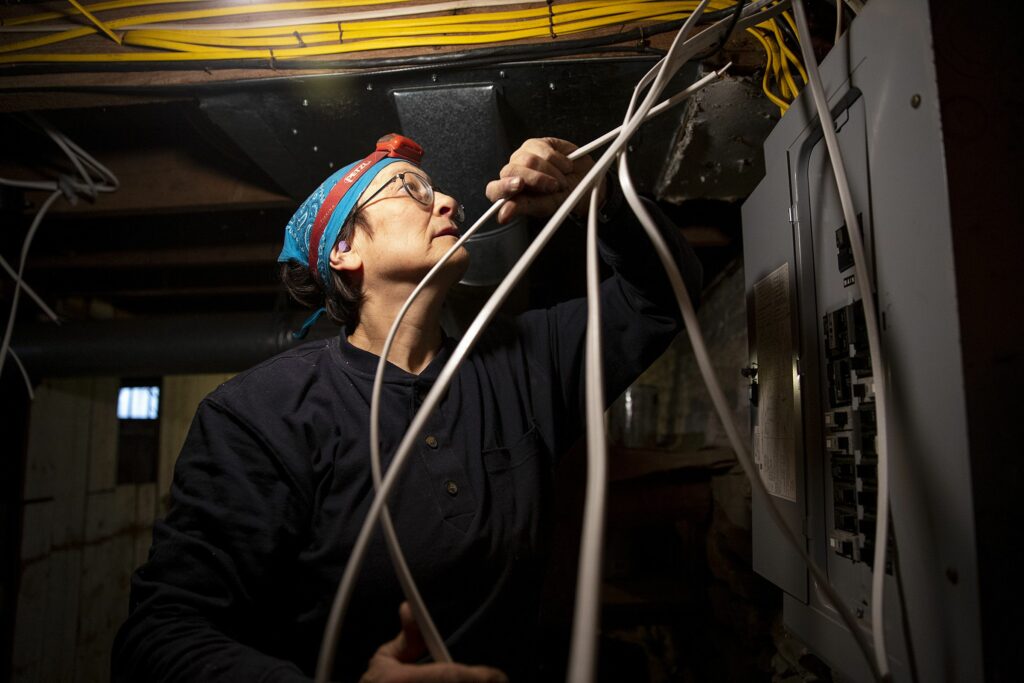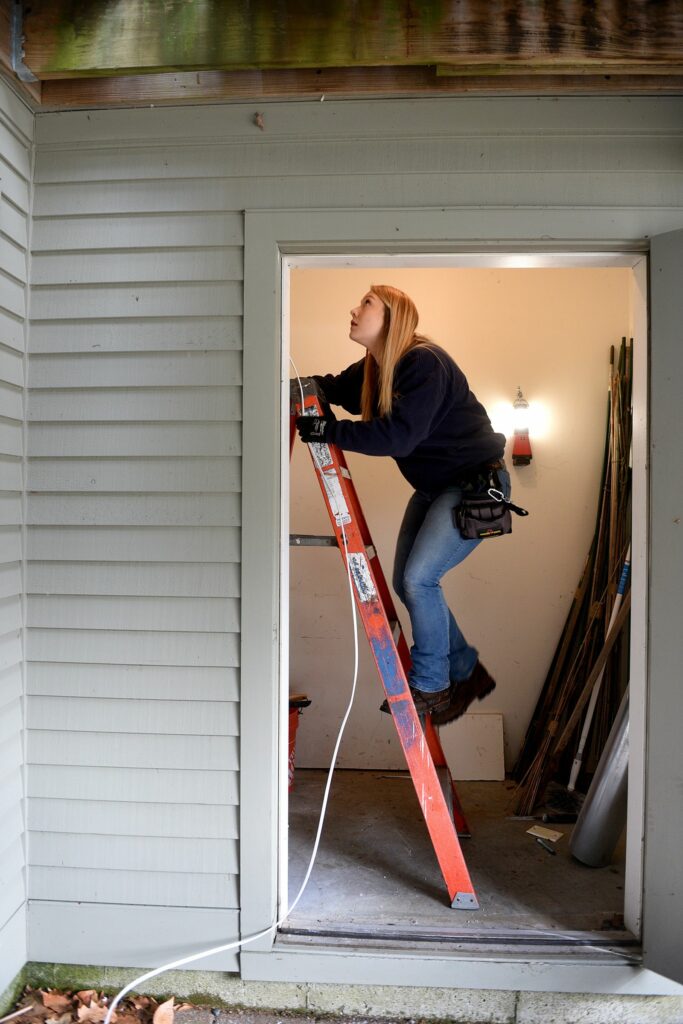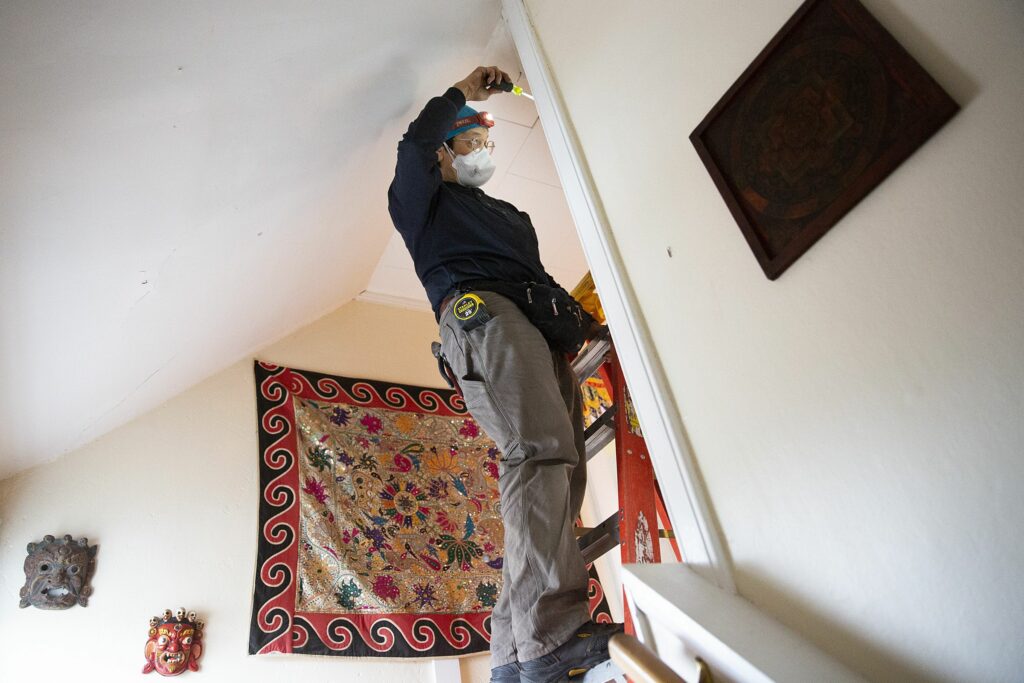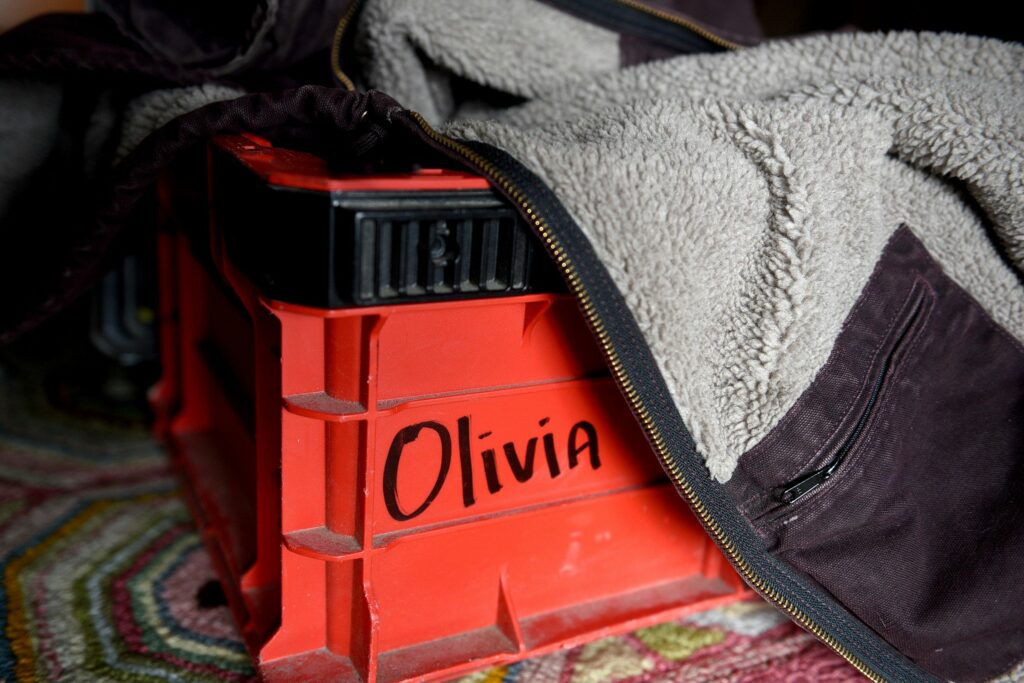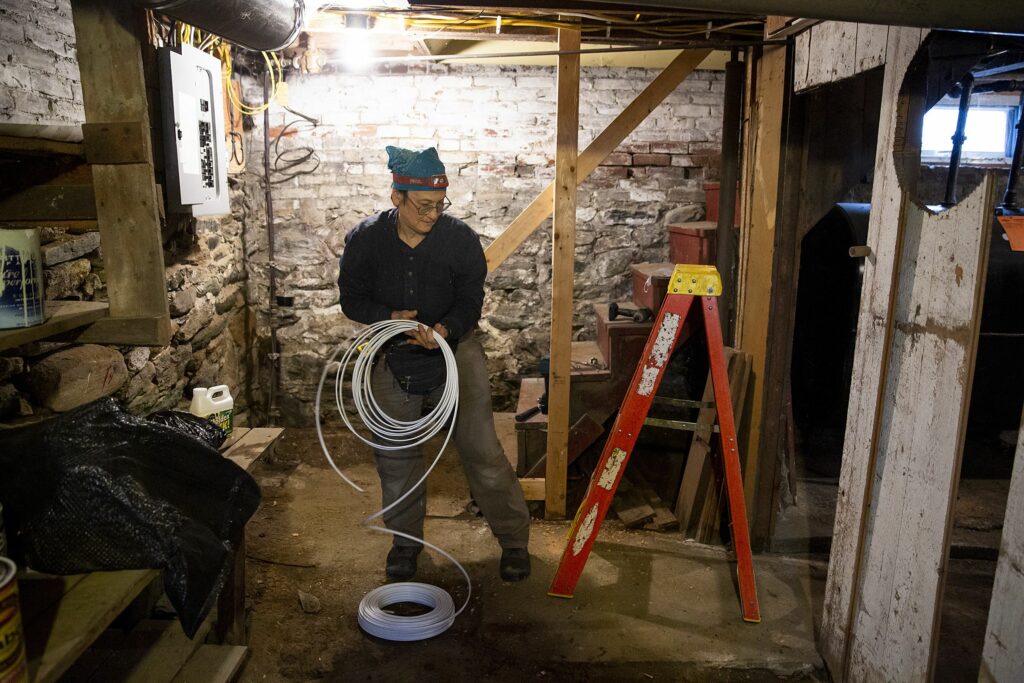 Valley News Correspondent
For decades, the trades have seemed like an unconventional career path for women and the statistics back that up: According to a 2021 U.S. Bureau of Labor Statistics data report, only 1.7% of electricians in the country are women.
Undeterred by the statistics, two female electricians from the Upper Valley have found joining the trades to be a smart and rewarding career choice. Both women described what it's like to navigate an industry that mostly employs men, and how despite a large gender gap, women can still find support and success in the trades.
Choosing the trades
Joanna Sharf, a 63-year-old Cornish resident, never expected that she would be an electrician. She attended the City University of New York in the late 1980s, where she was on an academic track and studying to become a medieval literature college professor. Sharf realized 10 years into working toward her doctorate that she was getting tired of the long road toward her goal of teaching.
"I finally acknowledged that it was not going to happen," she said.
In her 40s, Sharf began to search for another career path. She knew that she enjoyed technical work, so she dabbled with some classes in computer programming, but didn't like staring at a computer screen for long periods of time. Instead, she started to explore physical jobs with technical aspects, such as carpentry, landscaping and forestry.
Browsing through the help wanted advertisements while still in New York City, Sharf stumbled upon job opening for an electrician that sparked her interest. In 2002, she moved to Massachusetts and began her apprenticeship as an electrician. By that time, Sharf was approaching midlife and realized that the trades were accommodating: "(you) can start this kind of work at that late age," she said.
These days, Olivia Newcity, a 22-year-old Hartland resident, is in her fourth and final year as an apprentice electrician at Richard Electric in Wilder. Next year, she will get her journeyman's license, and in another two years, she will be eligible to become a master electrician.
Newcity, who said she "(comes) from a trades family," grew up around construction on her childhood homes and was influenced by her father who works in heating. Beginning in her sophomore year at Woodstock Union High School, Newcity attended the natural resources program at Hartford Area Career & Technology Center, which exposed her to many different career options. She quickly gravitated toward the trades and began her apprenticeship as an electrician immediately after graduating from high school.
Becoming an electrician
In 2005, Sharf moved to Cornish. She became a licensed electrician in Vermont and New Hampshire a couple of years later, and a master electrician in 2010.
After working for local companies for several years, Sharf decided that she wanted to work for herself as an independent electrician.
"I wanted more challenge in my job," she said.
Working alone offered Sharf more variety in her routine and more freedom to perform every aspect of a job from start to finish.
"I get to do everything from panel work to pulling wires," she said. "I like being able to solve issues every day and see results."
Sharf plans to continue her work as an electrician until she retires in about three years.
For Newcity, becoming an electrician hinges on how seriously she takes her apprenticeship.
Educational night classes, she explained, are required along with the hours she spends learning from and working alongside licensed electricians. Balancing these responsibilities can prove tricky and the coursework gets more difficult throughout the years.
While the initial years of her apprenticeship mostly concerned definitions and safety awareness, "by your fourth year, you're just nose deep in the code book, trying to prepare for your journeyman's test," Newcity said.
The National Electrical Code book is an electrician's best friend, she said. It provides her with information she needs to perform installations correctly and examine her work.
"We need to use that book as a reference for just about everything," she said.
Once she gets her journeyman's license, Newcity will be allowed to work unsupervised and even have her own apprentice.
Challenges and rewards
The rewards of working in the trades are abundant, and Newcity, who does everything from residential to commercial jobs, is grateful for the perspective it brings.
"I've almost been on every roof in the Upper Valley plazas," she said.
Seeing how her work impacts her community and meeting interesting people from jobs helps Newcity gain more confidence by the day.
But working in the trades doesn't come without challenges, Sharf and Newcity attest. From getting licensed to onsite difficulties, there are times when the going gets tough. As women in the trades, both have experienced some additional challenges in their careers, though they find that most people have been supportive.
For Sharf, completing her apprenticeship in order to attain her license required large amounts of patience and ambition.
"The training I felt was not as robust as it (could have been)," she said. "I really felt like I had to learn a lot of things on my own."
Sharf also wished there were more women learning alongside her, and she sometimes felt that her male colleagues and mentors had an instinctive advantage to work in the trades.
"I think a lot more men are immersed in this kind of stuff more than women," she said.
On the job, Sharf and Newcity have had some customers question their credibility as women in the trades, but for the most part, "that's the exception," Sharf said.
"It really comes down to the person you're working with and what they got taught in their household," Newcity said. She said she finds that most skeptics are customers who belong to older generations.
Newcity also finds that just because statistics say the trades are male-dominated doesn't mean women pursuing the same fields are suppressed.
"I've had more men congratulate me, be proud of what I'm doing and actually be excited to have me working with them," she said.
Newcity's employer and the owner of Richard Electric, Steven Richard, is supportive of Newcity and other women interested in the trades.
When Richard himself was an apprentice electrician during the late 1970s, he recognized that few women were to be found in his chosen profession. Throughout his time working in the trades, Richard has come across just a few female electricians.
"I would just encourage any woman that thinks she wants to come into the trades to try it," he said. "I'm really happy to see women coming into the trades."
Enthusiasm, courage and confidence are of necessary importance for anyone choosing the trades as a career, Richard said.
"The steepest climb for not only women but anybody is mechanical aptitude," he said.
Advice for women interested in the trades
Sharf advised other women who work in the trades or are interested in becoming involved in the trades to prepare for physical and mental challenges, and to expect rewards, too.
"It never occurred to me that (this) was a serious career option," Sharf said, whose parents had always encouraged her to follow a more academic path.
Now, Sharf knows that the trades are in high demand, offer a competitive salary, and are personally gratifying.
"Don't hesitate, it's so worth it," she said.
Newcity agrees that the trades are an excellent field to pursue, and sees the Upper Valley as a great place to start.
"I'm lucky to live in (Vermont) and do what I do because I feel so accepted," she said.
Newcity said that the internet and society place an emphasis on the negative experiences of women in the trades, and though incidents such as people questioning her work or commenting about her being a young woman in the trades do happen, she finds the industry welcoming to and supportive of her and other female colleagues.
"(Customers) don't care who shows up on their doorstep, whether it's a man or woman, as long as they know what they're doing," she said.