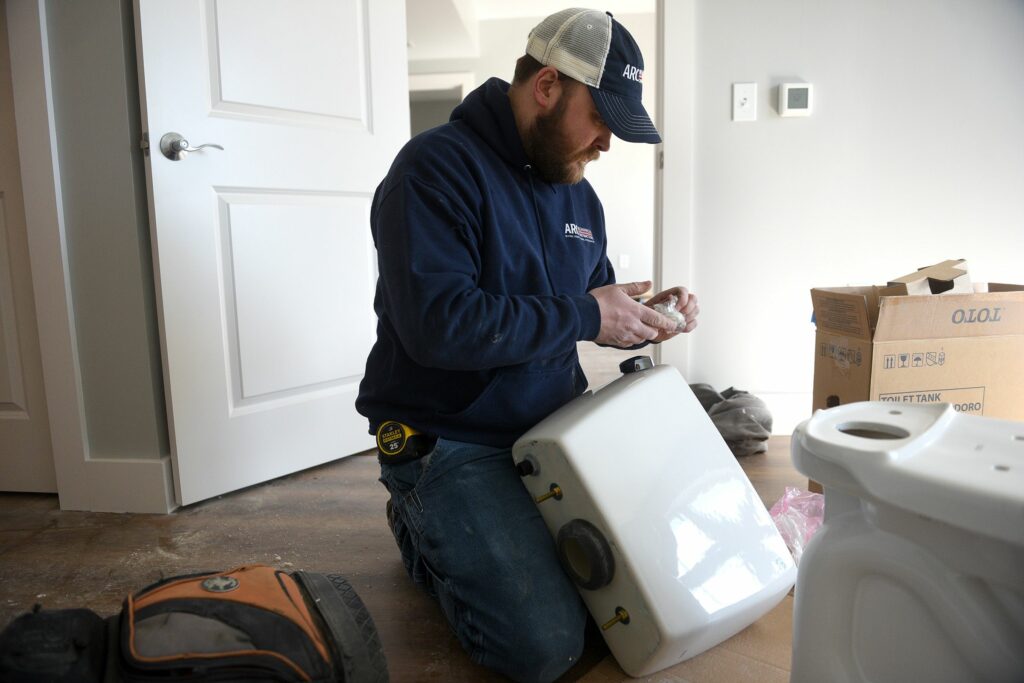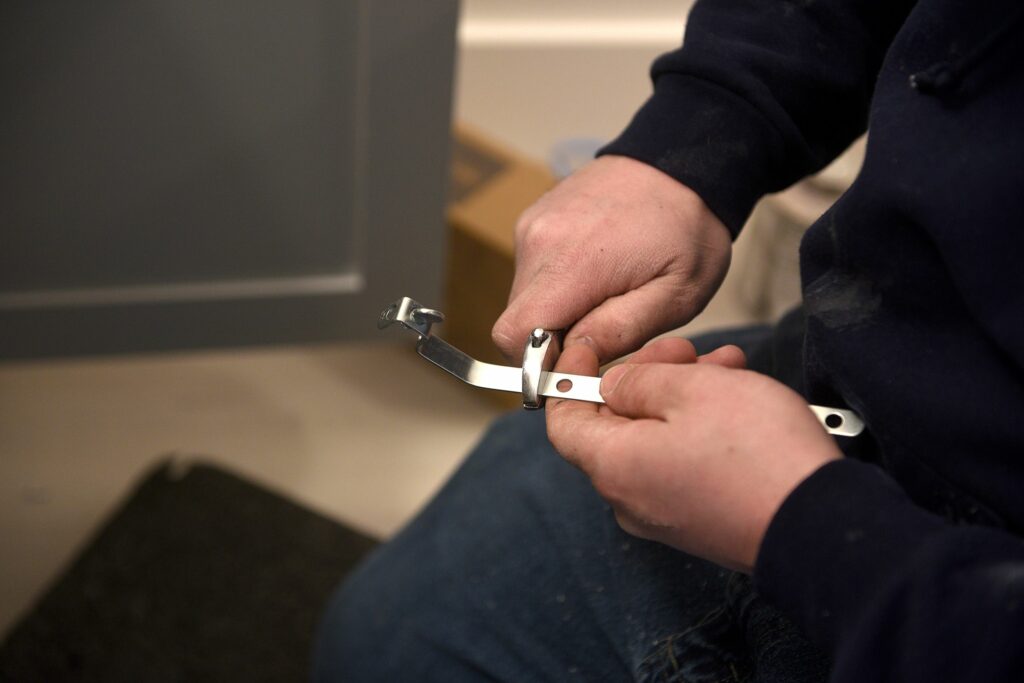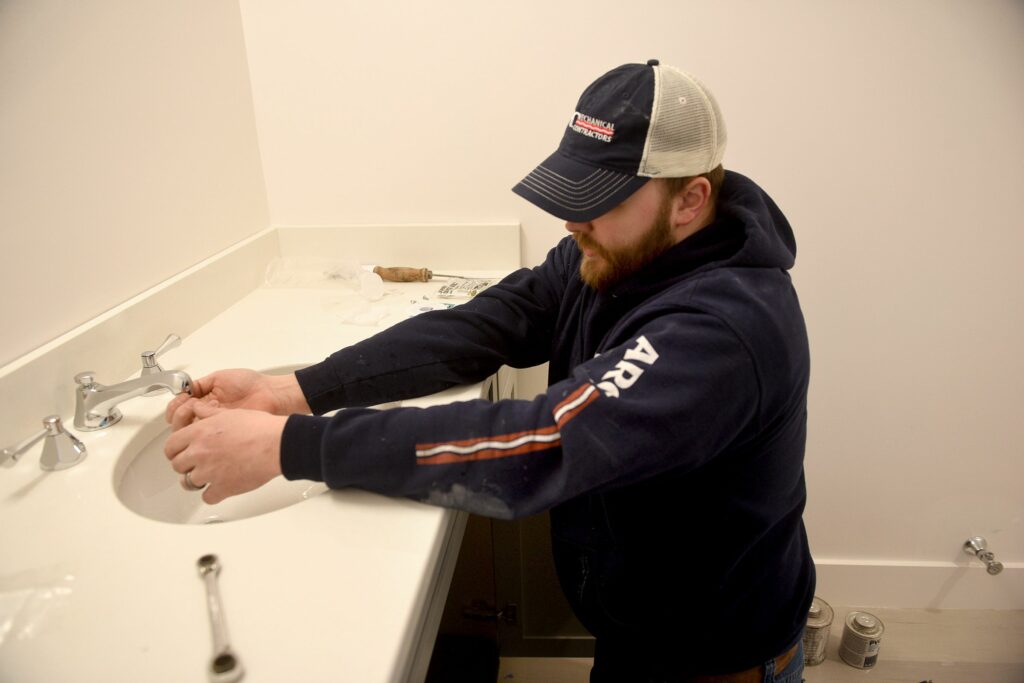 Valley News Correspondent
BRADFORD, Vt. — Garret Girard decided early on to pursue a career in the trades. For Marc Tetreault, the decision came a little later in life.
Now both men have full-time jobs in their chosen field while enrolled in the four-year apprenticeship program for plumbing at Vermont Technical College in Randolph as they work toward becoming licensed as journeyman plumbers.
"I was in the flooring industry from 2013 to 2020," said Tetreault, 29, during a phone interview from his home in North Haverhill. "I was looking for a good, solid career change."
Tetreault recognized that the high demand for plumbers is only going to increase in the years ahead, as anyone who has tried to call a plumber these days will acknowledge.
"Not that it is a dying trade, but I think the average plumber today is in his 60s," Tetreault said.
For 21-year-old Girard, his career path began when he entered Stevens High School where he enrolled in classes at the Sugar River Technical Center, including plumbing, carpentry and advanced manufacturing.
"My uncle got me interested before high school so I took the classes and enjoyed them," Girard, of Claremont, said.
Girard just completed his third year in the apprenticeship program and Tetreault, his second. At the same time, both have been working full time as apprentices with ARC Mechanical, which is based in Bradford, Vt.
Brenda Oakes, human resources manager at ARC, said her company, which also has offices in Littleton, N.H., West Lebanon, Perkinsville and West Chesterfield, N.H., has been doing the apprenticeship program for years and currently has seven employees enrolled.
"We need to grow our own plumbers," Oakes said. "Plumbers are an aging workforce so we recognize that we need to encourage this next generation to enter this trade. There is a demand for it and the demand is not going anywhere so we have to grow our own."
ARC pays for the tuition and books. Once apprentices complete their classwork, ARC will pay for the exam and licensing to for the trainees to become journeyman plumbers. A year later, a journeyman plumber can sit for a master plumber exam.
The technical college offers apprenticeship courses in electrical and plumbing. The course year runs from October to November for plumbing and November to April for electrical. Both require 8,000 hours of on-the-job employment, 576 class hours and take four years to complete. Classes are two nights a week.
Before the COVID-19 pandemic, classes were held at various locations around the state. With the onset of COVID, the college switched to Zoom and has remained remote as it is easier for students when they can learn from home after working all day.
Sarah Ballou, the program coordinator for the electrical and plumbing apprenticeship programs at Vermont Technical College, said they have seen an increase in enrollment in recent years in both programs. There are a combined 650 students enrolled in the plumbing and electrical apprenticeship programs this year at Vermont Technical College, which is the largest ever, Ballou said.
Ballou said high school technical centers are "amping up their game" and getting kids involved, regardless of their academic standing, by encouraging them to give the trades a try.
"There are a lot of factors for this (enrollment) but the biggest thing, especially in Vermont, the governor is finally pushing that not everyone is college bound," Ballou said. "For years, we were in that big track that everyone has to go to college. No, not everybody has to go to college. We still need tradespeople."
That is where Girard found himself as he entered high school.
"I did not excel at school and was a poor test taker," Girard said, adding that he learns better hands on. "I took as many classes at the tech center that I could."
Apprentices are hired full time at ARC with benefits and regular pay increases during their four-year apprenticeship. The combination of classroom and on-the-job training suits Girard fine.
"It is a lot easier for me to do a full day hands on and then come home and learn about it in class," he said.
Tetreault is married with two young children and a house. He and his wife had to plan for his career change and an initial drop in pay, but it has worked out fine.
"ARC makes the program very simple," Tetreault said, adding that having no student debt after four years is a big advantage. "I give credit to Brenda (Oakes) for handling all the paperwork. I just have to make sure I do my part."
Hugh Bradshaw is the assistant workforce development director at the Vermont Department of Labor, which is the registered agency for apprenticeship programs in the state.
"We act as the agency that approves and registers apprenticeships and does the administrative side of things," Bradshaw said. "What we look to the state colleges and other partners for is to have those conversations with employers about what else we can build out for apprenticeships.
"A lot of our federal dollars recently have been focused on expanding apprenticeships, both the number of apprentices in those traditional trades particularly plumbing and electrical, but also expanding into other new occupations," Bradshaw said, adding that bookkeeping is one of the occupations now with an apprenticeship. "We are having a lot of conversations about other construction occupations and can we build apprenticeship pipelines into those occupations."
One example cited by Bradshaw is a new apprenticeship in airframe and power plant mechanics at Burlington Airport. The employees will apprentice at several aviation companies in the area around the airport, learning about fixing engines and other responsibilities associated with aircraft, Bradshaw said.
The partnership with educational institutions is key to the success of apprenticeship programs so students can get extra help from instructors if needed.
"For example, second-year electrical math is brutal," Bradshaw said. "So we know people need to be supported and this is where the colleges are really beneficial as a partner because they can help with remedial work. (If) somebody is a little weak in math, they can pull them in with extra help so they don't drop out of that apprenticeship."
With apprenticeships, Bradshaw said, the employee gets the benefit of a highly skilled, credentialed employee and that employee is earning from the start.
"Apprentices are hired right out of the gate so it is an earn-while-you-learn model and built into every apprenticeship are wage increases that are agreed upon ahead of time," Bradshaw said. "Four years out of high school, you are earning good pay with zero student debt."
Ballou, at Vermont Technical College, said those enrolled in the electrical and plumbing apprentice programs this year are mostly male with a range of backgrounds.
"We have students from 16 to 60, or older," Ballou said. "Some come right out of high school where they gained an interest in the trades; others are looking for a career change or worked in the field previously and now want to get their license."
Working full-time while attending classes is the best approach to the apprenticeship program; otherwise without the job experience, apprentices may need extra time with the classroom instructor.
"If you are working in the field, you can relate the theories taught in class back to what you are doing on the job," Ballou said. "But if you don't have that work experience, it can be more challenging."
In New Hampshire, the Department of Labor is the registered agency for apprenticeship. Four schools in Keene, Laconia, Manchester and Dover run apprenticeships through the adult education program with the Department of Education. Similar to Vermont, 8,000 hours of on-the-job experience and 144 hour of classroom instruction per year (576 for four years) are required to sit for the journeyman exam.
Bradshaw, with the Vermont Department of Labor, said the overarching goal when deciding on creating an apprenticeship program is whether it will enable the individual to move to a skilled, well-paying job.
"There is a lot of rigor to apprenticeships, so in general we are developing them into higher wage, higher skilled occupations where the employers are coming to us and saying, 'I need skilled workers and I need them to be able to have these skills and be able to show proficiency in those skills in a work environment.' And that is the sweet spot for apprenticeships."
Tetreault said the program is well-supported by the college and employers and he would encourage anyone considering a career change to think about becoming an apprentice.
"As long as you have the drive for it, you should not have to struggle," he said.
Patrick O'Grady can be reached at pogclmt@gmail.com.