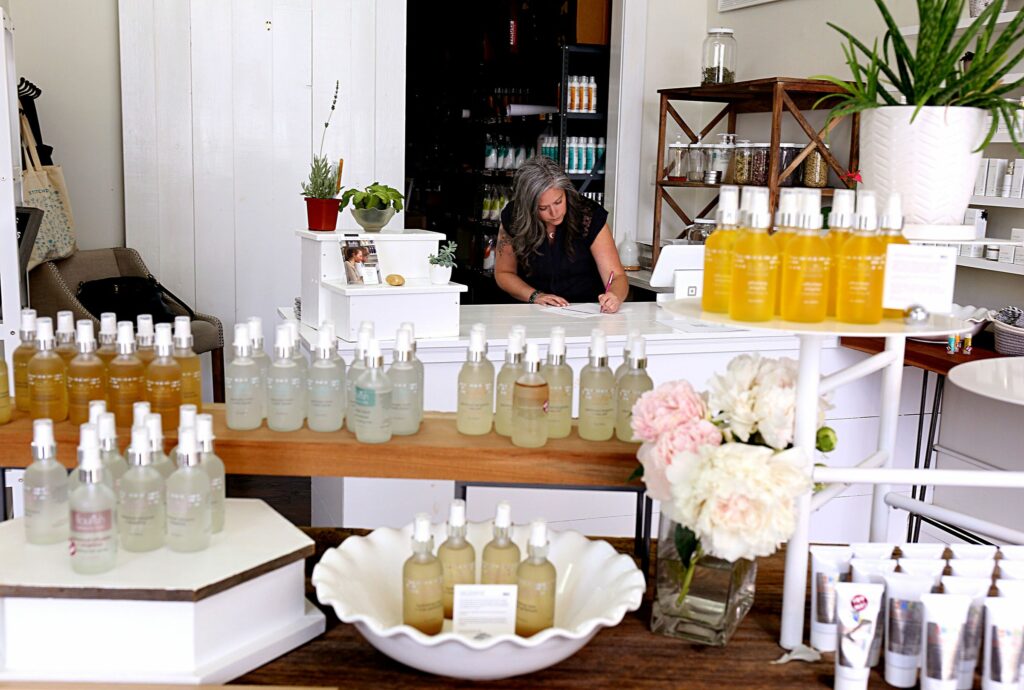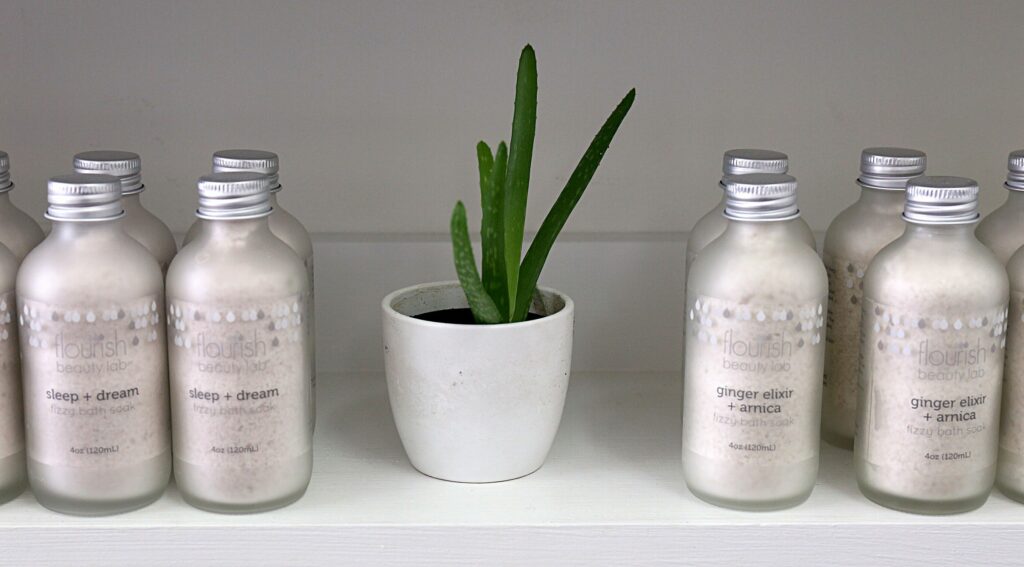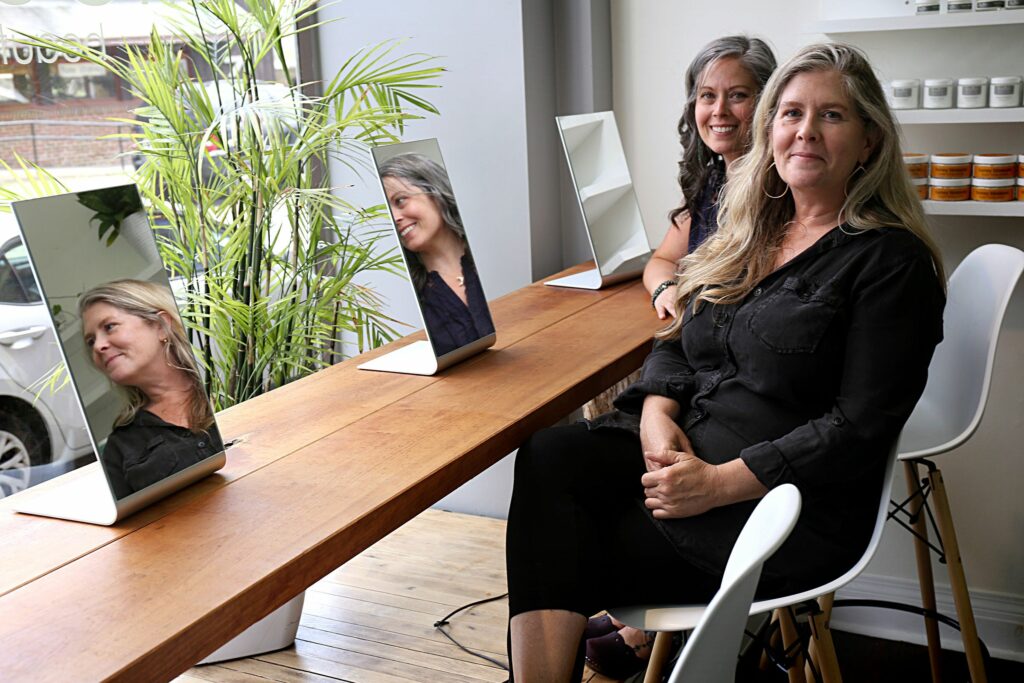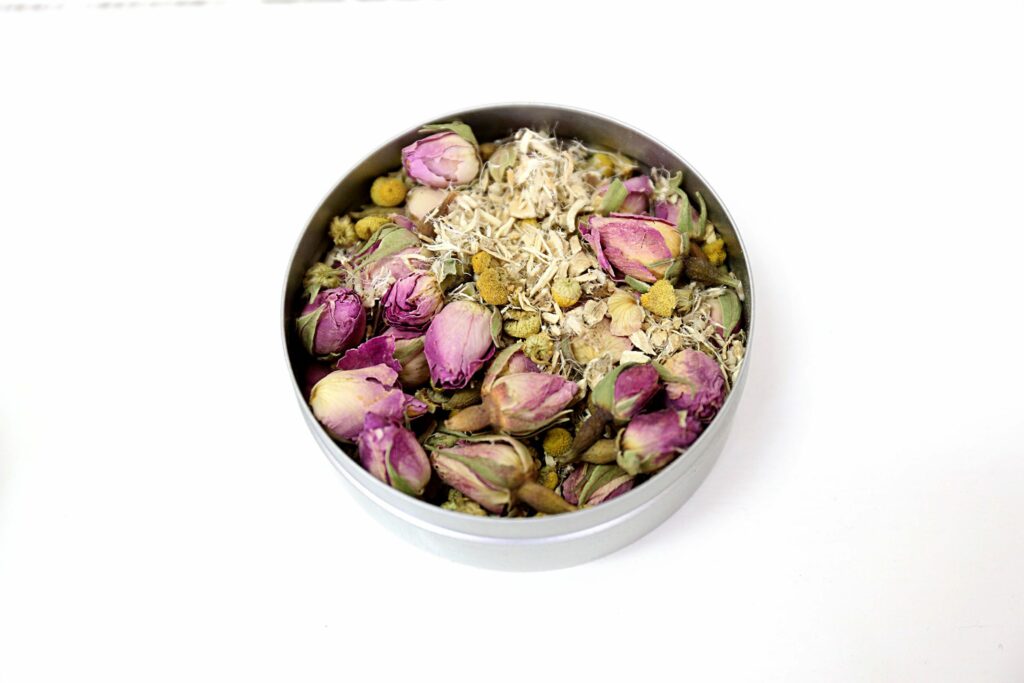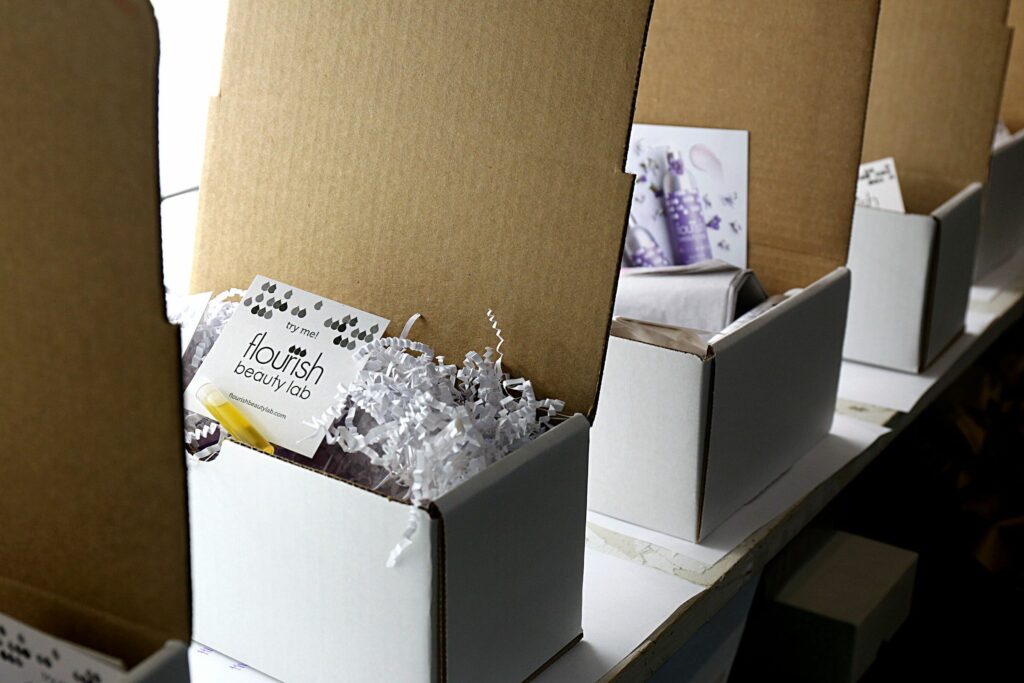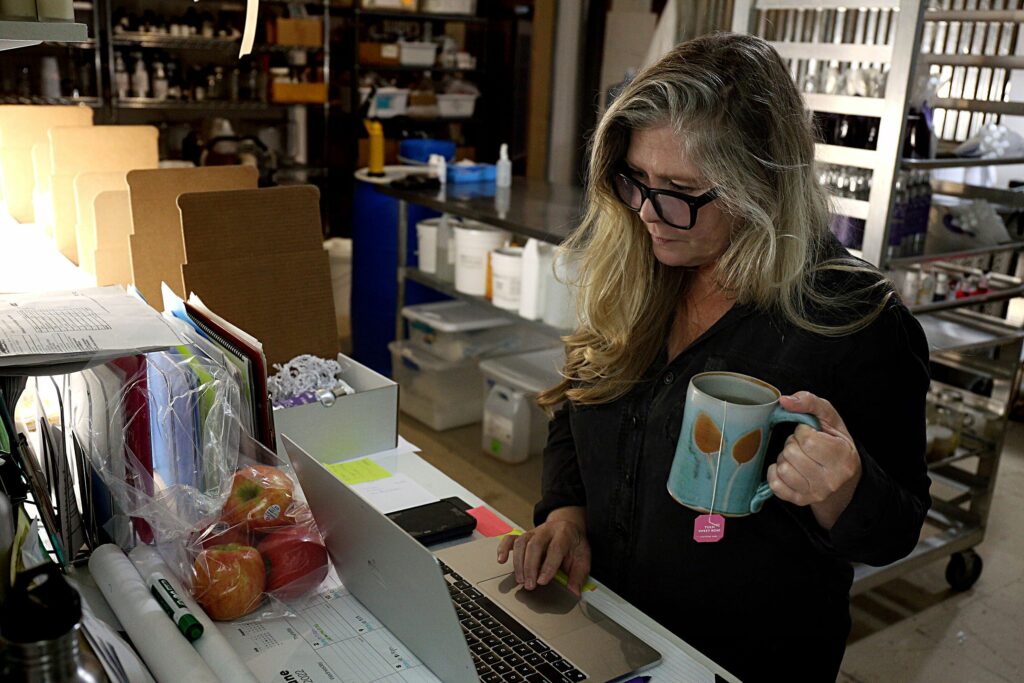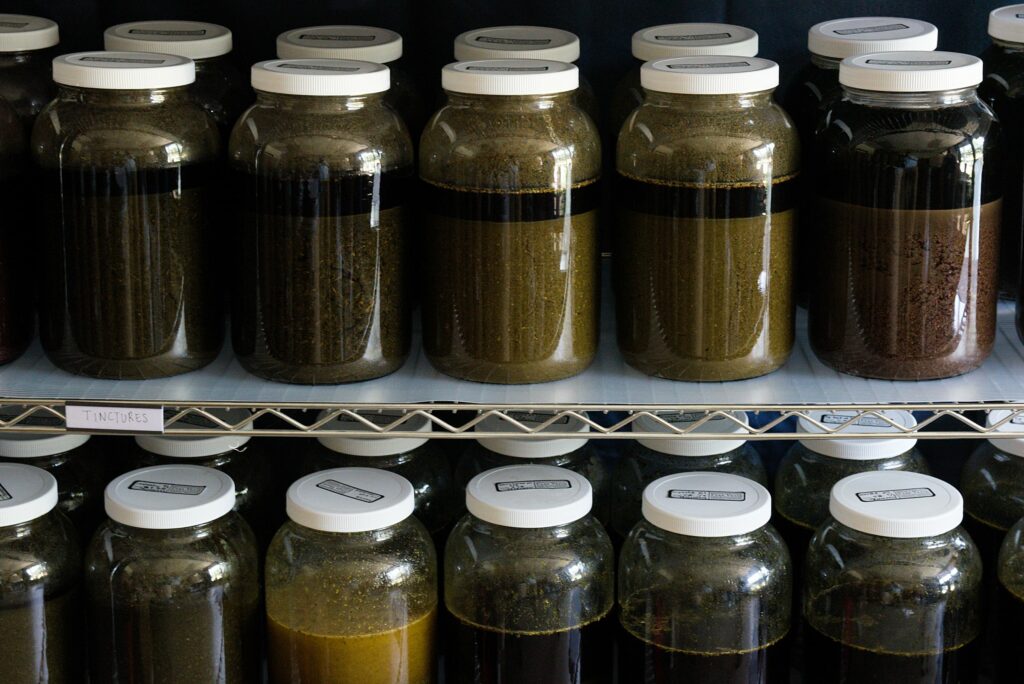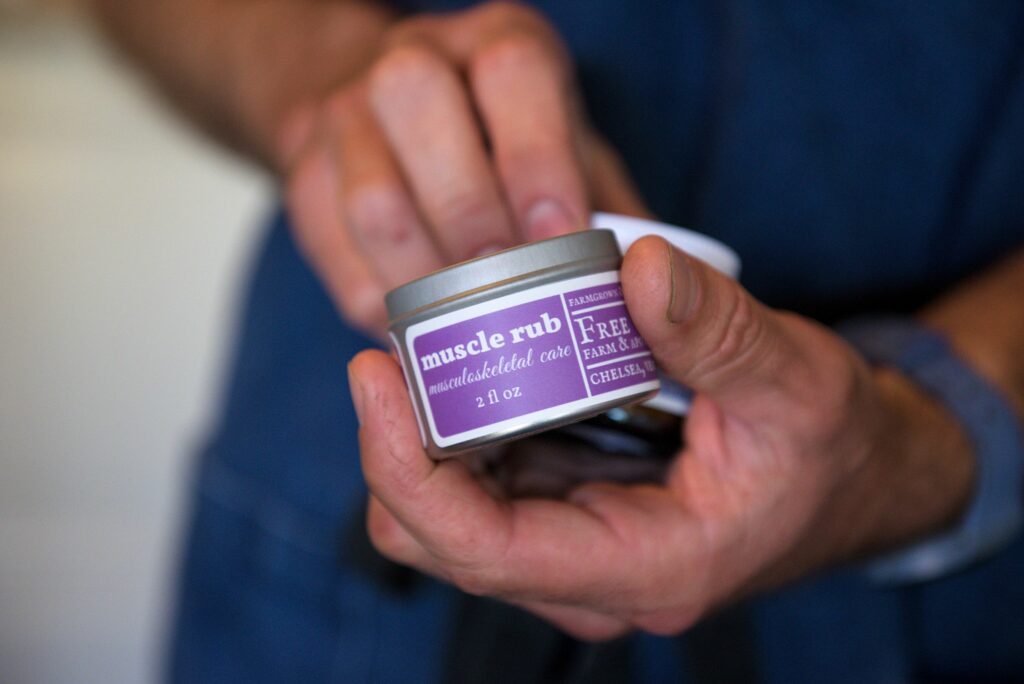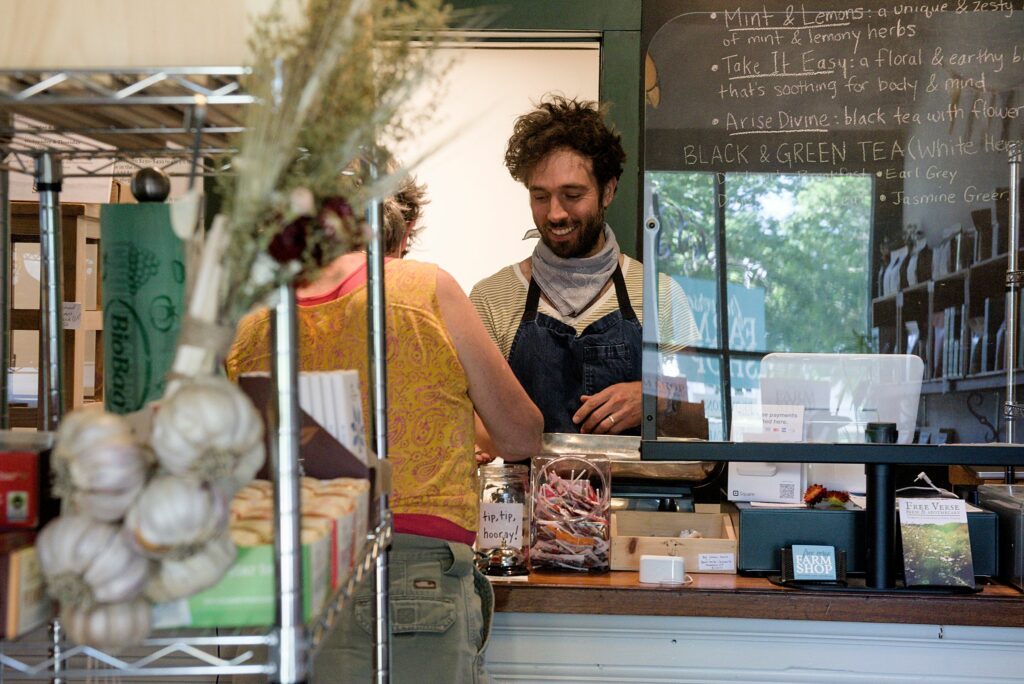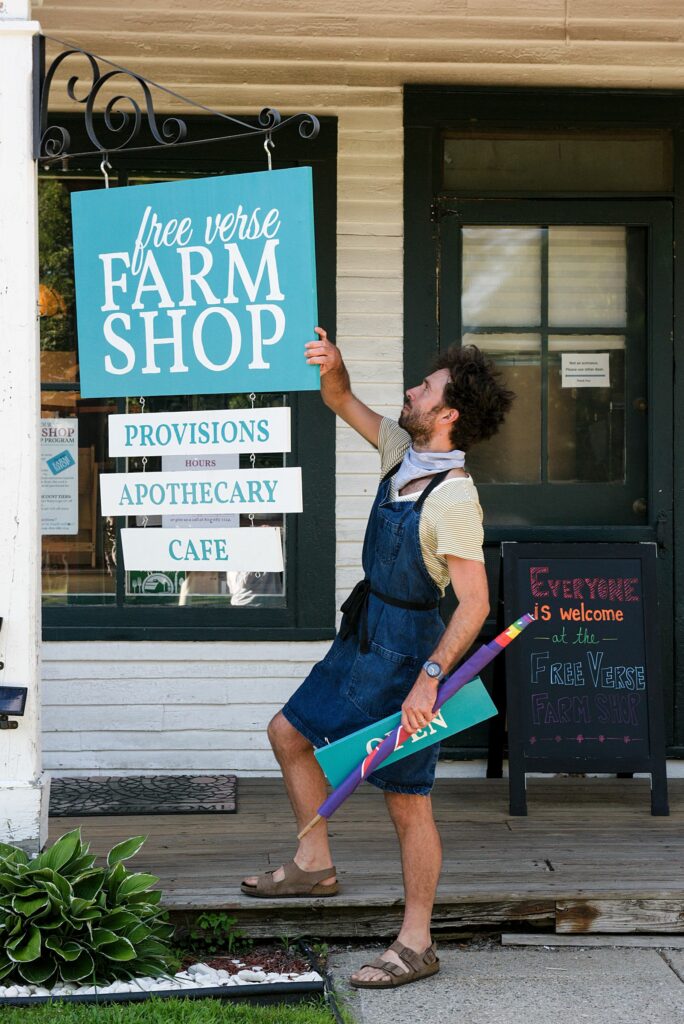 Valley News Correspondent
WHITE RIVER JUNCTION — Harnessing the power of natural ingredients is Kirsten Connor's focus at Flourish Beauty Lab, her store where she makes and sells body care products suitable for those with sensitive skin.
Connor has seen an increase in demand for her products as more people turn to natural ingredients for body care products. Free Verse Farm in Chelsea has seen a similar demand and both companies expect the trends to continue as more people become educated about what they use on their skin.
For Connor, much of the inspiration for her product recipes comes from her own experience with sensitivities to certain ingredients.
Connor, 53, started making olive oil-based soaps to sell at her previous store, Thistle Bath and Body, in Woodstock in 2002. Eventually, she started to experiment by making additional products such as shampoo and body lotions.
"(I) pretty quickly realized I wasn't going to be able to pay the rent with just soap," she said. "Bit by bit, I got better at formulating," Connors added, meaning that she uses a blend of carefully chosen ingredients to create each of her products from scratch.
In 2008, Connor closed her store because she wanted to sell her hair care products wholesale in co-ops and Wholefoods across New England, and she called her business "Flourish Beauty Lab."
In 2011, Tropical Storm Irene flooded her Woodstock home and workspace, but she got back into business the following year and opened her White River Junction storefront in 2015.
Connor's inspiration for the products she creates is linked to her struggle with autoimmune issues that were linked to her sensitivities to certain chemical ingredients found in personal care products. Connors developed skin rashes and experienced hair loss. Once she started to learn about ingredients that can cause reactions, she started to address these issues by formulating her own clean products.
After her husband developed rashes on his arms while cleaning a pot that Connor had used to make shampoo, she realized that some common ingredients that she was using could be causing these reactions.
Ingredient safety ratings change all the time as new research emerges, she said. An ingredient that seemed widely known and harmless, like the chemical cleanser Cocamidopropyl betaine, might cause irritation for people using the product.
Connor follows European Ecocert certifications for ingredients because they are more thoroughly researched before they are approved, she said.
"Because I have so many sensitivities and issues, I wanted to be in control of the whole formula," Connor said.
Now, Connor makes a line of sensitive-skin-friendly products including fizzy bath salts, body oils, body washes and body creams.
"I really listened to customer feedback," she added. "A lot of people were having similar issues."
Becky Morlock, of Norwich, has been the customer relationship specialist at Flourish since September.
Morlock met Connor when Morlock was moving away from hair dyes and letting her natural silver grow out, she said.
Connor had formulated a purple shampoo and conditioner line with natural ingredients, meant to bring out the natural tones in silver or other lighter hair colors.
Morlock, 43, who is a certified clinical herbalist, helped test the new products on her own hair and later started working at Flourish.
"It just seemed like a really good fit because (Kirsten is) an amazing formulator and I'm a bit of a plant nerd," Morlock said.
Between Morlock's background as an herbalist and Connor's knowledge of ingredient pairings necessary to create product recipes from scratch, the pair work together to make body care products that offer customers a personal experience rather than a clinical one.
"In the herbal botanical world, there are a lot of trendy plants or things like that that people gravitate towards," Morlock said. "We just don't want to rush into the next herbal big thing."
Beauty trends such as bath bombs or gua sha, a facial massage technique with roots in traditional Chinese medicine, can gain traction among consumers quickly.
Thorough research and testing always precede jumping onto a new trend.
"We want to recognize the tradition and heritage that (some of) those things come from," Morlock said.
Free Verse Farm in Chelsea — a farm and apothecary that makes teas, culinary herbs, herbal remedies and body care products — shares a similar philosophy. Misha Johnson, one of the owners, is somewhat hesitant about trends in the bath and body industry.
"I don't particularly follow trends within the body care industry," Johnson said.
CBD has been an emerging trend in recent years and is a popular addition to products such as salves and balms, but other ingredients, such as arnica in Free Verse Farm's muscle rub, are just as effective and "(have) been used for centuries and millennia," Johnson said.
Since Free Verse Farm's founding in 2012, all of their products incorporate farm-grown or wild-harvested herbal ingredients, and the owners plan products around ingredients that can be grown locally, Johnson said.
The farm's body care line includes a muscle rub salve, a body balm, a comfort cream, a facial mist and a lip balm.
Like Morlock and Connor, Johnson draws from his knowledge of herbalism to create his own products. Buying and using locally made bath products "provides you with the opportunity to know who's making your products" and to "(know) what's in the product," Johnson said.
"We're not trying to hide behind anything," he added.
Lavender and rose, for example, are good aromatic additions to a body care formula, while calendula is an herb known for its anti-inflammatory properties and can be added to a bath to help soothe the skin, Johnson said.
At Flourish, "We source what we can from our gardens," Morlock said. "(Otherwise), we try to source as locally as possible."
Connor and Morlock grow herbs like yarrow, calendula and lemon verbena in their gardens at home, while other ingredients often come from distributors and farms in the area.
Connor also takes special care not to mix common allergens in her products, like gluten, nut oils, essential oils, rice and oats.
All Flourish-branded products are made in Connor's lab at the store before they are stocked for retail sale, and creating them is somewhat like a science experiment.
"We'll make a batch of something, take detailed notes … and then we might try things for a few days," Morlock explained, adding that they weigh all the ingredients throughout the process to ensure that the formula works.
If a measurement is inaccurate or a step in the recipe gets skipped, it could throw off the consistency of the batch and affect things like the proper pH level, or acidity, of the product.
"We've got our lab coats and we wear masks," she added.
Connor and Morlock also make all of the products in small batches, which keeps them fresher and helps them rotate inventory more frequently.
Since the pandemic, Morlock and Connor have been busy with online sales and curbside orders.
But it's been difficult for Connor to get the packaging that the business needs for its products.
"It's practically my full-time job to check eight to 10 suppliers for availability whereas I used to order from just two to three packaging suppliers," she said. "Some of our raw materials have increased in price 100 to 300%."
At Free Verse Farm, business has steadily increased over the years, with products showing up in retail settings like farmstands, co-ops and coffee shops throughout Vermont and New Hampshire.
Since they grow many of their own ingredients, Johnson is able to have a "deep understanding of the products that I can share with others," he said.
For Connor, "it's exciting to me to figure out different combinations of ingredients that really make a difference in your skin and hair, but they're good for you," she said.