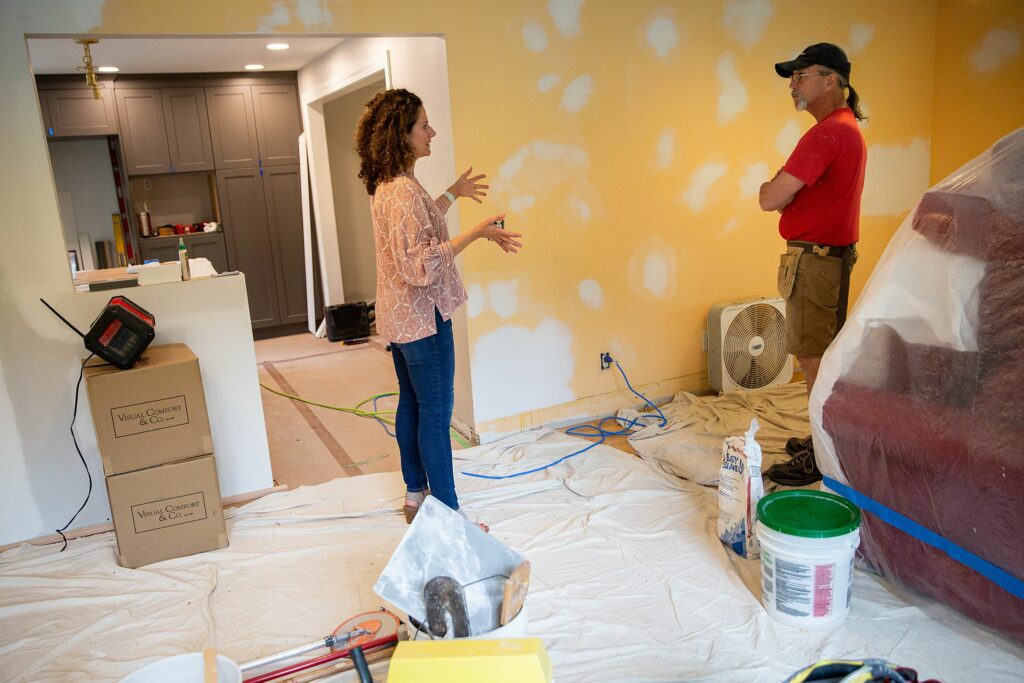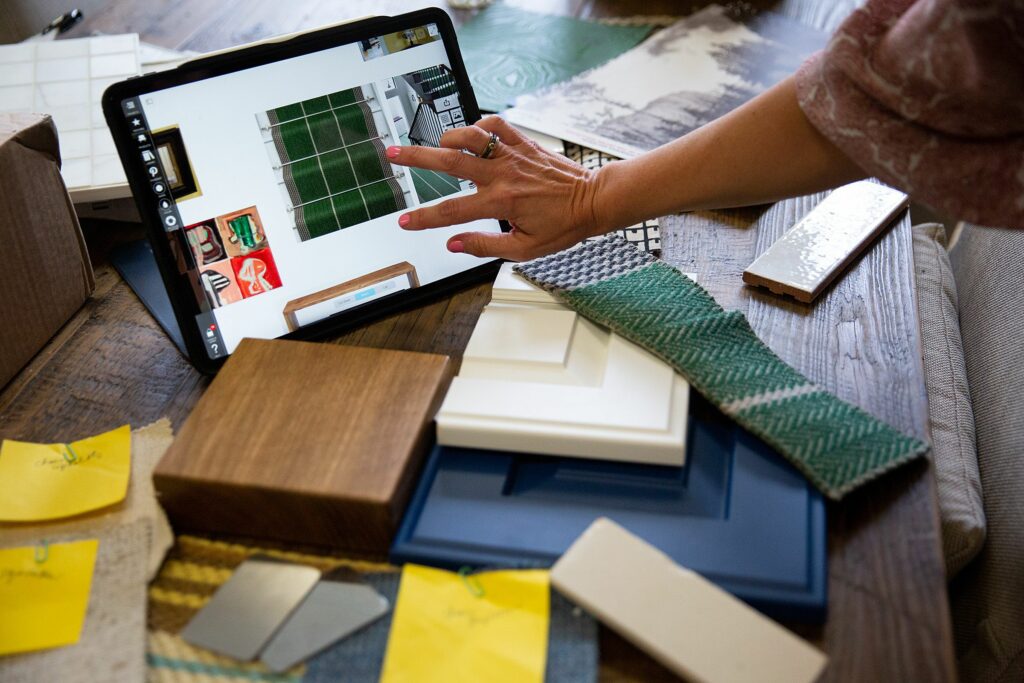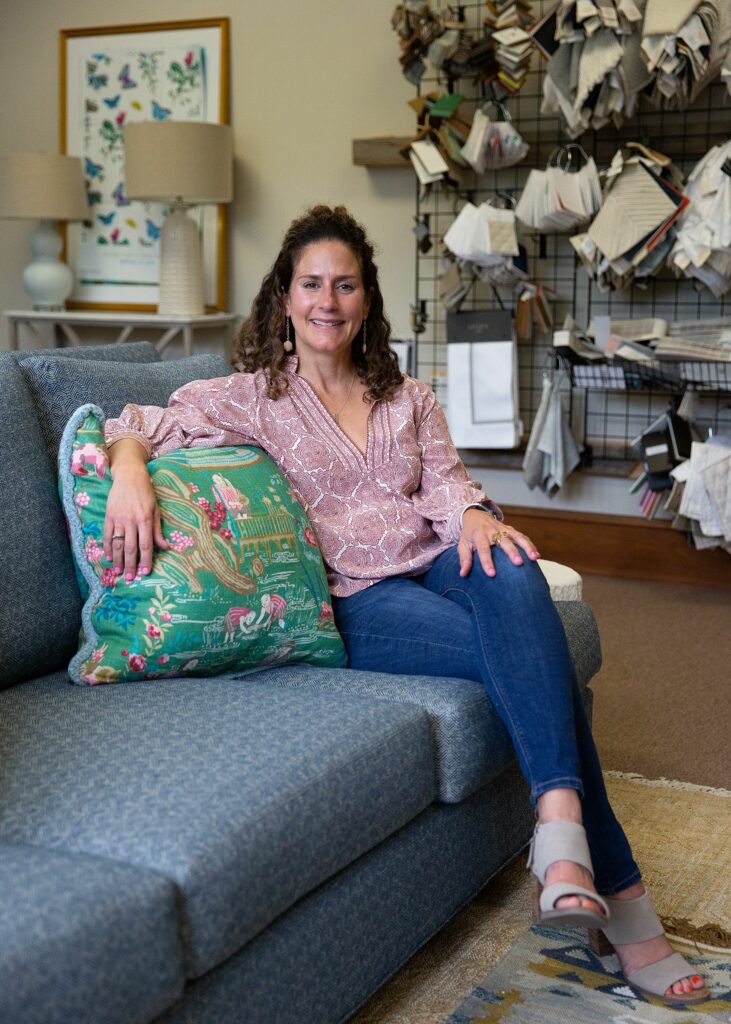 Valley News Correspondent
When it comes to kitchens and bathrooms, interior design is a powerful tool for controlling the aesthetic, feel and functionality of the rooms. Putting some time and thought into the design of these spaces might be something to consider if you plan on renovating anytime soon, or even if you just want to refresh your home.
Jessica Bell, an Etna-based interior designer, is the owner and sole employee of "Jessica Bell Designs," that she started 11 years ago after her first career as an intensive care nurse. Bell, now 49, moved to Hanover 16 years ago with her husband from New York City. After having children, she decided to change careers and make something of her interest in design, so she taught herself the ins and outs of running a business by herself. Bell shared with Enterprise some of her experiences working in the industry and her thoughts on kitchen and bathroom design.
This interview has been edited for length, style and clarity.
Question: What is it like being an interior designer?
Answer: I love the relationships that I build with my clients in getting to know what they want, how they're going to use the space, what their likes and dislikes are, and I love showing them things that can make their space functional and beautiful.
I have my own style and everything, but I think the challenge of being a good interior designer is to really listen to what people want and what they need. In the end, they're the ones that are going to be living in the space. So something that I think will be functional and beautiful and fit the bill … I'll work towards that until they say, "Jess, I love it!"
Q: When you work with people, do they usually have an idea or a theme already in mind that they want to stick to, or are they open to you coming in with other suggestions?
A: It varies. There are some people that are really into it and spend the majority of their time looking through magazines, and then there are some that just say "I have no clue where to start." I usually have people send me photos either using Pinterest or Houzz. A lot of times people don't really have the language to talk about what they like, so I have them put together some images for me. From there, I can combine that with what function they need. Is it an older couple? Is it a family? Do they have dogs? There are just so many ways to look at it, and that drives style and function to where we end up with the design concept.
Q: Do you ever have to bring people down to earth if they have visions that a space can't really accommodate?
A: Yes, all the time. It depends on how many projects they've done, but a lot of times people have these grand plans and we're limited in a budget situation. I'm quite honest and straightforward about what I think looks good, what things are going to cost and what's possible. I don't overpromise.
I think there's a myth about interior design where everyone's like "oh that just sounds like so much fun, you just get to look at pretty things all day," whereas I'd say that's probably 25% of the job. Yeah, design is beautiful and fun, but when you get down to brass tacks, if you're doing a renovation, it costs money. I want everybody to be on the same page the whole time, because once we're on the same page, then we can have some fun with it.
Q: Can you describe what your process is like for working on a design project?
A: I have a phone call with the prospective client where we determine what they're looking for. Then, I have a preliminary meeting with them, usually on-site. In the Upper Valley, it's kind of a unique market in that there's really no new construction that I'm involved in, it's mostly renovations. It's a lot of older homes that need to have updates — not just cosmetically.
It's a lot of talking in the beginning. I really want to tease out what they're looking for and their end goals, and how sensitive they are to what I like to call "patina," which involves how much they plan on using the space and if the space (itself can tolerate that level of use). I measure, take photos, and after that, I'll spend time putting together a concept.
I tend to be a conceptual designer — I like to focus on full rooms and spaces. I'll create a concept for the room, I order samples, and I spend a lot of time on my computer. That's been a longer process now. Pre-pandemic, I could get a sofa in six weeks; the earliest sofa I can get now is 20 to 24 weeks. I have an iPad Pro and an electronic design board to help communicate the design, which I back up with physical samples like swatches of fabric and paint color.
Q: What do you think are some important interior design concepts to consider for kitchens and bathrooms?
A: Kitchens and bathrooms are probably the hardest working spaces in the house. The hard thing is having them be functional and beautiful at the same time.
As much as we get excited about cabinet color and hardware and lighting, also think from the beginning, where are we going to put the pasta pot? What special things do you have in your kitchen that you need to store? Do you have big platters? Do you have kids that need access to snacks? We have a lot of conversations about function.
Same thing with bathrooms: Do we need a tub in here? Who's showering in here? How many people (use this bathroom)? Figuring out the layout and the function of the space is really integral to kitchen and bathroom design. I really think people need to think about the function even though it's just not quite as sexy.
I have close working relationships with many kitchen designers in the area and lean heavily on their skills when creating a kitchen layout. The projects are a collaboration between us and the client to create the kitchen they envision. My role in the kitchen design for my clients is to drive the esthetics, interpret and suggest different materials for form and function, and ensure a cohesive design that complements the rest of the home.
Q: What small interior design steps can people take that can make a big difference in their kitchen or bathroom?
A: If you're not looking to do a full kitchen renovation and you just want to do a quick facelift, I've just painted the walls or changed out the backsplash. Hardware (handles and knobs) on the cabinets is also a really good place to start — it's kind of like jewelry and can change a lot. Lighting is also an overlooked portion of design that people sometimes forget about.
Q: What are ways to make interior design more affordable?
A: I source a lot of things on Etsy. I love looking on there for unique items.
With the internet — Pinterest and Instagram — I think there's so much content out there that people can see and use for inspiration.
If people want a little more guidance, but maybe don't want to use a full-service interior designer, there are some online designers that you can access that are a little more cost-effective.
Q: What are some common interior design mistakes that you see happen in your profession?
A: The biggest thing is not having it be cohesive with the rest of your house. A lot of times people just won't know what they're looking for, or try to do something by themselves and they get underwater.
Sometimes I'll see something on Pinterest and try to make that fit in and maybe that works in California, but maybe not so much in northern New England. And a lot of paint color choices … even if you don't get professional help with everything else, sometimes even a color consultation is helpful. It saves time and money to get the color right the first time.
Q: What shift, if any, have you noticed in interior design trends while you've worked as a designer? What are some trends that you wish existed and why?
A: Luckily, I think we're moving out of the all-white home stage. I would kind of sigh when people would say, "I just want it all to be white." I like things to be clean and nice, but also have some kind of vibrancy and coziness. I appreciate the all-white house and I think it photographs well, but sometimes they'll call me back and say, "well now the house isn't feeling cozy," and then we spend all this time putting warmth back into the home. I've been really excited about the resurgence of using brown. I've been loving the neutrals — blacks, whites and creams. I also do love color and pattern. There's a shift back to that; no more gray and white. I'm excited that we're moving back into texture and warmth and browns. I think it feels updated and cozy.
Q: From a business standpoint, how has the pandemic impacted your work over the past two years?
A: During the pandemic, I was working as hard as I could to keep things up to speed. The backorders, the shipping, it's really been tough. I have probably 15 projects (going) at a time in different phases, so instead of trying to keep up with things the way they were pre-pandemic, which was exhausting me, I'm going to have to adjust to fit these new times.
I was busier during the pandemic than ever. People were home and wanted to do work. There were a lot of people moving into the Upper Valley and buying houses that they'd never even seen in person.