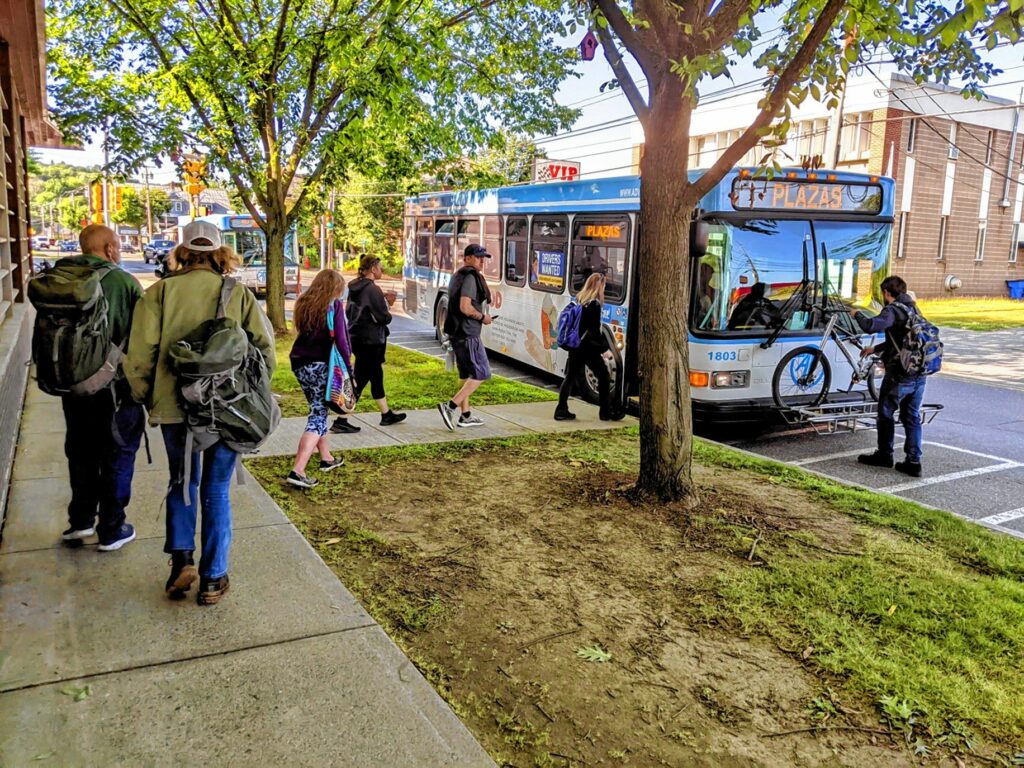 Director of Marketing and Philanthropy at Advance Transit

Public transportation is crucial to everyday life in both urban and rural communities. It offers a sustainable form of travel that provides access to jobs, schools, health care, shopping and other much-needed services. In this region of New England, buses are often used for daily public transit, and there are many moving parts that keep transit agencies running – both literally and figuratively.

One key element that ensures a smooth ride is communication.

Whether it's internal memos about protocols, policies, and procedures or external messaging about changes to service or schedules, communication is key. And while all communication is essential, there is a very thoughtful and balanced approach when it comes to sharing information with the general public.

A look at the communications plan of five different transit agencies in Vermont revealed many similar challenges faced and best practices implemented, as well as very nuanced approaches based on the needs of the communities they serve. These transit agencies are:

Advance Transit (AT), serving the Upper Valley communities of Lebanon, Hanover, Enfield, and Canaan in New Hampshire, and Norwich and Hartford in Vermont.

Green Mountain Transit (GMT), serving Chittenden County, Franklin/Grand Isle counties, Stowe/Lamoille Counties, Mad River Valley, and the capital district of Montpelier.

Southeast Vermont Transit (SEVT), the parent corporation that operates the Rockingham MOOver and the Wilmington MOOver, serving Windham and southern Windsor counties.

Special Services Transportation Agency (SSTA), providing coordinated transportation service to human service agencies in the Chittenden County area.

Tri-Valley Transit (TVT), serving Addison, Orange, and Northern Windsor counties.

Getting the word out — and quickly!

The most urgent messages for riders are those that immediately impact their travel plans, such as service changes. These are usually shared via multiple platforms to ensure that they can reach people quickly. For temporary changes in service, digital outlets, such as email, websites, and social media, are ideal.

Transit, a mobile app that provides real-time information and is widely utilized by transit organizations, allows agencies to post alerts to their passengers right away.

For more long-term changes, printed material is necessary, such as signage on buses and bus shelters, schedules available at various community hubs, and handouts that drivers give directly to passengers as they board.

Other less immediate, but equally important messaging, includes raising awareness about services offered and encouraging use of public transportation through print, digital, and media outlets.

Mike Reiderer, community relations manager at Tri-Valley Transit, emphasized the importance of getting the word out about service, especially as new people move to the region. New residents (and even some not-so-new) are generally not aware of rural transit services, often noting "I never realized this was here!"

Informing and assuring through signs

Bus stop signs for fixed route systems (those that operate on a predetermined route according to a schedule) serve many functions. They offer rider security, assuring riders that they are indeed at the right place to catch a bus. They often have contact information, such as a website and phone number, so that waiting passengers can easily connect with rider support if needed.

MOOver's signs go the extra mile, displaying a map of the route and a schedule block.

Advance Transit is currently in the process of redesigning their bus stop signs, creating a more vibrant and visible sign to catch the attention of riders waiting to board and drivers on the road. In addition to contact information, these redesigned signs will also include a bus stop name, connecting services available at that stop, and a QR code that directs users to stop-specific information.

Adapting to change

The recent pandemic saw major adjustments to processes for many organizations. For transit agencies, timely communication was important to ensure that staff and riders were informed of constant changes to bus services and safety guidelines. Digital platforms saw an uptick of activity, while fewer printed collateral was produced.

Agencies like SSTA, whose services require one-on-one communication with their riders, managed an increased number of phone calls to their passengers, keeping them up to date on changes.

Messaging shifted from growing ridership to minimizing rider counts due to capacity limits.

Some agencies encouraged people to drive, if possible, in order to secure space for essential workers on the buses.

New methods were adopted, such as utilizing QR codes. Once a passing marketing trend, QR codes made a comeback, allowing businesses like shops and restaurants, to easily share quickly changing information with customers on their mobile devices.

There was also more communication among staff. Randy Schoonmaker, CEO of SEVT, shares that before the pandemic, MOOver distributed a weekly staff email. During the pandemic, the frequency changed to daily. There was, however, an unexpected silver lining with this need for constant updates: It was imperative for transit agencies to frequently share information with the public, presenting an opportunity to raise awareness of their services.

Communicating to serve your community

It may come as no surprise that communication best practices of transit agencies are guided largely by the people they serve. That means understanding the needs of their riders and recognizing what communication methods work best for them. Because GMT's large transportation network serves both urban and rural spaces, they adjust their messaging and methods based on their varying rider needs.

Jamie Smith, GMT director of marketing and planning, has also tried to cultivate internally a communications culture that uses accessible language, so that all forms of communication from GMT, from service alerts to onboard announcements, are easy for all riders to understand.

MOOver offers service to vacationers and second home owners, in addition to area residents.

They work with property managers to ensure that every condo unit and hotel room has the season's schedule.

While SSTA has no need for bus stop signs and printed schedules, their high-touch relationships with their clients have resulted in greater engagement and a strengthened connection.

Adam Lawrence, executive director of SSTA, emphasizes the importance of one-on-one experiences between agencies and their riders.

While a lot of information is conveyed to the public, listening is also a major part of the process.

TVT distributes an annual survey to their riders, which helps them assess their services. Every five years, Advance Transit works with the Upper Valley community to develop a plan for improving public transportation in the area. AT is currently in the process of updating this Transit Development Plan.

Adams Carroll, AT's executive director, recognizes that "input from community members will be critical as we identify community preferences and learn how our services can better meet transportation needs."

Surveys, both online and onboard the buses, provide critical information, as does meetings with business partners and listening sessions with community members. Sessions are scheduled for Nov. 2 in both Vermont and New Hampshire. Details can be found at advancetransit.com/plan.

Whether it's producing signage and developing messaging or adapting to change and listening to riders, transit agencies understand that effective communication is a two-way street.