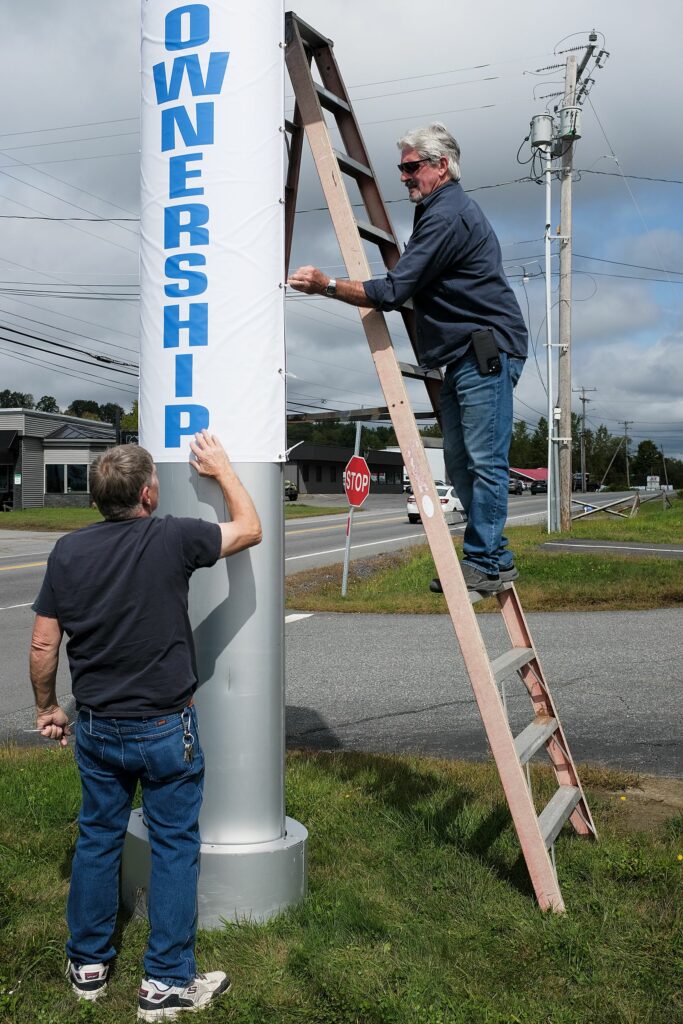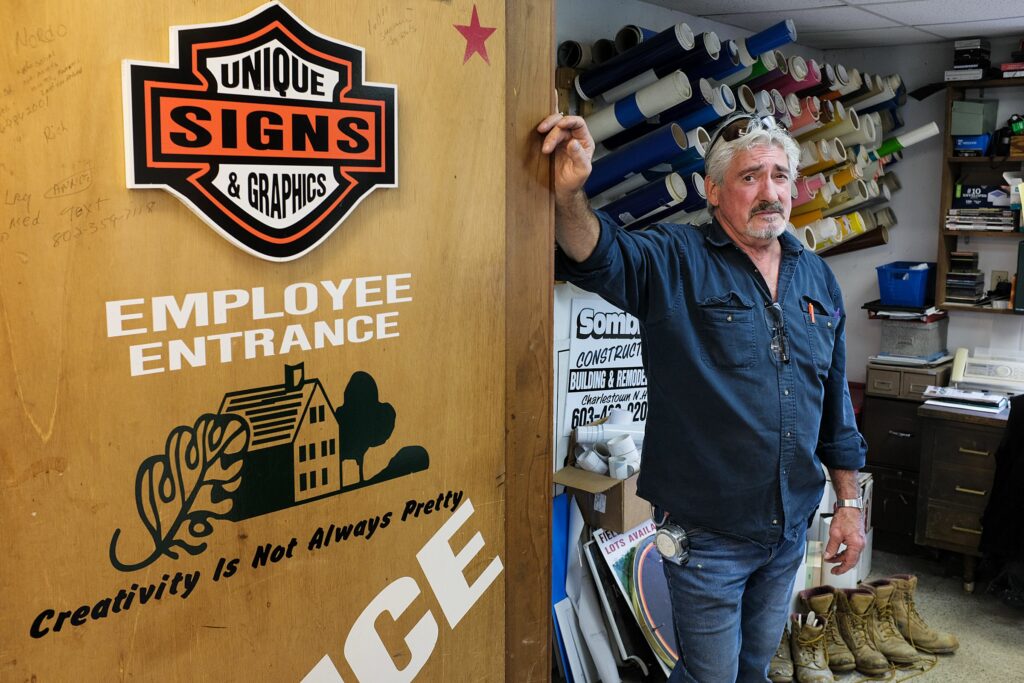 Valley News Correspondent
The instant, cost effective and far reaching impact of internet advertising, including websites and social media platforms, have dramatically affected traditional advertising revenues — but not in all sectors.
The simple sign, used for centuries whether on a storefront or by the road, still remains an effective way of reaching customers, even as digital advertising and all its 21st century applications that produce colorful, eye-catching designs continue to grow.
Small roadside signs, jammed in the ground where drivers will see them, are as ubiquitous today as they were before other methods of advertising became available. They usually appear along main roads advertising events, businesses, hiring opportunities and more. And now that New Hampshire and Vermont are in the midst of the biennial state office elections, candidate signs seem to be everywhere from streets to private front lawns.
"It is a captive audience," Jeff Barrette, who with his wife Sarah owns The Ink Factory in Claremont, said. "People have to travel from point to point. It is also very cost effective because you put a lot of signs out in a high traffic area and get a lot of impressions for not a lot of money."
Ray St. Sauveur, owner of Unique Signs in Charlestown, said the sign business will always be relevant, regardless of how occupations and businesses change. The only difference today is more people can get in the sign business because of computers and other technology. He has kept something he wrote years ago when his grandfather advised him "to be successful in life," you needed a trade and there were plenty of good ones including farming, clothing, housing, medical and transportation.
"Far be it for me to prove my grandfather wrong but I found a trade that warranted a much needed pat on the back 'cause without signs, none of these trades would fly," St. Sauveur said in his handwritten note on the letterhead of a Massachusetts sign company.
At his shop just off Route 11, St. Sauveur displays a lot of his sign work over the years since he began in the 1970s and while production has changed, the concept of sign design has not.
Signs, as part of advertising, have a tax deductibility component, St. Sauveur said, so skimping on a sign is not necessary.
"Depending on how good the sign is, (it) will tell your customers how serious your intention is on being in business," St. Sauveur said. "So if you have a sign that is out there for 25 to 30 years, and is still looking great, that says that person is serious about being in business."
While signs remain an effective advertising tool, the production of signs and materials used have changed from when it was done by sign painters like St. Sauveur and Steve Giroux.
"There were a limited number of people who could do it," Steve Giroux, owner of Third Generation Signs in Windsor, said. Giroux's father and grandfather worked in Burlington where there were four or five sign painters in the business. "It was an art form. You had to know how to letter with a brush."
Giroux, who began in the business with his father in the late 1970s, and other traditional sign painters, said the advent of vinyl cut graphics changed everything.
"This day and age with digital graphics and vinyl cut graphics, beginning in the '80s, the industry changed and a lot of the old sign painters just threw up their arms," he said. "They could not compete."
Time required for either process is telling. Giroux, who does not take new sign requests any longer but has turned to other areas of media, including video production, said putting vinyl, lettering on a vehicle, for example, can take 15 to 20 minutes but hand painting can take three hours.
Over at Barrette's Ink Factory, Trevor Benson, owner of High Country Contractors, watched Barrette apply vinyl that he had moments earlier peeled away from a cut pattern.
"Looks good," Benson told Barrette of the lettering on his truck. "I have to drive the truck around anyway so it is virtually free advertising once it's paid for. It is a no brainer at the end of the day for anyone who owns a business."
Barrette said with the production capabilities today, advertising spending does not need to be what it was and is more efficient.
"You have a truck or trailer and I put a graphic on for $500 and this is a driving billboard for five to seven years," Barrette said, adding that print media is more expensive with a shorter shelf life. "It was what you had to do, but think about how much more efficient the ad spending is today."
St. Sauveur, Giroux and Dale Flewelling, owner of Art Attacks Signs and Designs in Newport, are throwbacks to the day when sign painters did the work.
"I like a good challenge and I have always loved hand lettering," said Flewelling, whose clever business name was the result of a heart attack he suffered 20 years ago in South Dakota on a trip with his wife to a wedding in Colorado. "Today, the whole industry has changed. Many don't want hand-painted."
Flewelling, a talented artist who plays guitar in a local band with his sons, does a lot of airbrush painting of images on motorcycles and other vehicles. He understands that a lot of sign businesses today were able to open because they just needed a computer (to design) and a cutter.
"The whole design starts up here," Flewelling said, pointing to his head.
When a customer plans to open a business and is looking for sign ideas, Flewelling said there is a lot to consider.
"You have a vision for what they want to do then ask, is it readable from a distance, and is it pleasing to the eye. You are driving either 50 or 35 (on Main Roads) and a lot want a sign with the Gettysburg Address," Flewelling said with some exaggeration. "Less is more."
St. Sauveur said even when people are stopped in traffic, you don't have much time to grab their attention, so a business sign on a facade instead of one that is perpendicular to a building will require the driver to "rubberneck," to see it.
"So you have to be short and to the point to tell the people what you do," St. Sauveur said. "The smart thing to do is to have the sign tell your customers what it is you are doing for a business before they even walk into the store."
Barrette recalled seeing a political sign before the Sept. 13 New Hampshire primary and could not decipher the name but only noticed the candidate's face and the U.S. flag.
"I had no idea who he was or what he stood for," Barrette said. "If it is not really clean, really concise and really bold, everything is lost."
At Unique Signs, St. Sauveur said decades ago the Claremont's Historic District Commission considered requiring all signs to be the same color. The facades downtown where there was a vibrant shopping district were individualistic, he said, and that is what made them stand out with shoppers.
"Not one is the same," said St. Sauveur. "People will say to me 'let me see what you've done for signs' and I will say, don't look at what I've done. Let me design a sign for you."
St. Sauveur always goes to the business he is designing to understand what the customer is selling and also to get the proper perspective on the location.
"A sign person has to have perspective; without it you should not be in the sign business," St. Sauveur said.
Industry statistics on signs do not break out the small sign maker from the large companies that produce billboards and digital signs. Market reports predict sustained growth in signs over the next decade, but with digital ones becoming more prevalent. Still, small sign makers will always be in demand because, as St. Sauveur learned years ago, without signs small businesses and organizations would "not fly."
Patrick O'Grady can be reached at pogclmt@gmail.com.