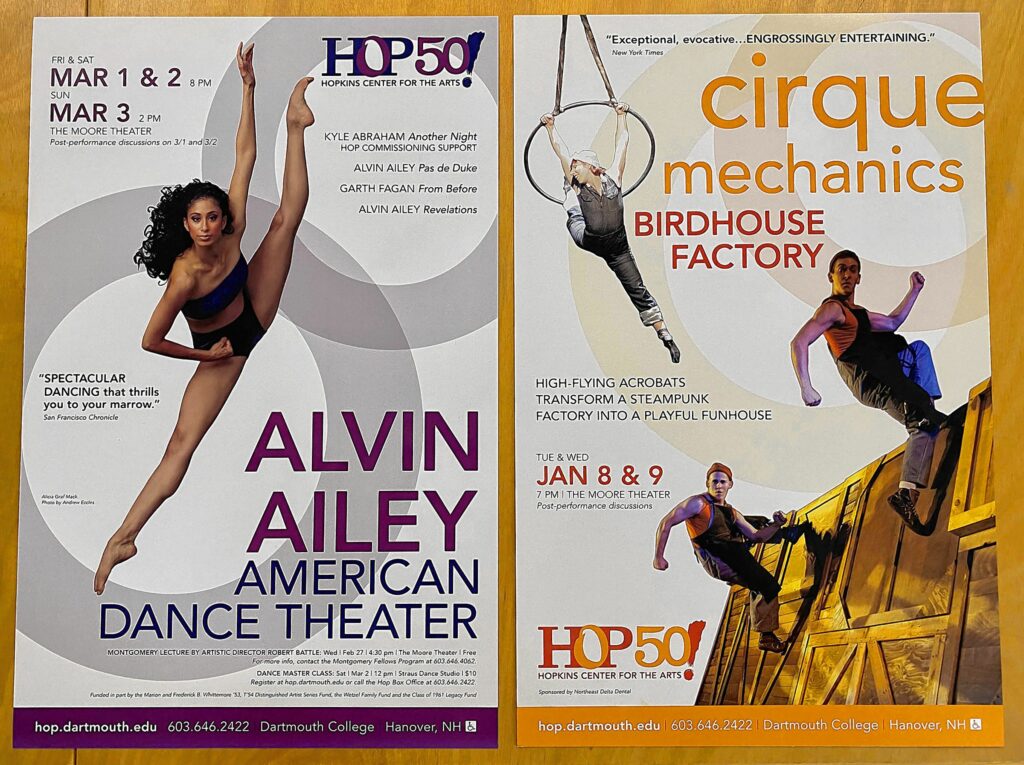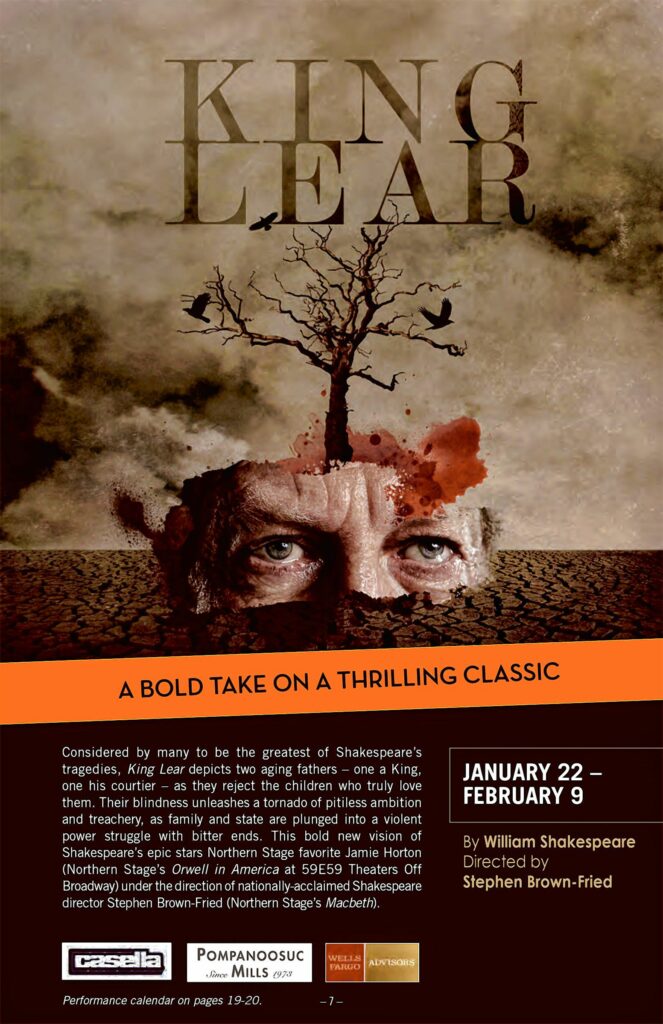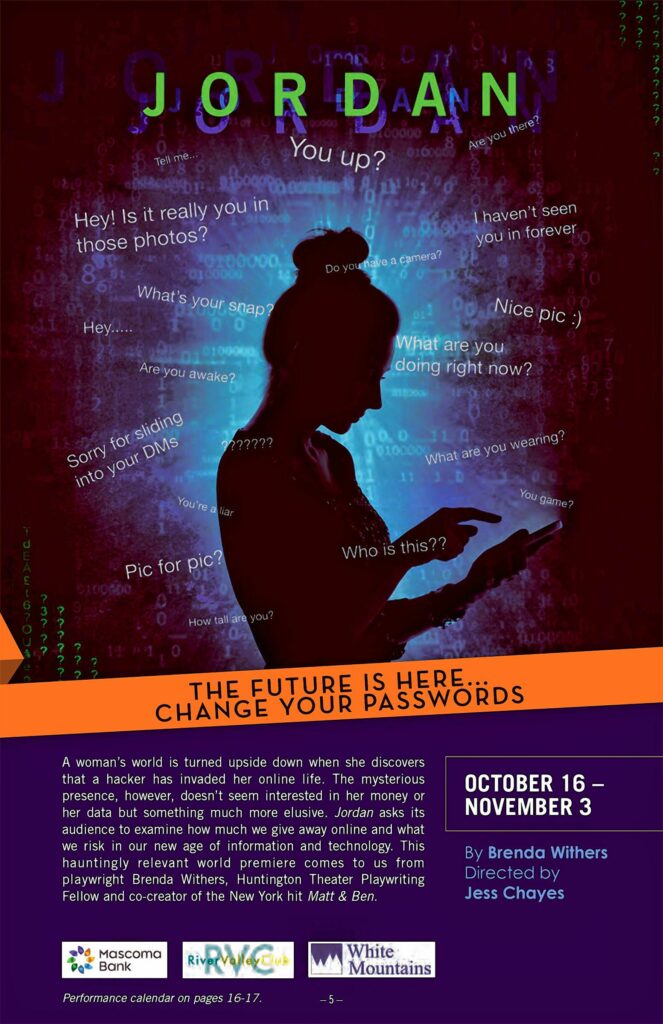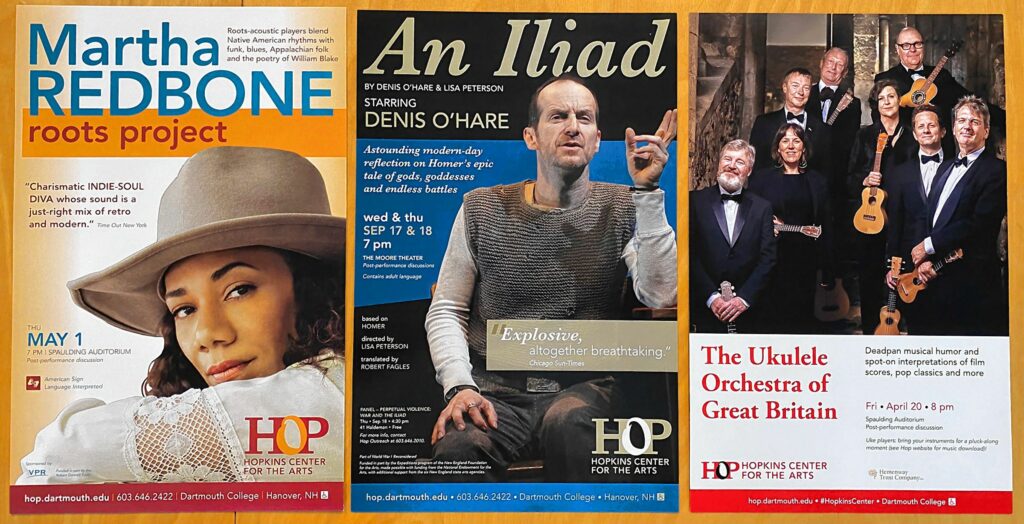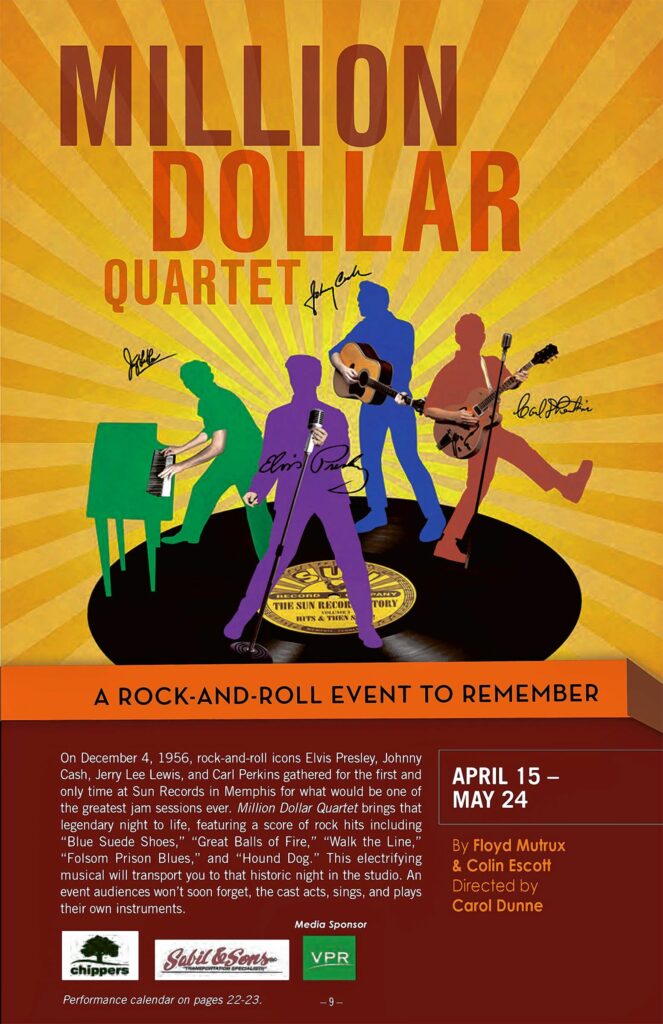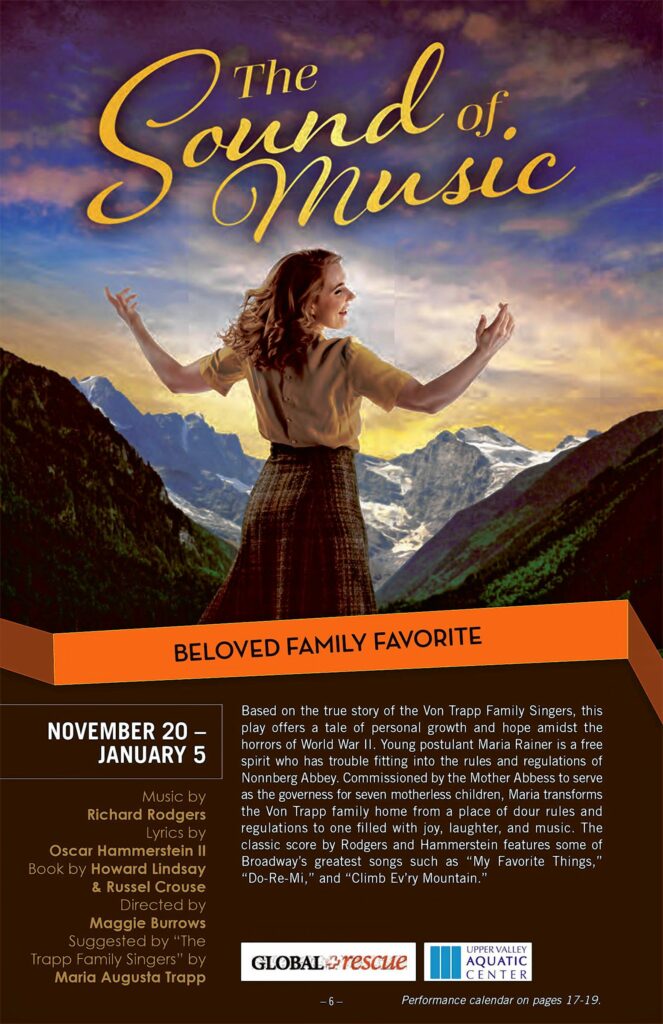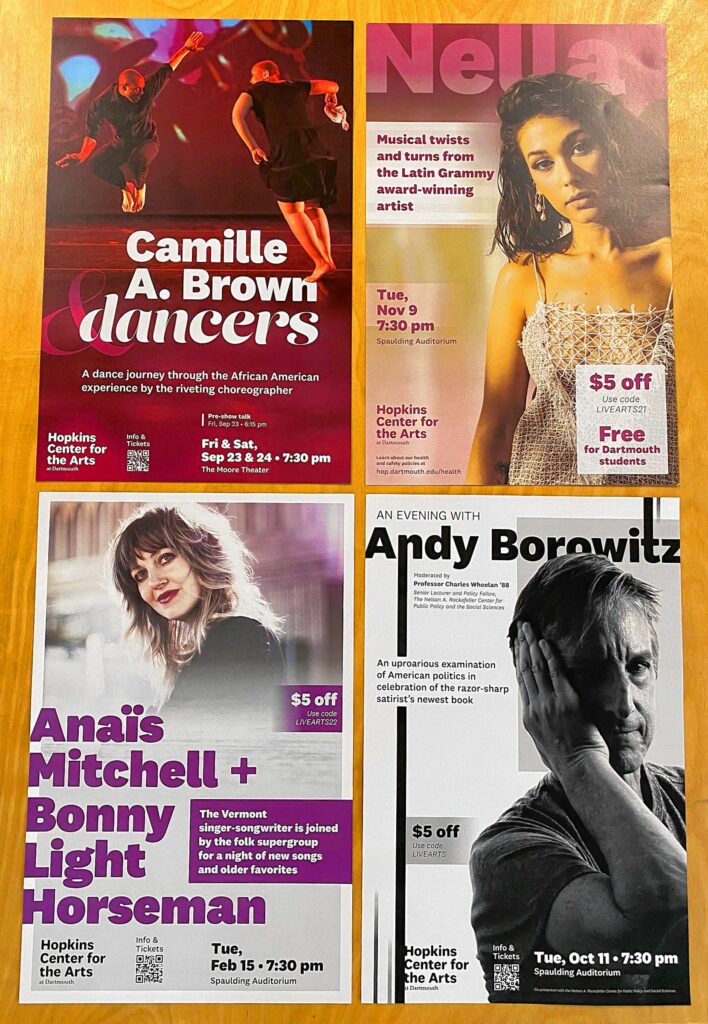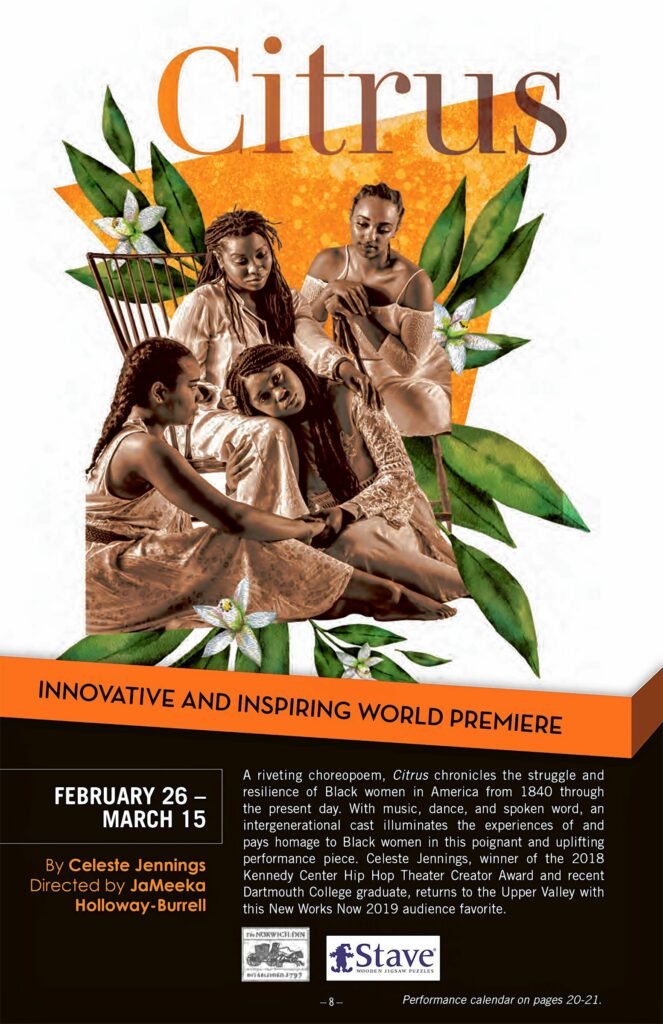 Valley News Staff Writer/Enterprise Editor
To say that social media has changed the nature of events promotion would be an understatement. People often turn to Facebook, Instagram and other forms of digital communication to learn about what's happening in their communities.
But that doesn't mean that other more traditional forms still don't have an impact, according to three Upper Valley arts organizations. Posters, for example, still continue to endure.
"It's interesting that in this age of social media and digital marketing we still do rely heavily on print posters," Ryan Klink, director of sales & marketing at Northern Stage in White River Junction, said. "You'd be surprised how many people hear about the show because they saw it at the coffee shop or the dry cleaners or the Chinese takeout place."
Northern Stage creates a poster for every show in its season and prints 100 to distribute in the community. It also creates posters for its educational programs and Klink estimated that 700 to 1,000 are distributed each year. The nonprofit organization also relies on direct mailers sent to prospective audience members. While Klink said it's not always very cost effective because of shipping and printing costs, it pays off.
"There's been talk in our industry that that's a dying form and there's been talk of that for 20 years and it's still one of the most effective pieces," Klink said. "We find a good potion of our audiences receive that postcard and it has a longer shelf life."
That's because physical promotional materials themselves tend to last longer than digital ones. Someone might pick up the postcard from their mailbox, then place it on a counter before putting it on a refrigerator. During that time, someone will interact with it more than they would if they're scrolling through a social media feed and see Northern Stage's post among many others.
Lucas Mendelsohn, communications and engagement coordinator at the Lebanon Opera House, said that looking through feeds can create a kind of brain freeze where people aren't connecting with what they're seeing on their screens.
"You just kind of scroll by things," he said. Posters can cause people to slow down. "You're taking a moment to look around you instead of the constant scrolling that occurs."
That's the case for all age groups. Dartmouth College's Hopkins Center for the Arts still hangs show posters around campus based, in-part, on feedback from students and focus groups, Teresa Duane, senior marketing manager at Dartmouth College's Hopkins Center for the Arts, said.
"The students are very responsive to that," Duane said.
That being said, posters have competition too. Sometimes community bulletin boards can get too crowded and become overwhelming to look at.
"You have to have an interesting design that will break through the clutter on a bulletin board," Duane said. "There are a lot of other organizations in our community that are trying to get their message across on bulletin boards."
The Hop, like other organizations, is strategic about where it places its posters. A poster for a classical music concert, for example, would find a better audience in the college's music department.
But the clutter isn't always a bad thing.
"When you go out and see a bulletin board and it's covered in posts and events … It really gives you as snapshot of what's going on in our Upper Valley community," Mendelsohn said. They can also prompt conversations about what's taking place. "Word of mouth in the Upper Valley is still a very present tool for advertising."
It's important, however, to stand out. The Hop, Northern Stage and the Lebanon Opera House each have gone through a branding process, meaning all of their materials have a distinct look. While the images and text may change from poster to poster, there are some standards like the placement of logo or a design theme that tie them together.
Ashlee Robinson, marketing and communications designer at the Hop, has seen the arts organization go through different styles during her 15 years there. Each term, there are as many as 40 posters, or up to 120 posters each year. Those include designs for student ensembles and visiting artists. Each poster is printed 100 times: 40 are put up around campus and 60 go out in the community, Duane said.
When Robinson first began her role, designs were all over the place. The logo had to be included on each poster, but other than that, it was up to the designer.
"We kind of just used whatever fonts we wanted," she said. "We didn't have any consistency there."
Then, the Hop worked with a design studio to come up with a specific look, which featured faded circles on each poster.
"It was a little more confining than what I was hoping for coming out of it," Robinson said. "That stage, when we had these circles that we used throughout, was not ideal."
After a time, the Hop abandoned the circles. The organization did carry over some lessons from the branding process such as having the time, date, place and logo in the same place, and using the same fonts, Robinson said. Posters also have less text on them than they used to.
"I typically will pull my colors from whatever image I am using," Robinson said. Blue is the Hop's go-to color when a main color doesn't stand out. "I don't want each poster to look the same. I want it to look like the individual artist while still remaining in the Hop branding."
This year, Northern Stage is going with a color pallette of green, blue, yellow and a little bit of pink.
"I don't think in the past the shows of a full season have been so directly linked as we have in introducing our new brand this year," Klink said.
Seth Drury, who co-owns the Burlington-based design firm Methodikal, has been working on posters for the Lebanon Opera House for around 13 years. Each year, the firm designs 13 to 15 posters and nonprofit prints around 30 copies for each show.
"Most of the posters we create for LOH follow a similar design that utilizes brand elements as the framework to allow the photography of the performer/act to be the star," Drury wrote in an email.
Photographs play heavily in each of the organization's materials. Some trends come and go. One that's making a comeback is QR codes, a small square digital box similar to a barcode that people can scan with the camera on their smartphones to be taken to a specific webpage.
They became popular again during the height of the COVID-19 pandemic, particularly with restaurants looking for contact-free menus. Both the Hop and Lebanon Opera House have started using them more in their marketing materials, including posters.
"Now that you can scan it with your camera it's way more accessible and easier," Robinson said. Instead of having to navigate to a website themselves, potential audience members can scan a QR code and be taken directly to a landing page to purchase tickets.
One of the reasons digital marketing can be useful is because it provides specific metrics — how many times an ad or a post gets viewed — to organizations. But individual views don't necessarily translate into audience members.
It's harder, of course, to gather metrics about posters.
Klink has been hearing for decades how digital will one day completely replace posters and how QR codes will take the place of playbills. But he and others interviewed for this article don't see that happening anytime soon.
"I think that the artwork of a show is a very significant element to the show itself," Klink said. "Posters have endured because they can become souvenirs."
Liz Sauchelli can be reached at esauchelli@vnews.com or 603-727-3221.