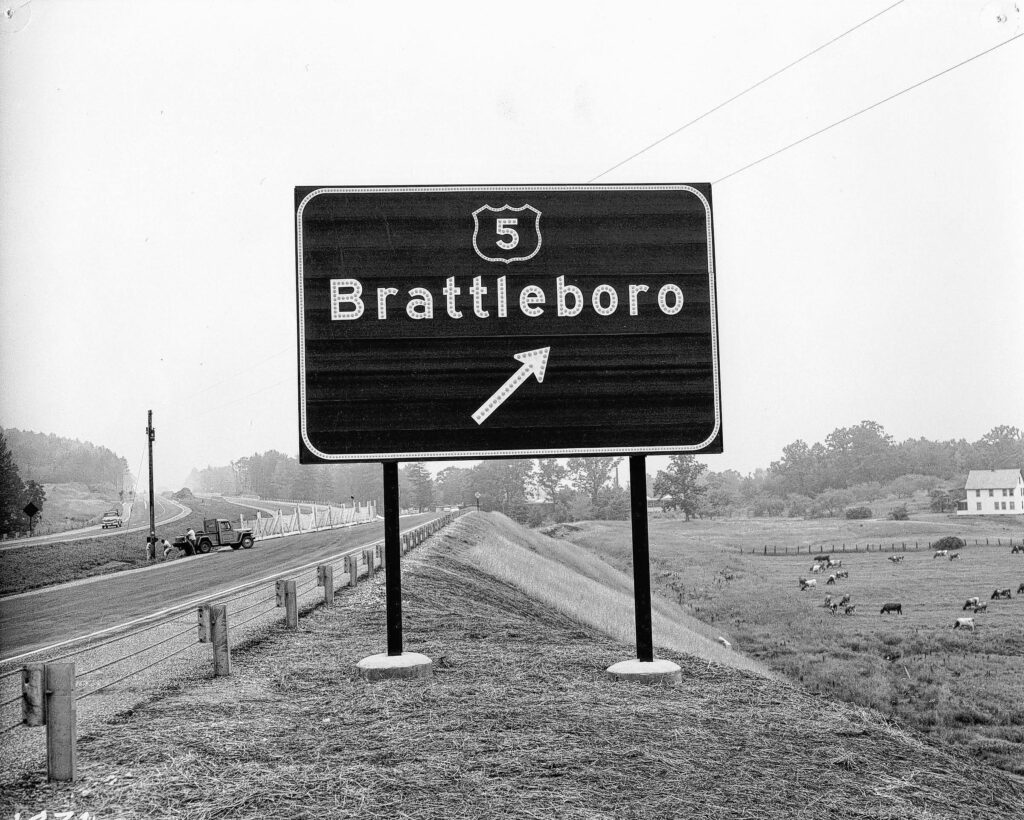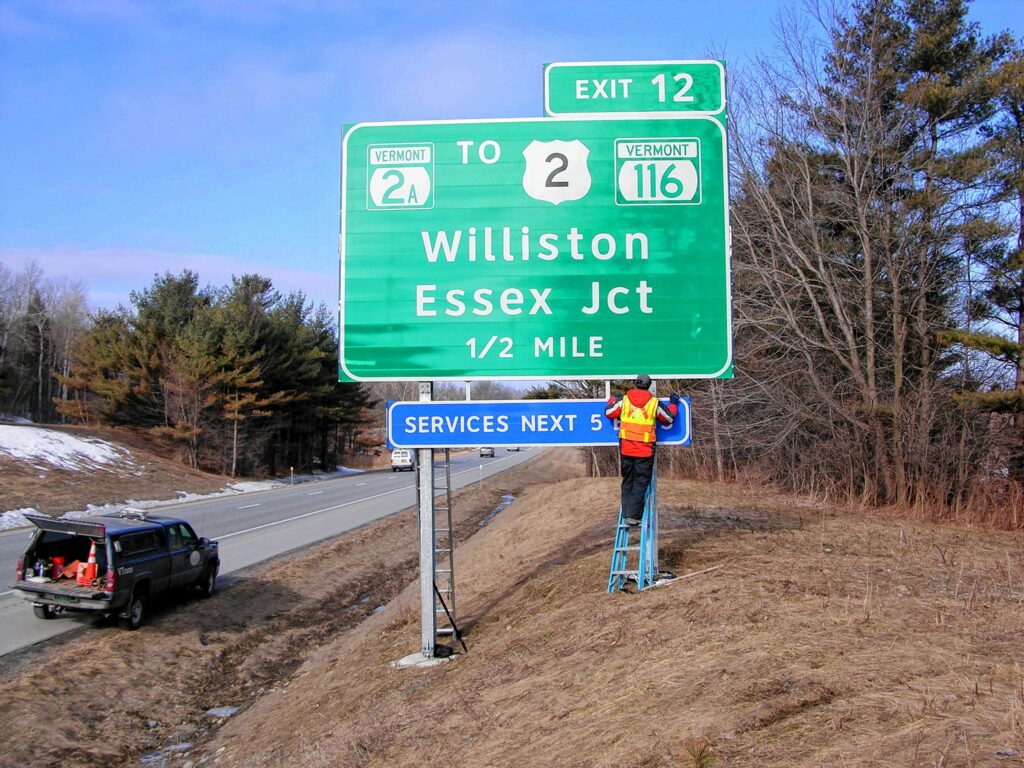 Valley News Correspondent
In 1969, Vermont became the first state in the nation to pass a sign law. Motorists traveling through the state — whether they live in Vermont or are visiting — will certainly notice that large, obtrusive signs announcing businesses, state attractions, or pretty much anything else are nowhere to be found along state roads like they are in many other states. Sign placement, wording and more are carefully controlled to meet the letter of the law.
Ian Degutis is a traffic engineer with the Vermont Agency of Transportation, which is responsible for signage on the rights-of-way on state roads. In an interview with Enterprise, Degutis explained some of the processes that go into deciding when, where and how signs are erected in Vermont. On its website, the agency emphasizes that the state Legislature has focused on keeping state roads free from unnecessary signs through state law and following federal regulations with respect to size, color and placement.
Question: How is sign placement decided on state roads by the Vermont Agency of Transportation?
Answer: Signs fall into two categories: Traffic control signs and business-related signs. Traffic control signage on public roadways in Vermont is, by state statute, installed in compliance with the Federal Highways Manual on Uniform Traffic Control Devices. That is the manual that governs traffic control devices. It ensures consistency and uniformity in signage throughout the state and across the country so a stop sign is the same everywhere. Business signs, erected by the state, fall into another category, but are uniform with white lettering on a black background.
Q: Why doesn't Vermont allow billboard signs along the interstates?
A: Signage in Vermont is strictly regulated by state statute. Vermont's "sign law," as it's often called, was the first such law in the country. Off-premise signage is generally prohibited, as is business signage that is visible from limited access facilities, such as an interstate. Also, the law prohibits off-premise signs. If you have a business, you can install a sign on your business property, but other regulations that dictate that would be local regulations
Q: How does one go about getting a state sign placed at a location that they have deemed as dangerous? Is it a long process?
A: When VTrans becomes aware of a safety concern, we review the site and identify what improvements could be made. This could include signage in accordance with the (Manual on Uniform Traffic Control Devices), or other improvements. Signs are also replaced on a routine, corridor-wide basis and as part of those projects VTrans or our consultants review the roadways to ensure that warning signage is appropriate for the conditions that exist. Our goal is to ensure that hazards are appropriately and consistently signed throughout the state, without using them to excess where they will lose effectiveness due to oversaturation.
Q: Does the Agency of Transportation have input on local sign ordinances?
A: (The Agency of Transportation) does not have direct input on local sign ordinances; with the disclaimer that I'm not a lawyer, I believe local ordinances would need to still be in compliance with the state statutes.
Q: What restrictions are in place when it comes to allowing a sign along a road in terms of size and other elements?
A: Generally sign design, dimensions, and placement are controlled by the Manual on Uniform Traffic Control Devices and its companion document, the Standard Highway Signs Manual.
Q: Is there a limit to the number of words or numbers allowed on a sign?
A: Not directly, but sizes of signs are standardized, as are font sizes to ensure that the signs are legible, so there are practical limitations on how much text can be fit on a sign.
Q: The state signs giving directions to a local business — such as an orchard or maple syrup operation — how is it decided to erect one of those?
A: When the sign law was created it was understood there was a need for people who didn't know where things were to find them. State statute and the Travel Information Council sets up rules for OBDS (Official Business Destination Signs). These are part of a program administered by VTrans on behalf of the Travel Information Council. State statute and TIC rules govern when/where these signs may be installed, and businesses that fit within the requirements may apply for a sign; there is an annual fee associated with these signs, that is paid by the business.
Generally the places are not easily visible or are down a side road; places you need a sign to find.
Patrick O'Grady can be reached at pogclmt@gmail.com.