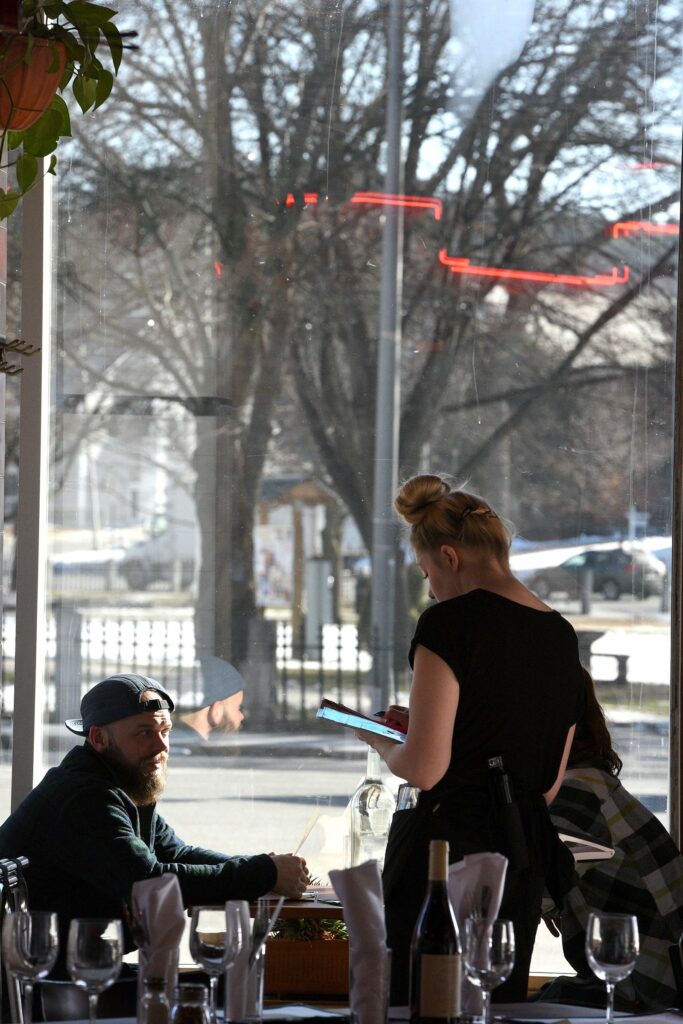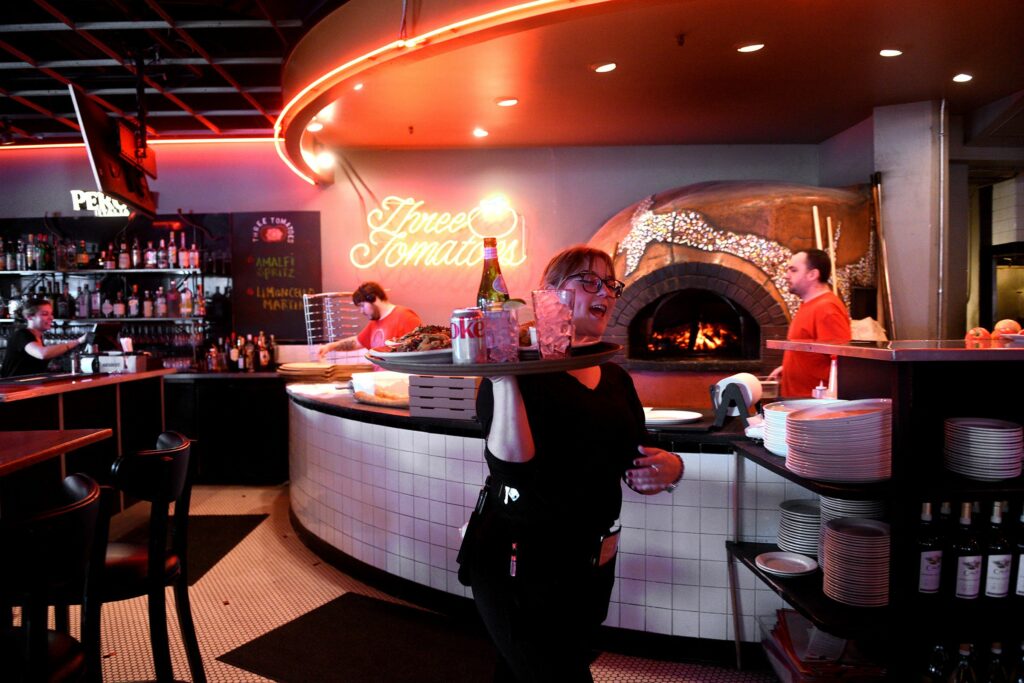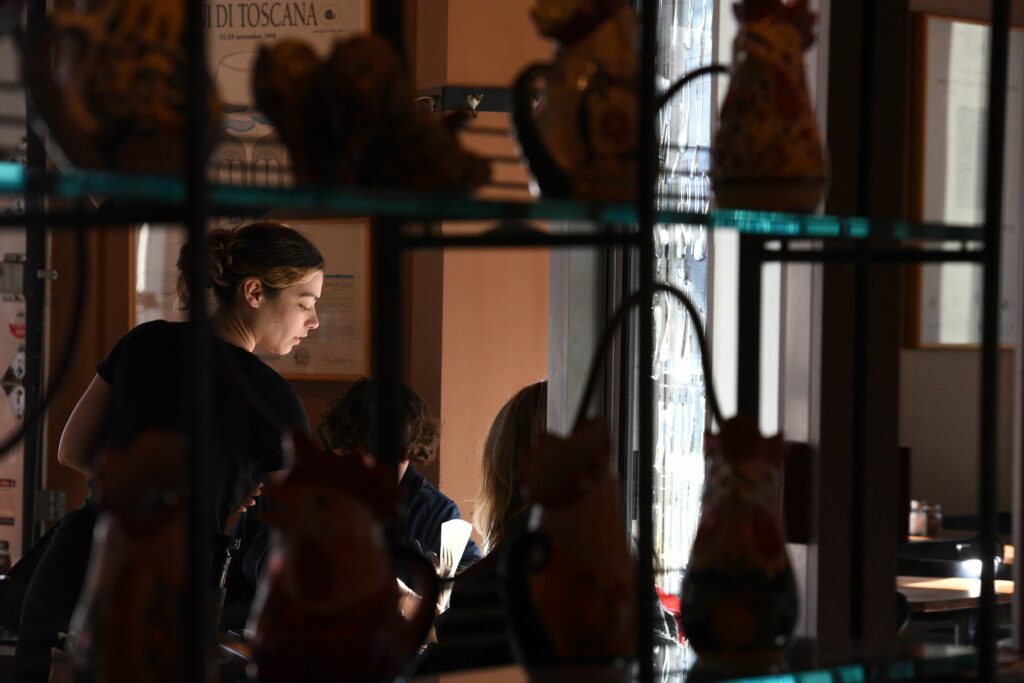 Valley News Correspondent
During the height of the pandemic, restaurants were ordered to shut down indoor dining and when they were allowed to reopen, seating was limited and there had to be adequate space between tables with barriers between booths.
Many establishments improved or added takeout and started using more delivery services to keep business operating. While those days appear to be finally behind the dining industry for good — and the public is again filling restaurants without restrictions — there are still challenges ahead.
"I would caution those who say 'it is over' because it is not really over it is just different and really hard," said Mike Somers, president of the New Hampshire Lodging and Restaurant Association in Concord.
Somers said labor costs, if workers can even be found, and food and other expenses have increased dramatically in the past year.
"What we have seen (are) wage increases across the board in hospitality the last two years and I think the real challenge is they can't find staff because of the scarcity of labor," Somers said. "Restaurants also use a lot of energy and those costs have gone up. You start putting all the pieces together and yes, a lot are doing better but a lot of businesses are really struggling to make ends meet."
Jennifer Packard, general manager of Molly's Restaurant in downtown Hanover, one of four eating establishments owned by the Blue Sky Group, has experienced much of what Somers described.
"Labor is difficult," Packard said in a phone interview just before lunch at Molly's. "We are in the drought a lot of restaurants are going through trying to hire team members when a lot of businesses are trying to hire. There is a lot of competition."
On the positive side, Packard said the customer flow is improving.
"I think that we definitely are seeing us getting back to that pre-COVID pace," Packard said, adding that the restaurant has experienced a significant increase in takeout orders compared to before the pandemic.
COVID's impact on the restaurant industry, perhaps the hardest hit of all industries in the state, is revealed in some statistics compiled by the Vermont Chamber of Commerce, which conducted a survey about a year ago.
Close to 60% of restaurants in the state said they took on more debt and fell behind in expenses after COVID-19 first hit the region in March 2020. More than 50% reported reducing hours of operation and increasing the number of days closed while 31% said they reduced seating capacity. Other survey results showed a large percentage of restaurants had not been able to recover their pre-COVID sales volume of 2019 and close to 80% said customer traffic was down.
The industry's salvation was provided by state and federal programs that offered a much needed infusion of cash to help restaurants carry on. Somers said in New Hampshire, the state acted quickly to release CARES (Coronavirus Aid, Relief, and Economic Security Act) money, which was an important lifeline. Initially, when restaurants were ordered to close, there was a concern that many would end up having to close their doors for good.
"We saw some of that but not nearly as much as we heard it might be," Somers said. "The CARES Act got money to restaurants and other small business and you (had) the Paycheck Protection Program. I think that helped a lot of small businesses, particularly in the hospitality and service industries survive the worst of it."
At the Upper Valley Business Alliance in West Lebanon, Executive Director Tracy Hutchins said quite a few area restaurants applied for and received COVID relief money, including the Paycheck Protection Program.
"I think it was effective," Hutchins said. "At the time it first came on, it was a lifeline and those funds helped many stay in business."
Robert Meyers, owner of Three Tomatoes in downtown Lebanon, said the restaurant took advantage of the money available from the state and federal government during the forced shutdown.
"We got the financial help and used it exactly as it was designed for, to keep people employed," Meyers said, adding that they have rebounded well from COVID but are paying higher prices for a lot of goods.
Vermont's Restaurant Revitalization Fund was also credited with saving businesses and jobs. According to the state Chamber of Commerce, the overwhelming majority said the fund would likely help them stay in business and retain or hire back employees.
Hutchins said the expectation is that the New Year for restaurants will present the same challenges that they experienced in 2022.
"There are still some supply chain issues but not as severe as they were earlier," Hutchins said.
A union issue at one supplier put a stop to deliveries to a local restaurant while another had problems getting takeout boxes, she said.
"There has been a lot of pivoting," Hutchins said. "They have to be flexible."
Packard said some regular liquor items, which must come through the state, are simply not available.
"We use to have no problem at all getting these," he said.
In another example, Packard said they are now paying three or four times what they use to pay for a box of chicken wings and also must pay the same price for eggs that consumers do, which is approaching $6 a dozen.
Somers is upbeat that the year ahead can bring some relief on higher costs.
"We hope inflation eases and energy prices come down," he said. "If those come to pass, we will be in a much better place toward the end of the year."
The labor issues also tie into the lack of housing in the Upper Valley and the high cost of either buying or renting. Hutchins heard from one UVBA member who was interviewing a potential new chef.
"They were worried they would not be able to pay enough to have them move here and find a place to live," Hutchins said. "Staffing is going to continue to be an issue. It is still really difficult for restaurants to remain fully staffed."
Most restaurants have raised wages significantly. Somers said his "barometer" for how well a place pays is based on the wage for a dishwasher. He has heard from members around the state who pay $16 or $17 an hour for that job. Hutchins said she knows of one restaurant in the area paying $25 an hour for a dishwasher.
At Molly's Packard credits the Blue Sky Group's "team approach" that views all employees as important stakeholders in the company for being a reason a "very high percentage" of their employees returned after the COVID lockdown.
"We were very lucky there," she said. "We are in a good, strong staffing position right now. But we are constantly hiring. It used to be we would hire during certain phases but that is a thing of the past."
Patrick O'Grady can be reached at pogclmt@gmail.com.