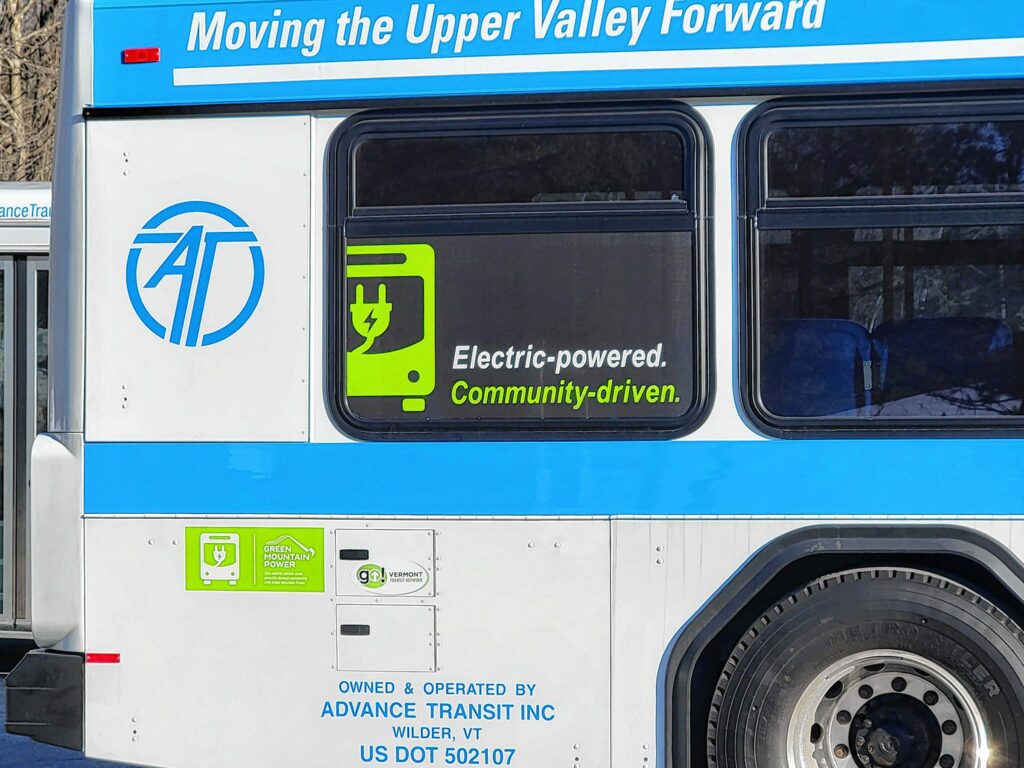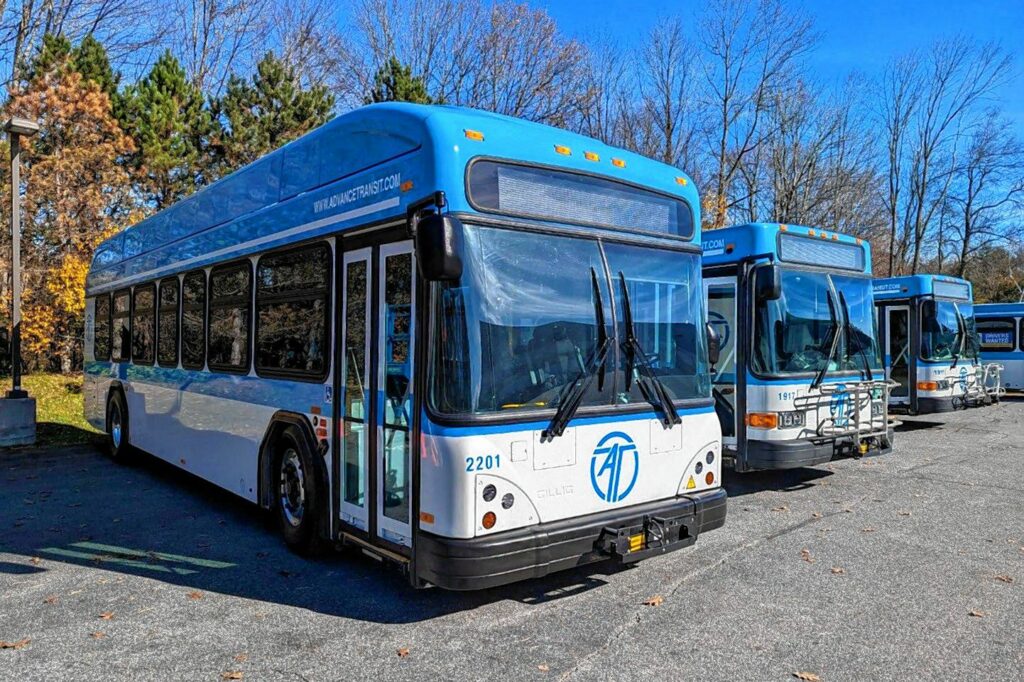 Advance Transit director of marketing and philanthropy
It was a moment years in the making and one that everyone at Advance Transit (AT) had long been looking forward to.
In mid March, AT placed two electric buses in service to offer passengers a quieter ride with reduced emissions. These vehicles are the first set in a series of planned changes, with more electric vehicles slated to arrive by next year.
"Don't you just love that new bus smell?" marveled AT Executive Director Adams Carroll as he stepped into one of the newly acquired electric buses around a month ago. Carroll, who rides AT regularly, was eager for his morning commute from his home in Lebanon to the AT office in White River Junction.
AT started to add hybrid buses to its fleet in 2011. In 2019, the nonprofit was awarded a $3 million grant from the Vermont Agency of Transportation (through support from the U.S. Department of Transportation) that helped accelerate its efforts to add electric buses. As the Valley News reported in July 2019, the federal grant was intended to reduce air pollution and decrease carbon emissions.
AT anticipates adding more electric vehicles to its fleet, including two more 35-foot electric buses in the summer of 2024, as well as three electric cutaways — vehicles used for paratransit service and Dartmouth College shuttles — in the future.
With better air quality comes improved health. In February 2023, the journal Science of the Total Environment published a study conducted in California by a team of researchers from the Keck School of Medicine of USC. Their work revealed that as electric vehicle adoption increased, air pollution levels and asthma-related emergency room visits decreased.
Indeed, there are many benefits to electric vehicles, from a smoother ride to a long-term environmental impact. The transportation sector accounts for 27% of greenhouse gas emissions, generating the largest share compared to other sectors, such as electricity production and agriculture, according to 2020 data from the United States Environmental Protection Agency. This stems primarily from the use of fossil fuels. Working with Green Mountain Power, AT aims to reduce these numbers for the Upper Valley through the implementation of electric buses.
In addition to the environmental and health benefits, electric buses provide a more comfortable ride. Without the traditional exhaust system and with fewer moving parts, e-buses perform more smoothly on the roads and with reduced noise. They also have lower operational costs compared to their petroleum-powered counterparts.
Some riders have noticed the difference and have commented on the quieter experience, drivers say. AT driver Chris Hartzell shares that while the buttons and switches on electric and diesel buses are similar, "the new buses accelerate better and have greater power than the diesel buses. They're a lot smoother, a lot quieter and a lot easier to handle."
After AT received funding, the COVID-19 pandemic and supply chain issues delayed the delivery of its electric buses. Soon after the vehicles arrived, in the fall of 2022, AT had to take steps to make sure the buses were road-ready, such as maintenance checks, driver training and the implementation of a new fleet monitoring software.
Additionally, AT is in the process of building an electric charging station. Scheduled for completion this fall, the charging station will be the most significant facility upgrade since AT's building expansion in 2009. This operations center addition will accommodate the current electric vehicles and future ones, laying the groundwork to buy more e-buses and support long-term goals for more sustainable business practices.
"This is only the beginning," Carroll said. "We're excited about the impact that electric buses will have on the community and the overall effects on the environment. We look forward to growing the number of electric vehicles in our fleet over time."
AT has long-regarded sustainability and environmental stewardship as key parts of the organization's mission. The transit agency currently uses three hybrid buses in its fleet, as well as electric cars that function as driver relief vehicles. It has implemented systems that both reduce operating costs and produce real environmental benefits, such as actively harvesting rainwater that is used to wash buses. AT's LEED-certified facility also features a solar array and a system for recycling used motor oil into a heat source.
The organization's commitment to sustainability and service is evident in the message displayed on the rear window of its electric buses: "Electric-powered. Community-driven."