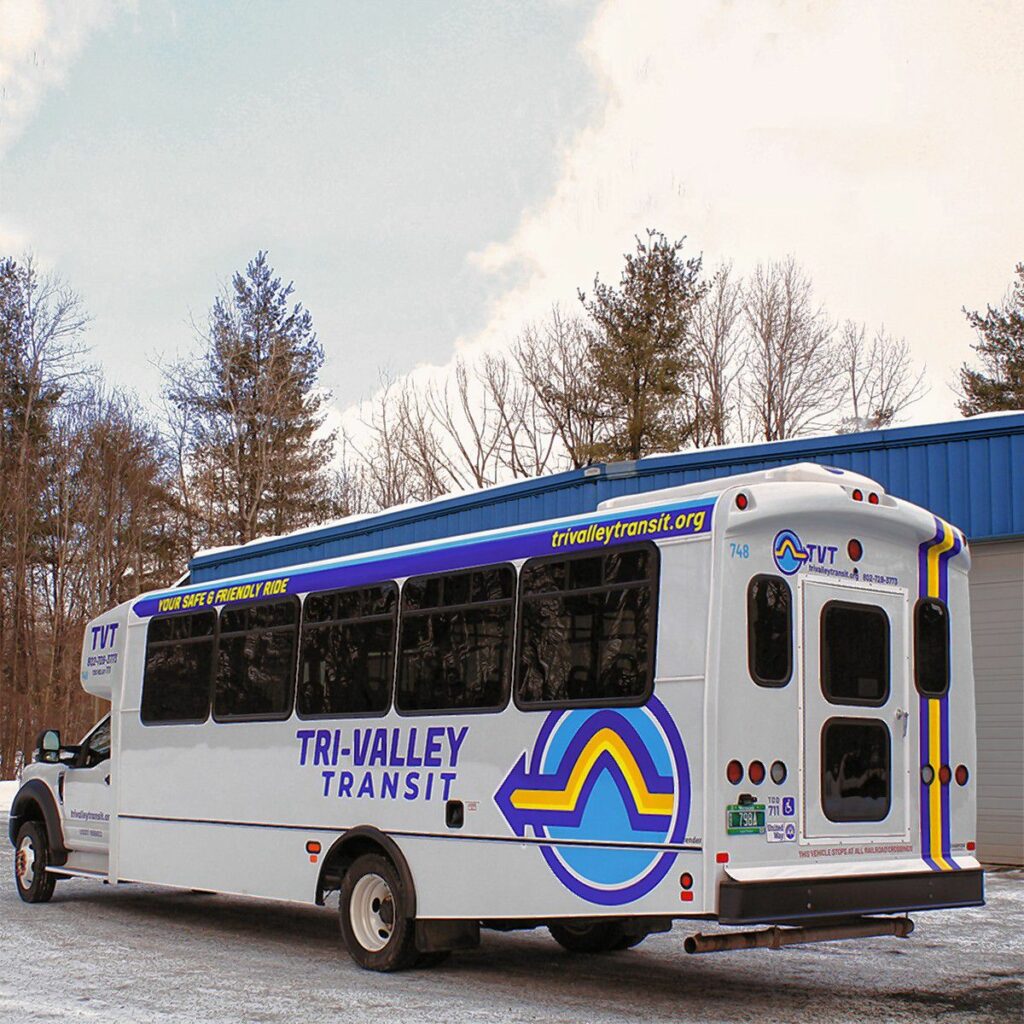 Vital Communities Communications Director
It all began one December dusk on a quiet back road when a deer met the front of our car.
My spouse and I were driving slowly, so the deer was able to scamper away, but our car suffered a cracked headlight and damaged front bumper. After calls and estimates, we were given a repair appointment in late February which would require leaving our car at the body shop from Monday through Friday — our only car, which we supplement with an e-bike and an aging truck we share with a neighbor.
No car? No problem, thought I. The Upper Valley has far more public transit than many people realize, and it's growing. In the "four-town core" of Lebanon, Hartford, Hanover and Norwich, there's Advance Transit (AT), which also serves Enfield and Canaan. Radiating out from the core are lines run by Tri-Valley Transit (TVT), with service along the I-89 and I-91 corridors north of the four-town core, plus local trips in Orange and northern Windsor counties; Southeast Vermont Transit's MOOver, with service along I-91 south of White River Junction, local trips in southern Windsor County, and the new MicroMoo ride-hailing pilot in the Town of Windsor; and Southwestern Community Services, serving Claremont, Charlestown, and Newport.
Most service takes place Monday through Friday, early morning to late afternoon, which doesn't work for many transportation needs. But the schedule has been expanding: AT recently increased frequency along some lines and is exploring evening service. TVT now offers midday service to and from the core towns along the I-91 route, meaning you can go into the core for half the day instead of a full day, which makes the bus service good for doctor's appointments and shopping in addition to 9-5 job commutes.
TVT also has extended its routes in recent years. Residents of Strafford like me used to have to drive to Thetford or Sharon to reach the nearest bus stop. In 2021, however, TVT added the "Thetford Connector" line linking the Thetford and Sharon Park and Rides, passing through South Strafford.
Although the Thetford Connector and the Chelsea Extension (which runs between Sharon and Chelsea) were part of a service expansion to serve area high school students get to school, those lines also operate year-round and accept all passengers.
My Bus/Ped Routine
Leading up to my carless week, I was already an old hand at the bus commute from South Strafford to our office in White River Junction. I had established a tidy routine: Drive or e-bike to the South Strafford Park and Ride, catch the Thetford Connector at 7:48 a.m., get the Sharon Park and Ride at 8, leave on the 89'er South at 8:05, and arrive at the VA Hospital in White River Junction at 8:15. Ask the driver to drop me at the Greyhound Station instead, so I don't have to walk the portion of Route 5 from the VA to the Sykes Mountain Avenue roundabout, which has no sidewalk and two lanes to cross of cars streaming off the interstate. After that, the walk is fine, with pedestrian crossing lights at the roundabout and a continuous sidewalk along one side of Route 5.
Yes, the AT Orange Line goes from the VA to downtown White River Junction, but at that time of the day the next one isn't until 8:43 a.m. So I always opt to walk from the Greyhound Station.
In the afternoon, however, an orange bus is perfectly timed to get me to the VA for the 4:50 p.m. 89'er to Sharon and the Thetford Connector, arriving in South Strafford at 5:21 p.m.
For my carless week, I would also use the bus to get to Chelsea Thursday evening to meet a carpool to an event in Montpelier. Since the next bus leaving Chelsea would not be until 7:25 a.m. Friday, I would need to stay overnight with a friend in Chelsea and get a ride to the Friday morning bus to White River Junction — and our car.
So, I didn't dread my carless week. I had a plan. Plus, public transit makes me happy. I like reading bus and train schedules. I like packing a backpack and choosing shoes and outerwear for a day on foot and riding public transit. I counterbalance the inconveniences of public transit by savoring the pleasures of not having to drive or find parking, getting more walking and reading time and supporting a system I feel is part of a better future for us all.
Monday
On a sunny Monday morning, I drove our car to the autobody shop, crossed Route 5, and walked to the bus stop in front of the VA in time to catch the 7:43 a.m. Orange AT bus to the office. Easy peasy.
In the evening, when I boarded the 89'er at the VA, I asked the driver to radio the Thetford Connector and tell them I would be riding it. Why? Because it turns out TVT drivers keep track of who rides in the morning so they can make sure those riders get home in the evening. Since I hadn't ridden in the morning, I needed to give word to the Thetford Connector driver to wait in case the 89'er was delayed.
I had learned how carefully TVT tracks its riders in January when I boarded the 89'er at the VA one stormy evening and the driver asked if I was going to Strafford. Yes, but why was he asking? Because conditions on 132 from Sharon to Strafford were so bad, TVT had canceled the last Thetford Connector run. However, so I wouldn't be stranded in Sharon, a TVT employee was coming from Randolph to drive me to South Strafford. That's how seriously they commit to not stranding riders.
I was picked up by my spouse in the aging truck. Day 1 down.
Thursday
Days two and three were remote-work days, so my next bus travel day was Thursday. In contrast to Monday, that morning saw the remains of a big sloppy storm. My spouse dropped me at the South Strafford Park and Ride, my backpack carrying not just my computer, but overnight supplies and a change of clothes.
Six inches of precipitation the consistency of melted cream cheese slowed traffic; for the first time in my TVT riding experience, the bus was late. But I knew the bus would come at some point because I am signed up to receive service alerts from TVT about changes and cancelations, and I had received none. When the bus rolled up, 12 minutes late, I asked the driver to radio the 89'er in Sharon to wait. He did, and I got my bus to the usual Greyhound station detour stop.
On my return that afternoon, I asked the driver to radio the Chelsea Extension bus at the Sharon Park and Ride so the driver would know to wait for me. Boarding the Chelsea bus with three silent, exhausted-looking high school students, we made it to Chelsea at the scheduled time of 5:40 p.m., I met my carpool, and we went to Montpelier and back, ending with an overnight in Chelsea.
Friday
My Chelsea host decided she needed to go into the core of the Upper Valley, so we lingered over coffee rather than rushing me to the 7:25 a.m. bus, and she drove me to work. In the late afternoon, it was time to pick up our car and head home. Inattentive to time, I missed the 4:03 p.m. AT Orange bus. I would have to walk — including that stretch of Route 5 I'd been avoiding.
You know how that turned out: I made it. (I wouldn't be writing this if I hadn't.) I watched for a break in the streams of cars from the interstate and traversed the off ramps, then hugged the Route 5 shoulder 'til I reached the body shop driveway.
I picked up the car and headed home. Along with a repaired car, I had a few lessons to take home from my not carless but certainly "less car" week:
Using public transit successfully takes practice and planning.
Our local public transit is reliable and takes care of its riders.
Most people in the Upper Valley could replace some of their car trips with public transit rides.
But they can't replace all of them, yet, and that makes it hard to have no access to a car.
The more we use the public transit we do have, the more it will grow into a real alternative to car dependency.
Three cheers for backpacks, sidewalks and sensible shoes.